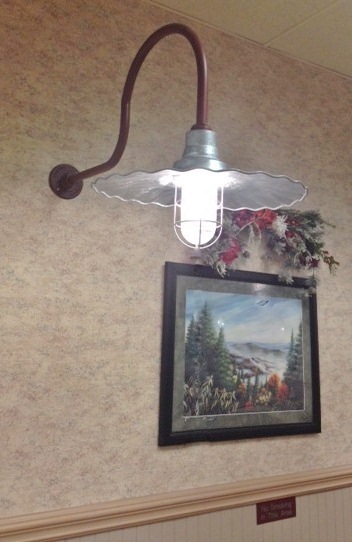 Shallow Bowl Warehouse Shade Adds Whimsical Touch to Cafe
While the bowl-shape of an RLM warehouse shade leaps to mind when you think of the words "barn light" there are actually many variations on this classic light. Shades can be quite deep and focus their light directly below or be very shallow and flat which throws a wider span of light.

The shallow, wavy shade of this beautiful gooseneck light is a classic design straight from the 1930s when these fixtures were often spotted at roadside gas stations. You remember those — where someone actually pumped your gas, checked your oil, and cleaned your windshield?
This shade, found in a small cafè in Tennessee, adds a whimsical element to the simple dècor. This fixture looks like our Starfire Radial Wave Reflector Gooseneck Light, a fun and flirty shade attached to a sturdy gooseneck arm to bring the shade up and away from the wall.
The American-made Starfire is available in three shade sizes and 12 durable powdercoat finish colors. Choose from more than 20 gooseneck arms, in a variety of styles, to give your light the perfect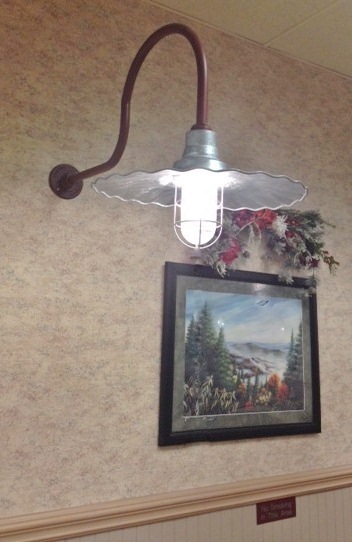 projection for your space. If you're looking for some vintage flavor, add a cast guard and glass which is customizable with finish color and either clear, frosted, or ribbed glass.
A budget-friendly choice for residential applications, the Starfire is also a great pick for commercial lighting applications such as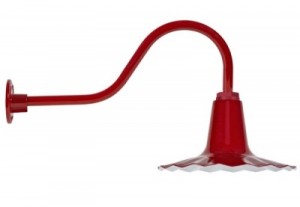 restaurants, retail spaces, and offices. These shades are hand-crafted by our artisans from commercial grade steel and designed to withstand heavy traffic areas. Complementary fixtures such as the Starfire Radial Wave Reflector Cord Pendant Light and the Starfire Radial Wave Reflector Wall Sconce are also available to help carry the look throughout a commercial space.
And if you prefer the long-lasting durability and high-gloss shine of porcelain enamel lighting, this wavy design is available as the Goodrich® Seaside Radial Wave Reflector Porcelain Gooseneck Light and the Ivanhoe® Seaside Radial Wave Reflector Porcelain Pendant Light.