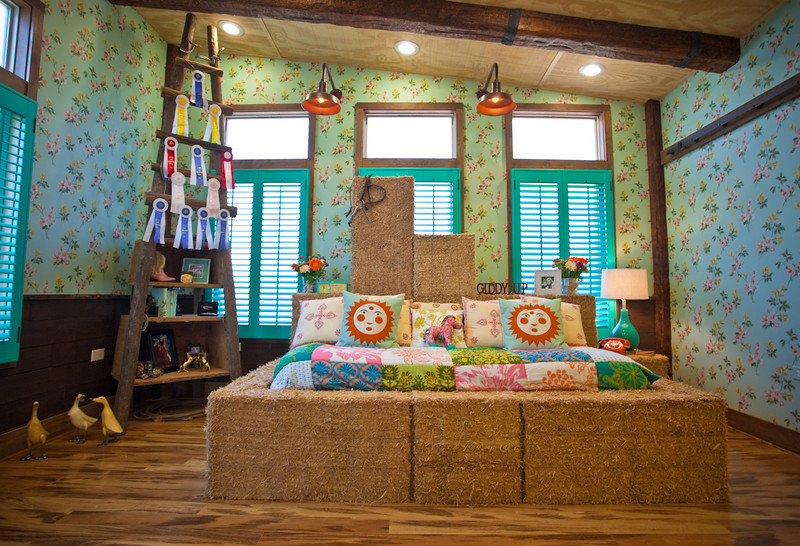 Hayloft Styling Provides Inspiration To This Extreme Makeover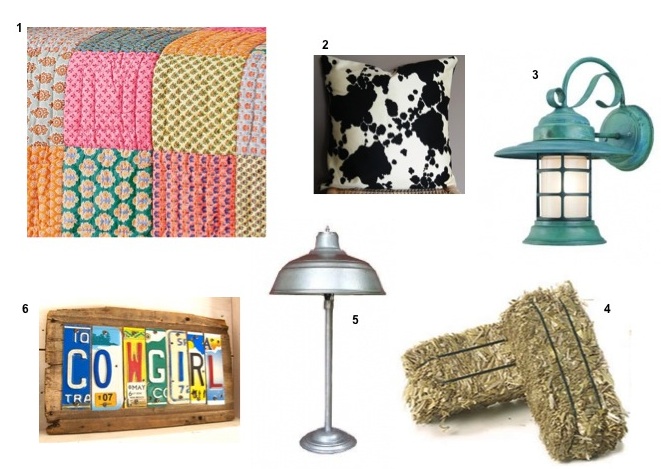 1.) The Land of Nod Indian Patchwork Quilt: $139.00
2.) Etsy Cow Print Decorative Pillow: $14.99
3.) Barn Light Electric Province Cast Guard Sconce: $279.00
4.) Artificial Hay Bales: Prices Vary

5.) Barn Light Electric Machine Age Table Lamp: $259.00
6.) Etsy License Plate Art: Approx. $75.00
At some point, we've all watched our favorite design show and said, "I could never do that." Today we took a little inspiration from one of our many favorite TV shows – Extreme Makeover Home Edition. Every Sunday viewers tune in to see Ty Pennington and his design team's awesome creations, with the ultimate goal being to help a very deserving family. A few weeks ago, Barn Light Electric had the opportunity to donate lighting for the Williams family in Pine Mountain Valley, Georgia. Josie, who is 8, is a mini cowgirl at heart, and received a very cool Hayloft inspired room (see finished photo below).
To bring a similar room into your home, we'd like to introduce today's Style Guide that is devoted to the ultimate cowgirl. We selected bedding similar to The Hayloft – something bright, colorful, and utilized old, rustic patterns. Topping off the bed, we'd suggest throwing on some decorative cow print throw pillows. Although pricey, you can choose authentic cow skin or a cheaper Etsy alternative – we like Etsy's!
Light up your Hayloft with none other than our Barn Lights! To be placed on both sides of the bed, we selected two Barn Light Province Cast Guard Sconces in our Cruiser Green finish. Sconces next to the bed can serve as accent lighting and can be used for bedtime stories and future late night studying. By selecting a frosted glass option, a softer glow of light will be released. If your little cowgirl has a desk for coloring or homework, we recommend the Machine Age Metal Table Lamp. By combining a warehouse style shade as the top, and selecting a raw, galvanized finish, a rustic, traditional country feel is brought into the area.
Complete your room by adding accessories and authentic looking hay bales – these can act as book shelves, headboards, or night stands. Accessories can be purchased, or homemade, bringing in colors from your bedding. Collect old license plates to make your own art – get creative, spell out words like Cowgirl, Country, or YeeHaw.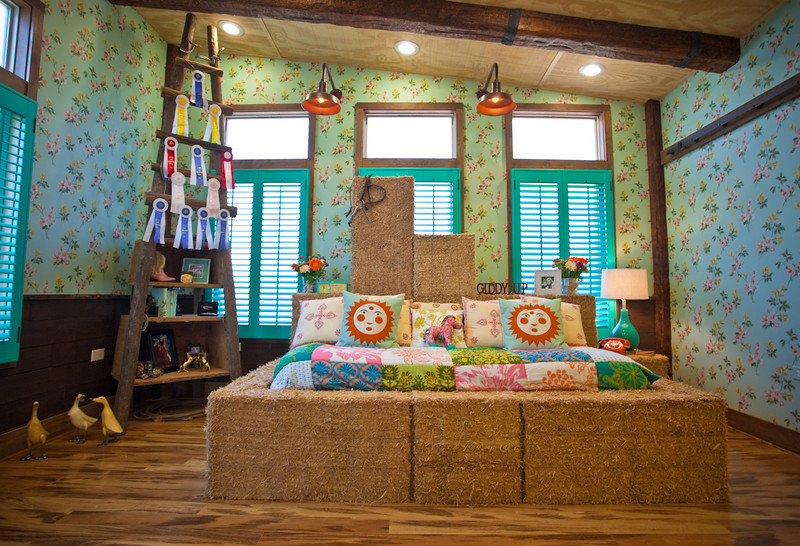 Photo courtesy of Extreme Makeover Home Edition, Williams Family.
Shown above over the bed: 12′ Original Warehouse Shade, B-13 Gooseneck, 114-Painted Rosewood