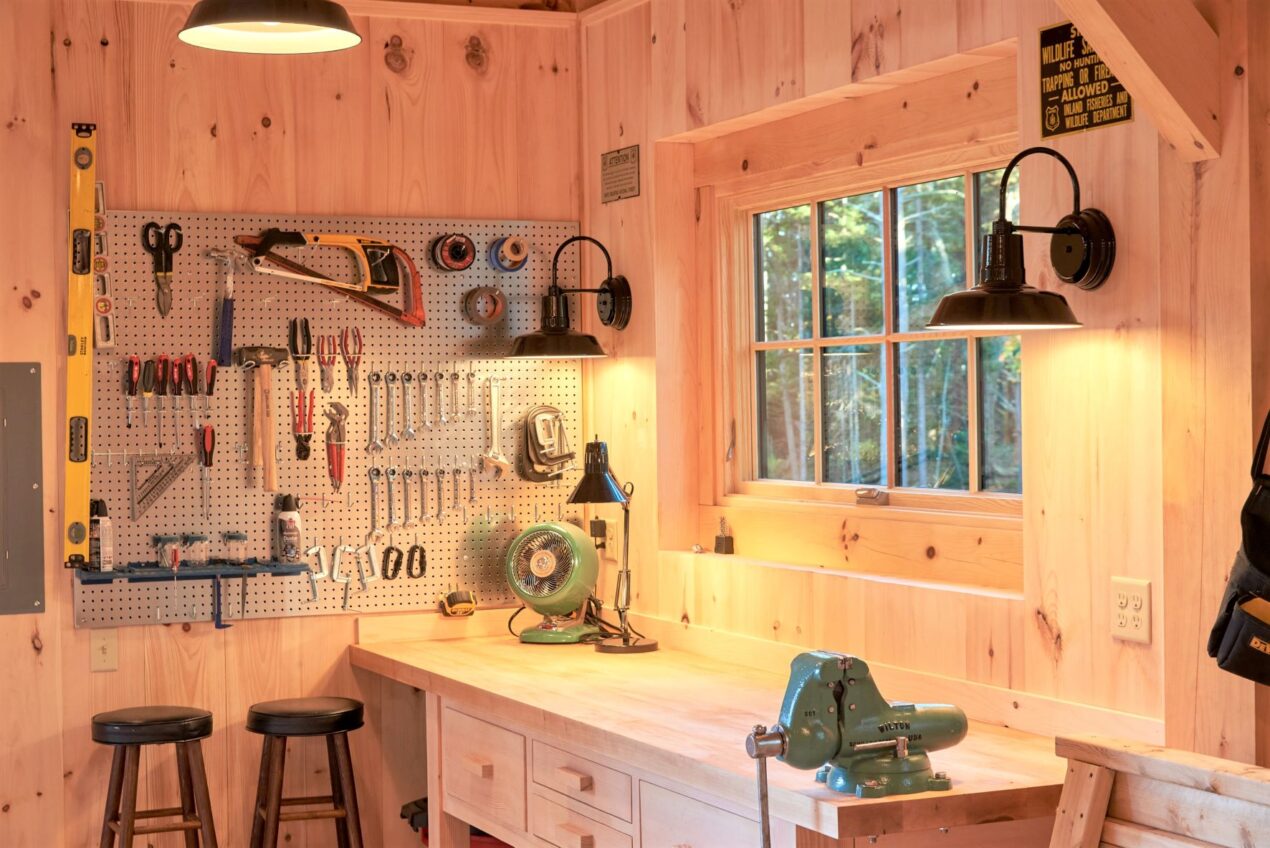 Handcrafted Family of Lighting Brings Harmonious Feel to Barn
The old barn captures Nate's attention every time he sees it. Located near his home in Cape Elizabeth, Maine, the 19th-century barn has an old gooseneck light above the main door. When Nate started planning for his own barn to be used as a workshop, for boat storage, and for entertaining, he looked to that old structure and its vintage RLM light for inspiration.
"We wanted to build a new barn that looked and felt as if it were old," Nate says. Nate hired Wright-Ryan Construction who built a post-and-beam frame from local white pine. The door handles and strap hinges were forged by a local blacksmith. When it came to lighting, Nate asked his builder for a recommendation.
"He immediately recommended Barn Light Electric," Nate says. "I got on the website and loved the designs, colors, and customization options. I've always loved that old gooseneck light and was glad to find a way to capture that timeless style."
Nate opted for fixtures from The Original™ Collection, one of Barn Light's most popular shade styles. To highlight the exterior doors, he chose The Original™ Warehouse Gooseneck Light which harkened back to the old barn light he'd admired for so long. He customized these American-made fixtures with 18″ shades, a porcelain Black finish, and G22 gooseneck arms.
For the interior, Nate stayed with The Original™ Collection and opted for Original™ Warehouse Pendant Lights and Original™ Stem Mount Pendants to bring illumination to the space.
"The peak of the barn is more than 30 feet above the ground," he notes, "so we needed some of the pendants to hang quite a long way down so they weren't too high in the rafters." The Barn Light customer care team helped Nate customize the cord-hung pendants with 16″ shades and 16′ of standard black cord.
For lighting below the loft, Nate chose Original™ Stem Mount Pendants with 16″ shades and 6″ stems.
"We needed to ensure that they remained high enough to allow large objects — a truck or a boat — to move in and out of the barn without fear of hitting the lights," Nate explains. "The 6″ stems were perfect for that."
An avid fly fisherman, Nate needed good lighting on his workbench where he ties his own flies. Two Original™ Wall Sconces, with handspun 12″ shades, bring plenty of focused light to the space.
"I wanted to make sure we had both good area light and also close task lighting," he explains. "The wall sconces continue the visual theme of the other lights in the barn while bringing light to the bench to help with close, detailed work." Nate adds that he loves the timeless look of his new lights with their simplicity and understated style.
"A mantra for us in building our house, and now this barn, has been to find the themes we like and then stick with them," Nate said. "Repetition of forms, colors, and materials — together it makes for a very unified and harmonious feel."
Photos courtesy of the homeowner and Darren Setlow Photography