Gooseneck Sign Lights Showcase Tyler Florence's Shop
Design blog Remodelista featured a culinary store owned by Tyler Florence, a celebrity chef and Food Network star. He recently moved his culinary store from New York City to Mill Valley, an affluent town just north of San Francisco. The store is already known for selling the world's finest culinary tools, ranging from French copper cookware to antique chopping blocks and boutique Italian olive oils.

As you can see in the photo below from Remodelista.com, gooseneck lights complement the simple, yet elegant theme of Tyler Florence's shop. To add classy and effective lighting to the storefront, gooseneck sign lights were installed above the entrance. Tyler's storefront lights are very similar to the Emblem Shade Gooseneck Lights sold at Barn Light Electric Co.®.
Emblem Shades are available in 8″ to 16″ diameter shades in 40 different finishes and colors to match the exterior of your home or storefront. Gooseneck arms are available in various lengths to meet the specific lighting needs of your sign or display. Barn Light Electric Co.® sells other versions of exterior lights, including: Angle Shades, Par Lights and the larger Gooseneck Warehouse Shade, which is based off of the Original Warehouse Shade. The Warehouse Shade can also make a great accent to any porch, garage, driveway, or other exterior space where you may desire a fully functional and aesthetically pleasing sign light.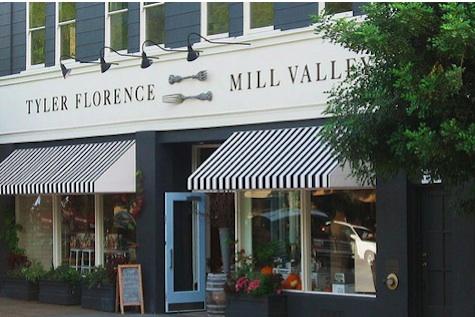 For additional options on sign lighting, visit our Discount Sign Lighting, or for more information about commercial outdoor lights and to see the benefits brought out by Angle Shade Sign Lighting, be sure to check out our related blog posts:
Sign Lighting For Historic Storefronts: A historic building in downtown Washington D.C. installed four Gooseneck Sign Lights. Perfectly perched above the entrance, these sign lights await the next tenant and storefront to highlight.
Warm Sign Lighting Highlights This Seabrook, Washington Market: This coastal town's main street is filled with local cafes, coffee and gift shops, and fresh food markets. By day these picture perfect store fronts draw in locals and visitors alike, but by night their calm, colorful features are brought out by Angle Shade Sign Lighting.