Gooseneck Barn Lights Add Perfect Touch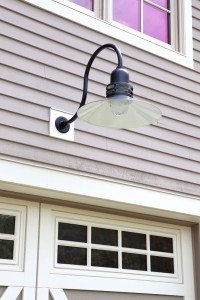 Back in the day when you needed a horse-drawn carriage to get about, many homes had outbuildings called carriage houses to store this mode of transportation. Without much call for carriages these days, carriage houses have taken on new life as garages, workshops, guest houses, offices, even restaurant and entertainment spaces.
This beautiful barn light with its gooseneck arm stands watch over a carriage house in Taftsville, Vermont. It is very similar to our own Cherokee Gooseneck Light. This fixture offers an updated look while still complementing the traditional look of the carriage house. It's the perfect blend of both vintage and modern.
The Cherokee Gooseneck Light not only casts its glow on sidewalks and doorways but the beautiful, semi-open neck design allows light to spill out over the top of the shade providing illumination around the fixture as well as below. In choosing the Cherokee, you will have dozens of ways to make this light fixture unique to your project. Four shade sizes are available from 12″ to an 18″ span of light. The gooseneck arm itself comes in 38 different sizes to accommodate whatever space requirements you may have.
Give your barn light a more traditional finish by choosing Black or Galvanized. If you desire a more modern look, choose one of the many colors offered by Barn Light Electric. And don't forget the glass where you have multiple choices of color and texture. With the Cherokee, there is no end to the combinations available for customizing your light and making it truly one of a kind.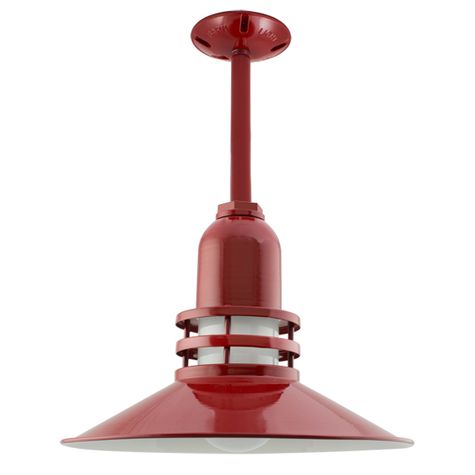 Want to add a coordinating pendant by the door? Check out the Cherokee Uplight Stem Mount Pendant which is a rustic piece that can also be customized with a variety of finishes and glass colors. Both of these fixtures will put a perfect finishing touch to your project!
Top photo courtesy Yankee Post & Beam