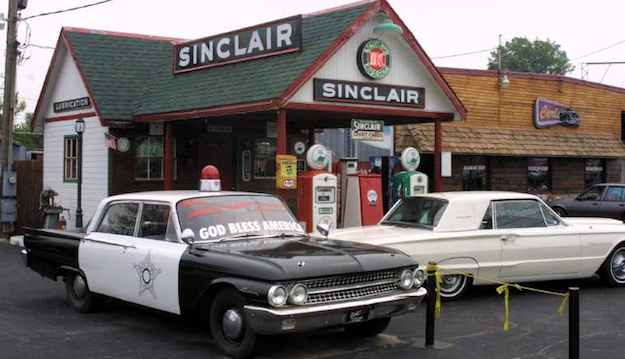 Gas Station Lighting: Classic American Decor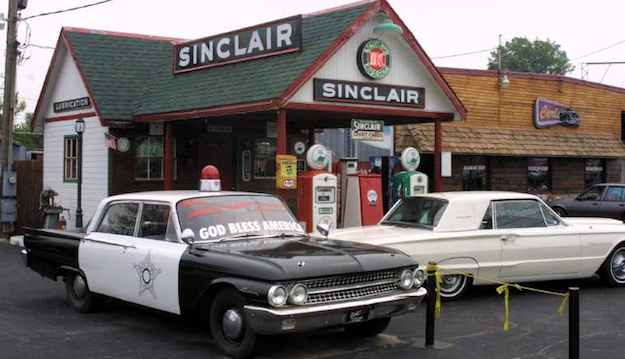 During the early to mid 1900's, most gas stations across America used porcelain enamel lights to draw in customers and to showcase large metal advertisements. These gas station signs featured bold, colorful logos from iconic brands such as Texaco, Sinclair, Standard, Marathon, Gulf, Shell, Esso and tons of others. Porcelain gas station lights were valued for more than just their visual appeal, they also created an inviting and safe environment for customers who may be filling up or working late!
Today, these nostalgic light fixtures are rarely found around gas pumps anymore – but don't let that get you down! Barn Light Electric sells two kinds of porcelain enamel barn lights!
Authentic vintage barn lights can be found within our Gooseneck Lighting category online. They have been cleaned, rewired and are ready to ship! The fixtures you find with us online have been collected from all across the country. By incorporating a vintage barn light into your home, you can achieve a nostalgic look and bring a touch of the early 1900's into your home or business!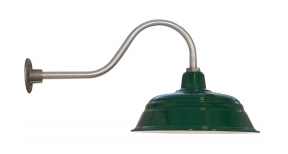 Our vintage inspired porcelain barn lights are made from the same high quality components as the durable originals. You can purchase our trusted American brands such as Goodrich® Goosenecks, Benjamin® Stem Mounts and Ivanhoe® Cord Hung Pendants. All shade styles are available in multiple sizes and mounting options. You can mix and match the same shade styles for inside and outside of your home and business. Wherever you choose to place them, know that they have been built to last – just like old gas station lights!
Porcelain barn lights like the 17 inch Goodrich® Bomber illuminated the stations' parking lots and forecourts. Distinct features on the Goodrich® Bomber gooseneck include a short neck design, deep interior shade and a wide, 17 inch base. The Bomber gooseneck starts at $259 and includes a wall backing plate, porcelain socket and 7 feet of wire – everything you need for quick installation! Pendant versions of The Bomber start at $189.00.
Top photo courtesy of: Ohio Barns