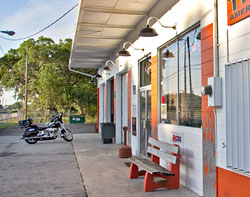 Classic Gooseneck Lights: The Ultimate Garage Light
At Street Thunder American Motorcycles in Mims, Florida, you'll find two symbols of America's history of industrial craftsmanship: Harley Davidson Motorcycles and porcelain gooseneck lights.
Starting at $259.00 each, the Goodrich® Bomber remains one of the most popular (and largest) porcelain barn lights from Barn Light Electric. Whether they're installed as one or in a group, the Bomber's shade boasts a bold and highly polished look that gets noticed – much like a Harley when it's on the road! Day or night, their one of a kind, high end look draws attention from those passing by.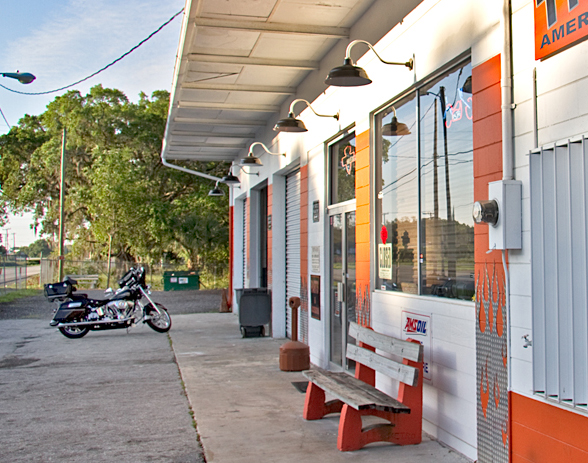 The traditional style of the Goodrich® Bomber's shade is based on both deep bowl designs and the original barn light. These styles were first produced in the early 1900's, right around around the time Harley Davidson was founded in Milwaukee, Wisconsin. They're made by using a porcelain enamel finish over top a steel inner shade, which is the same way older lights were produced years ago.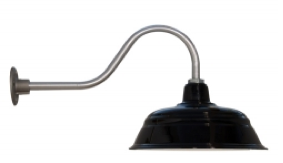 What are the other similarities you ask? Well, they're both built with high quality, American made parts. Durable, top of the line craftsmanship has gone into both pieces featured today. For years, hard working Americans have made it their passion to produce quality items that will last the owners for years! Just as a Harley's chrome and paint will shine with a little wax, the Goodrich® Bomber never fades over time and always retains its luster with a little soap and water!
As you can see in the top photo, the black finish and galvanized metal on each of the gooseneck lights combines with the distinctive Harley orange and logo, they really are a perfect pair together – two peas in a pod one might say! The black finish seen on the Bomber above is one of eight different colors that can be used to customize your shade. Whether you own a Harley shop, a local restaurant, or wish to light up your home's exterior, any of our porcelain barn lights will do the trick!