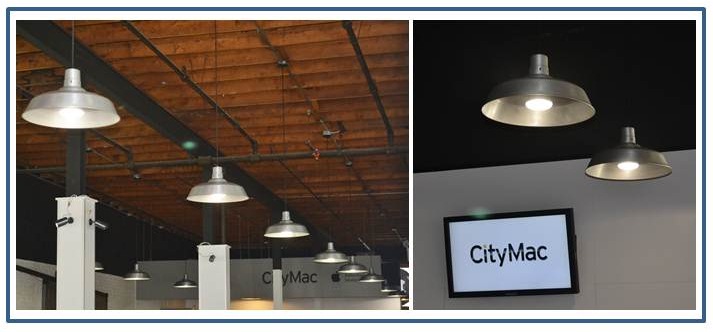 Galvanized Warehouse Shades for Industrial Style Computer Store
When City Mac decided to expand beyond its hometown of Traverse City, Michigan, company execs looked for 18 months before selecting a beautiful old warehouse in Asheville, North Carolina for its newest store. Just down the street from the historic Biltmore Mansion, City Mac opened its doors to a customer base grateful to have the Apple computer specialists in town offering a comprehensive training center, expanded software lines, Apple computer accessories, and their newest coffee shop concept — CityMug.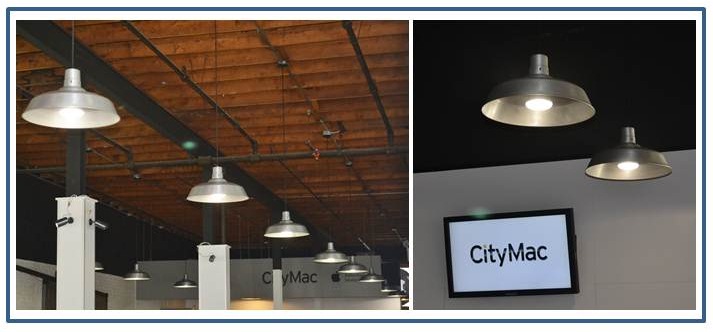 The building housing the popular computer store features an open ceiling with visible floor joists, exposed piping, and a large steel sliding door on one wall that connects to the antique store next door. The entire space is studded with dozens of shiny, galvanized barn lights, a delightful nod to the age and style of the building. These RLM-inspired shades are much like the Barn Light Warehouse Pendant, one of our most versatile and popular lights.
The Warehouse Pendant remains a popular choice in barn lighting thanks to the dozens of ways it can be customized to fit almost any style of home or office. Seven sizes are available from 12″ up to a generous 27″ wide. You better grab a cup of the yummy CityMug coffee before starting to peruse the finish selections. There are more than 50 to choose from starting with classic black, white, or galvanized. Wander on over to the premium finish chart and you'll find bright yellow, painted patina, and crisp cranberry. Our aluminum and brass finishes are also worth a look — you may find the perfect complement to your decor!
A wire cage or cast guard and glass will give this light a vintage look as would the addition of a Nostalgic Edison Style light bulb. Or go for a funky retro look with one of our new low energy, Plumen light bulbs, a designer bulb that gives you high style and cost savings too!