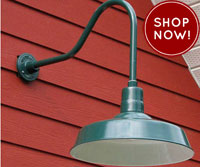 Featured Gooseneck Light: The Rodeo Warehouse Shade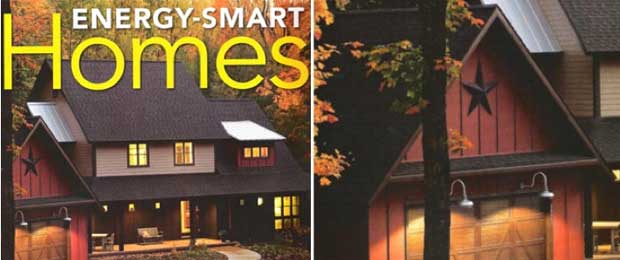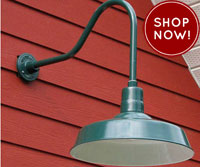 This week's featured gooseneck barn light is the Rodeo Warehouse Shade. The Rodeo can be ordered in a 20″ shade – in fact, it's one of our largest available. This RLM warehouse shade has the ability to be ordered in more than 40 different finishes, ranging from black or white to more bold options like, blue, red, or copper. The Rodeo gooseneck light is an ideal fixture to hang above large, heavily trafficked outdoor areas. Common areas to find the Rodeo include driveways, machine shops, or placed around commercial delivery and loading zones.
The photo at the top shows a Victorian home in Grand Traverse Bay near Lake Michigan. To assist in achieving a rustic look to their home's historic exterior, the featured Energy-Smart Home incorporated a pair of Rodeo warehouse shades in a galvanized metal finish. A larger HL-C Gooseneck Arm was chosen to extend the shade out and away from the door below. This allows even more light to fan out across the double stall garage. It acts as both security lighting and provides a warm, decorative feature to welcome evening guests.
As you can see in the photos above, the galvanized metal lights add to the rustic look of the tin roof line. This rugged industrial addition not only enhances the appearance of the historic home's exterior, it also provides a glimpse to the modern elements of the interior. It is safe to say that this project was worthy of receiving the attention that  Energy-Smart Homes Magazine gave them, and we were excited to see that this type of  lighting was considered for the innovative combination of shabby chic and contemporary elegance.
Rodeo RLM warehouse shades meet the standards for dark sky compliant lighting. Dark Sky Compliance regulations require a light fixture to project light downward without releasing lighting upward into the atmosphere or outward past the intended projected path. To meet those requirements, a light must be designed and installed to be fully shielded with a maximum lamp wattage of 250 watts HID (or lumen equivalent) for commercial lighting, 100 watts incandescent, and 26 watts compact fluorescent for residential lighting (or approximately 1,600 lumens).