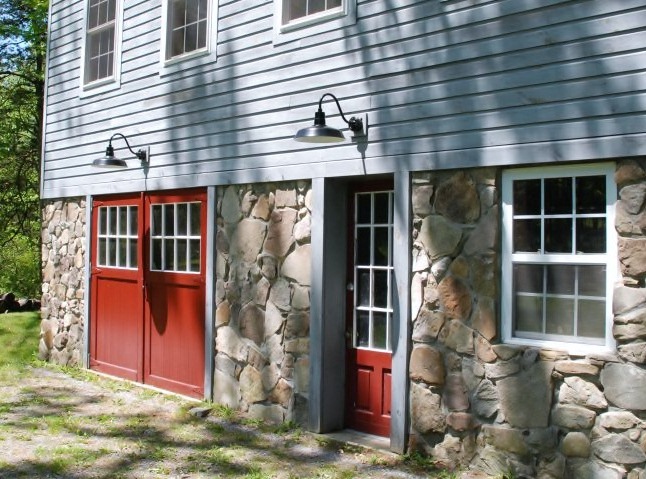 Featured Customer | Warehouse Shades for NY Workshop, Storage Space
There's an old saying that the hardest part of any job is the last 10 percent. Such was the case for Leslie Rudner of Warwick, New York who purchased a home that also featured a terrific outbuilding on the property that Leslie planned to use as a workshop and for extra storage space.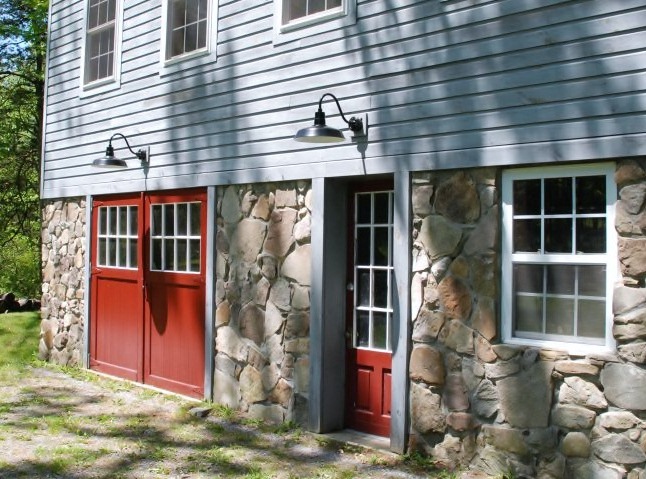 "While the general construction of the building was quite good, final touches like the lighting fixtures were scrimped on," Leslie explains. And thus began his search to find lights that would not only complete the look of the building but would also be well designed and constructed like the structure itself. Leslie chose the Barn Light Electric Original Gooseneck Warehouse Shade in a 16″ size. For options, Leslie went with a classic black finish and a B-1 gooseneck arm which gives about a 14″ projection from the side of the building.
"I think the warehouse style is a natural for this type of structure," Leslie says. "There wasn't much else I considered for the building." Classic RLM warehouse shades have been dressing up barns and outbuildings since they were first manufactured in this country back in the 1930s and 40s. Farmers loved them for their durability and for the wide pool of light they cast over doorways and farm yards. Goosenecks in particular are desirable because of the endless variety of arms that can position a light exactly where you need it.
And by choosing a Barn Light Electric fixture, you have a whole family of lights to carry the look throughout your space. You can find a warehouse style shade in a cord hung pendant, a barn wall sconce, or in one of our porcelain fixtures which come in stem mount, cord hung, or gooseneck.
"My lights are well constructed and look great," Leslie says upon completing the job. "I expect them to last much longer than the sconces they replaced, and I'm absolutely happy with the final look."
Photo courtesy of Leslie Rudner