Featured Customer | Gooseneck Warehouse Shades for Macy's Orlando
It is so refreshing to see businesses trying something besides track lighting or fluorescent fixtures for their spaces. In recent blogs we've seen an airport store that featured rustic sconces, a winery with galvanized warehouse shades, and porcelain pendants for a southern BBQ joint. Today's Featured Customer is retail giant Macy's who opted for their own bold and beautiful porcelain shades in the form of Barn Light Electric's Goodrich® Bomber to highlight the Ralph Lauren display at their Millenial Mall location in Orlando.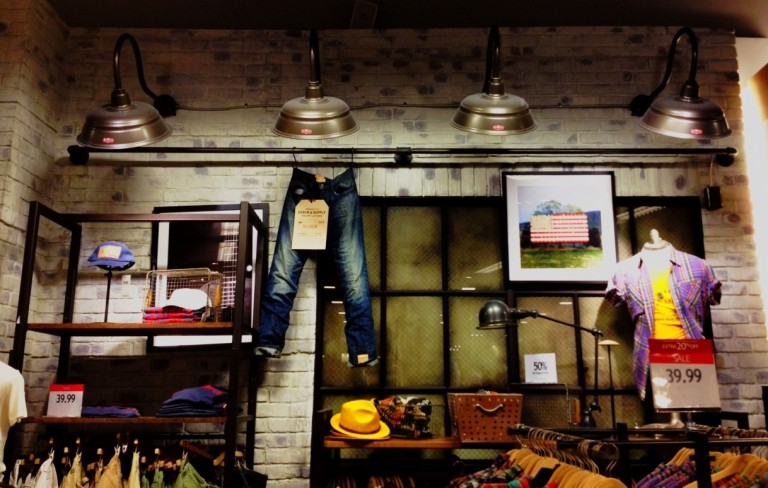 These porcelain shades didn't have to travel far as they are hand spun by our very own craftsmen right here in Florida. Crafted from commercial grade steel, these shades feel substantial right out of the box and are made to last. A coating of glass enamel is also hand applied giving each fixture a unique look. The shade is then baked at a very high temperature to create its signature shiny and incredibly durable finish.
This 17″ Goodrich™ Bomber comes in eight beautiful finish colors including our newest offering — classy Graphite. Macy's chose a Bronze finish for their fixtures but you may prefer something bolder like Cobalt Blue, Yellow, or creamy Jadite. More than 20 different gooseneck arms fit this shade — one is sure to give your new light just the right projection and height. Several options are also available for customizing the gooseneck arm including a match to your shade color, brushed aluminum, or other traditional finishes.
Although we think these lights look awesome indoors, the entire line of Goodrich® Gooseneck Lighting is wet rated for outdoor locations so they should be considered for exterior applications like storefronts, barns, warehouses, garages, and more. Even when placed outdoors exposed to the elements year after year, the porcelain enamel coating will never fade and, with a simple soap and water cleanup, will provide years of use!