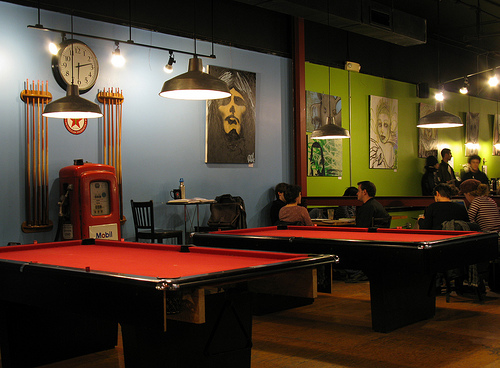 Warehouse Shades in Boston Cafe Add Nostalgic Touch to Decor
Just northwest of Boston, in the town of Somerville, lies a place that is reminiscent of a more well-known pub in Boston that brought us years of laughs and classic lines like "It's a dog-eat-dog world and I'm wearing Milk Bone underwear." At the Diesel Café, you'll find plenty of friendly folks, pool tables, and even a vintage black-and-white photo booth that captures a lot of fun. We love the casual, inviting atmosphere of the place and in particular the collection of throwback memorabilia found throughout the space. The handsome barn pendant lights, very similar to our Universal Cord Hung Pendant, are a definite nod to the 1930s style of RLM-inspired warehouse shades that were popular at the time. The old gas pump standing guard near the pool tables is also apropos as this type of lighting was often spotted at gas stations in the 30s and 40s as well as in warehouses and factories.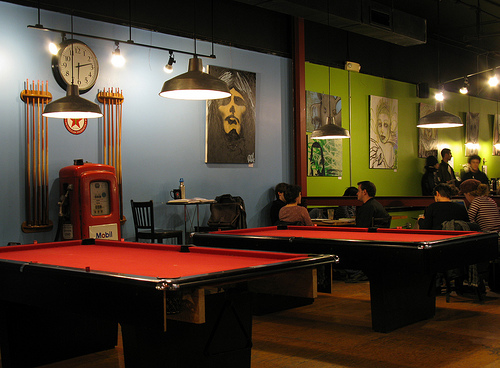 Available in four shade sizes, the Universal Pendant is very affordable and versatile thanks to our laundry list of customizing options. This light can take on any number of looks depending on how you choose to finish and accessorize it. Start with one of a dozen finish colors including Barn Red, Buttery Yellow, or Industrial Grey. Next, consider your mounting options which range from a standard black or white cord to one of several colors of cotton cords or cotton twist cords to give your light some vintage flair. To boost the vintage volume, add a wire cage or a cast guard and glass, both of which come with choices of color and style.
No matter how you choose to customize this classic light, your American made Universal Pendant will complement any home style from an industrial farmhouse to an urban loft or even the neighborhood hangout where everybody knows your name!
Top photo courtesy of Diesel Cafe