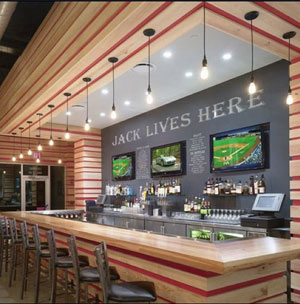 Featured Customer | Smokejack BBQ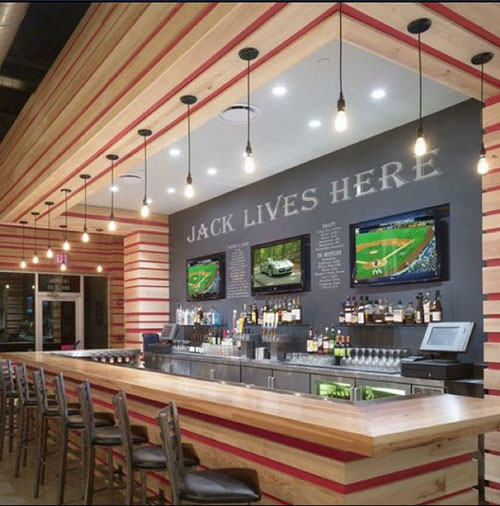 WARNING: Today's featured customer is likely tease your taste buds.
Doesn't this bar just beg you to sit down for a minute? Perhaps for a fresh brewed sweet tea after a long day? Whether you choose to order a drink or enjoy your meal while watching the game, Smokejack BBQ is "more relaxed than your favorite pair of jeans."

The original Smokejack BBQ was opened in historic downtown Alpharetta, Georgia (also known as the Mothership); it's even housed in a 180 year old building! Owner Dave Filipowic recently opened up a second location (shown above) in the Atlanta suburb of Cumming, Georgia. A couple key factors played a roll in the overall design and feel of the restaurant:
"When designing Smokejack's interior, Dave sought to preserve the building's heritage (original masonry, exposed beams) while adding a few modern accents to the interior. This "Old Meets New" idea has become an enduring theme in all that Smokejack does." – Smokejack BBQ
Keeping with the "old meets new" idea, a certain type of light was needed to achieve the desired vintage industrial style. Smokejack BBQ decided on 14 of our Indy Industrial Pendants for the bar area – the perfect choice as they date back to when the original building was constructed! Combined with their savory Southern style cuisine made from scratch, our very own industrial pendants help the staff serve great food in a friendly, relaxed environment – where everyone feels at home.
With a starting price of $85.00 each, these barn pendants are an affordable and stylish option for commercial or restaurant use. Clean, basic lines are key features on these pendant lights. While their vertical mounting position goes against that of the eye catching horizontal red and wood backdrop, a larger light may have appeared bulky and intrusive to those sitting below.

Photos Courtesy of Smoke Jack BBQ