Featured Customer | Scott from Harwich, MA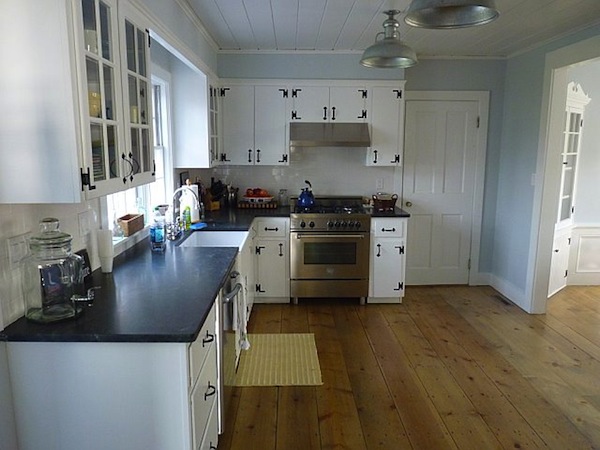 Traditional ranch kitchens are slowly but surely disappearing as not everyone is on board with the combination of retro wood cabinetry and cast iron hardware. It takes a keen eye to recognize the potential in this pairing, but today's featured customer from Harwich, Massachusetts saw what laid behind the retro decor and created an incredible farmhouse kitchen.

How about we start from the ground and move up. Natural looking plank wood floors fill the kitchen with that rustic warmth. This style of flooring is sustainable and durable for any of today's busy homeowners; any knick or scratch that occurs, adds a little bit of charming character to the wood grain. Offsetting the wood flooring is their baby blue walls – this paint color deviates from commonly used creamy white paint. And of course there is the previously mentioned rustic cabinetry along the walls. Many homes have existing cabinetry of this style, and with a little elbow grease and white paint, you can give your own kitchen a fresh new look.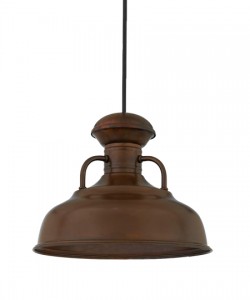 While all of this is distinctive and unique of a country kitchen, there are two features that truly set it apart from the others. Scott has great taste – the two light fixtures in the center are our very own Rocket Pendants. These 15 inch industrial modern pendants were flush mounted since Scott has semi-low ceilings.

The Rocket Pendant combines the shade of one of our larger warehouse light fixtures with the neck and arms of the Laramie. The galvanized finish Scott selected matches up well with his stainless steel appliances, while also adding in the rugged touch of an old factory light. Many of our surface mount light fixtures are ideal for rooms with a low ceiling clearance, and most of our popular ceiling lighting designs can be ordered with this option.