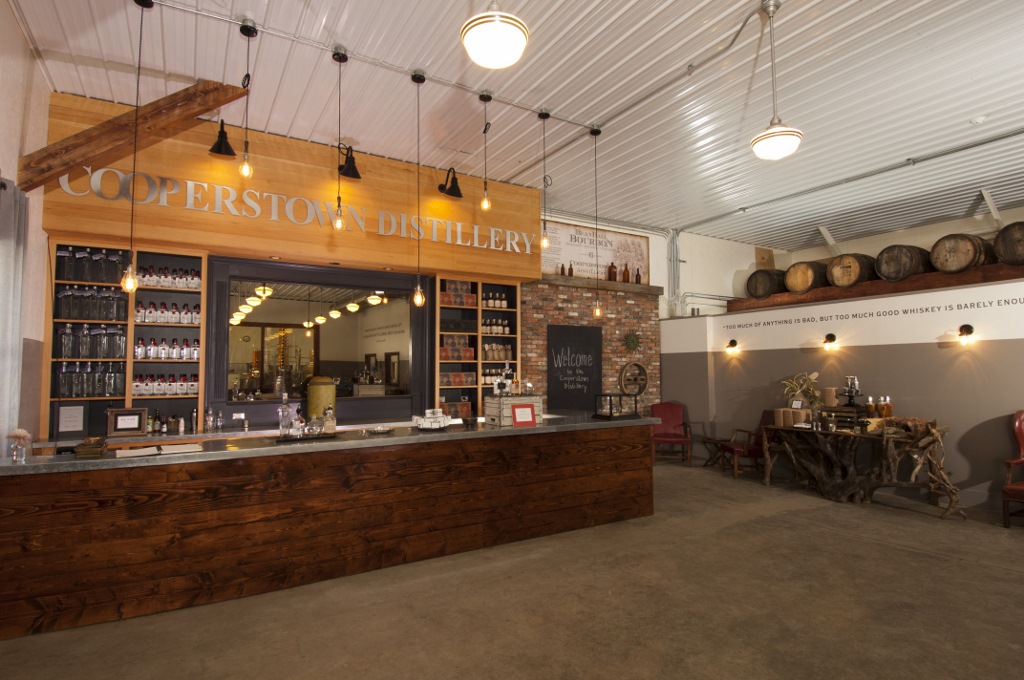 Schoolhouse Lights Shine in Distillery
Schoolhouse lighting was a staple in public buildings in the mid 20th century when bare light bulbs on cords were first covered by opaque glass shades. At the new Cooperstown Distillery, located in historic Cooperstown, New York, the owners remodeled an old warehouse and chose schoolhouse lights to give the space a distinctive mid century look.
"The building has served as a warehouse for carriage building, a Rotary meeting house, and most recently a grain storage building," says Gene Marra, owner and distiller. "It took six months to prepare the space but the actual distillery business was five years in the making."
A fully operational distillery producing the finest varietals of bourbon, gin and vodka, Cooperstown Distillery celebrates the history and culture of Cooperstown and America's favorite pastime.
Gene chose the Primary Schoolhouse Stem Mount Pendant to highlight the main room which is used for special events such as weddings, dinners, fundraisers, private parties and even film fest screenings.
"We needed to light the warehouse-type space but wanted to add some nostalgic charm," Gene says. "The schoolhouse pendants perfectly filled the void in the 'air space' and the black bands add a little pop. People notice and admire them more." The large size ceiling pendants are customized with a galvanized stem and opaque painted bands of Black.
The American-made Primary Schoolhouse Light features hand spun glass and a rugged stem mount that is suitable for damp locations.
Behind the bar, Gene chose 10″ Angle Shade Gooseneck Sign Lights to bring attention to their signage and logo.
"We chose the black goosenecks because they are very striking against our wood and stainless logo," Gene says. "And since they're mounted close to the ceiling, they cast plenty of light downward." Inspired by vintage sign lights, these angled shades can handle up to a 200 watt bulb so they offer plenty of light for signs, landscaping, and other facade details.
"What we like most about our lights is that they are functional, reliable, attractive, and are of good quality," Gene says. "They allowed us to add some character and nostalgia to our space without losing functionality."
Photos courtesy of Cooperstown Distillery and Richard Walker Photo