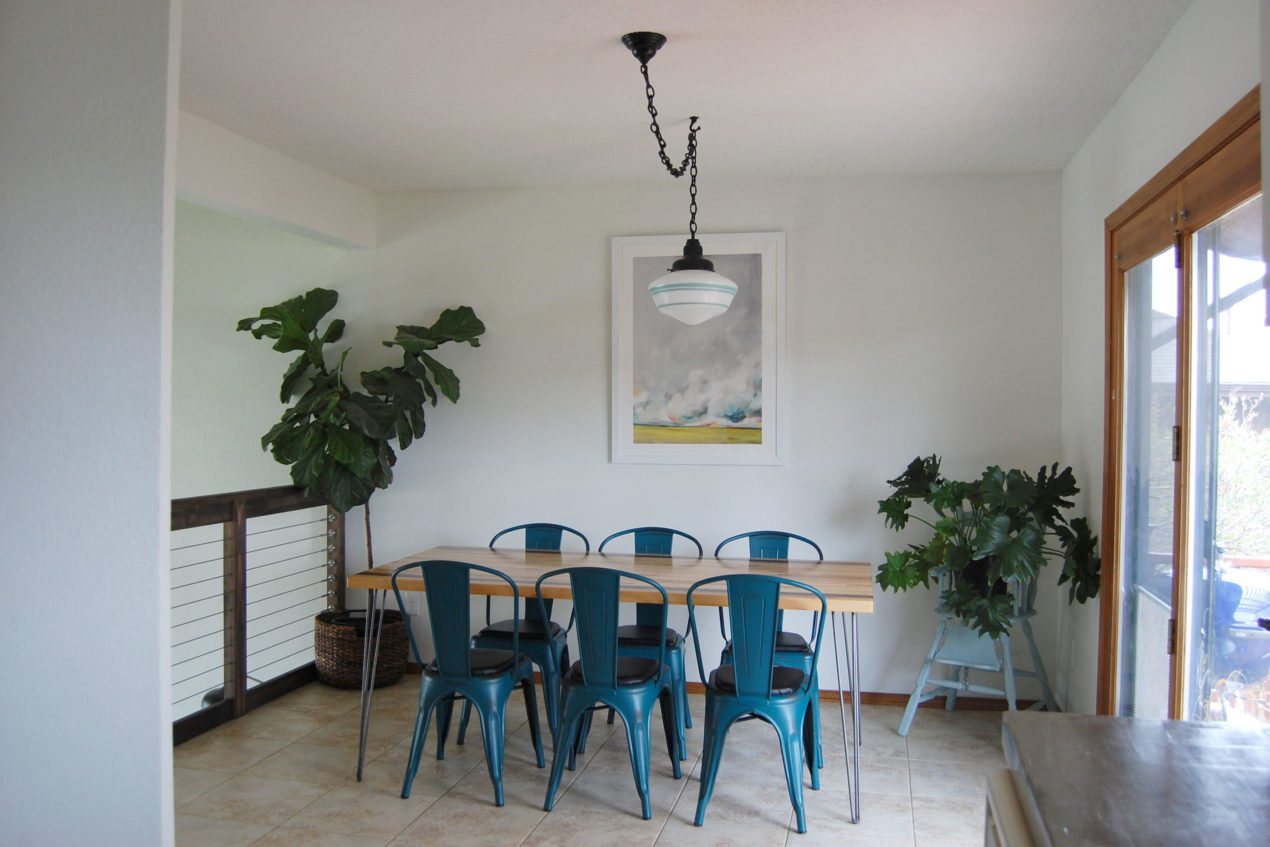 Schoolhouse Lighting Perfect Blend of Vintage, Modern
There's nothing more fun than scrolling through our Instagram feed and seeing one of our handcrafted lights pop up in a photo. And boy, did we slow down and check out this photo! Taken by Amanda O'Rourke, a photo and environmental stylist, this shot features our Primary Schoolhouse Chain Hung Pendant Light which hangs in Amanda's dining room.
"We moved into this 1980's home five months ago and have been slowly working on minor updates in each room," Amanda says. "The first projects were the kitchen, the banister, and then the dining room."
Amanda lives with her husband and two children in the suburbs of Gillette, Wyoming, a small town in the northeast corner of the cowboy state as Amanda calls it.
When she started searching for lighting for her dining room, Amanda struggled with an electrical box that is off center in the room.
"I needed to find a light with swag, but most stylish pendants and chandeliers don't accommodate a swag," she explains. "For style, I love designs that are timeless, vintage, and also trendy — an impossible mix. But I think the schoolhouse era really fits this concept."
Amanda chose the Primary Schoolhouse Chain Hung Pendant Light and customized this American-made light with a large globe, Black fitter, Black cord, and triple painted bands of Jadite. The hand-blown glass globe is opaque just like the traditional schoolhouse pendants from the early 20th century.
"In searching for schoolhouse lights, I came across Barn Light Electric and fell in love with the customizing features that are offered," Amanda says. "It makes the light feel classic and still unique to my style." She admits to being hopelessly in love with anything in the mint/blue/green color range and that customizing the globe with the Jadite stripes was an easy choice.
"The light fixture really freshened up the room, more so than adding the new furniture even," Amanda notes. "Because it is visible from most rooms in the house, it really makes a big impact on the space."
Photos courtesy of Amanda O'Rourke