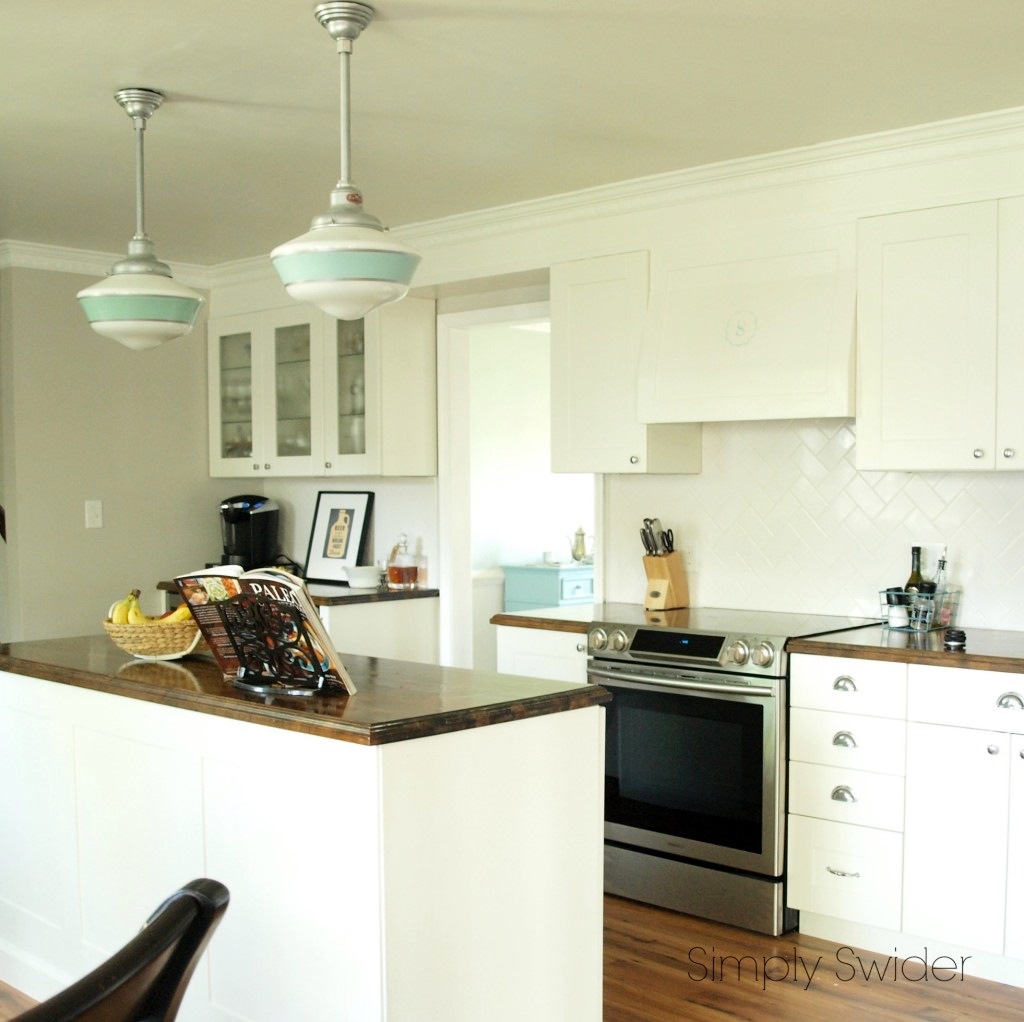 Schoolhouse Lighting Brings Vintage Industrial Style to Kitchen
Designers often talk about an "anchor" as they summon their creative muses. That one piece in a space where your eye is drawn, that other elements play off of, and which becomes a focal point in a room.
Stephanie of Virginia Beach, Virginia, found the anchor for her new home before she ever signed the closing papers.
"I fell in love with this light at first glance and never looked back," Stephanie says. "In fact, our entire downstairs color scheme was chosen around these lights." Stephanie is a wife, mother of two, and the author of Simply Swider, a DIY blog. She discovered Barn Light Electric when reading a design blog and fell in love with the Primary Schoolhouse Stem Mount Light. Although she had no need for lighting at the time, she knew that one day, she would design her kitchen around that light.
That day came sooner than expected when the couple found a fixer-upper house in a different neighborhood. Stephanie started designing and planning her new home and returned to the classic schoolhouse fixture. Stephanie customized the vintage schoolhouse light with a large, hand-blown glass globe, a single band of opaque Jadite, and a 12″ galvanized stem and canopy.
"I've been in a mint phase lately and the Jadite color was actually what first attracted me to the light so that was a no-brainer," Stephanie explains. "I really wanted the color to make a big impact in the room and I felt that the one band did that more so than multiple bands of color." She chose the galvanized stem because it added just enough industrial flair to the space without going overboard.
But Stephanie had a problem. Doesn't every remodeling story have its share of problems?! The old light box wasn't centered with the new island (see the first pic above), she needed more light, and the fixture wasn't making quite as big a statement as Stephanie hoped. The solution?
Buy another one! And like most DIYers, Stephanie is always on the hunt for a bargain and she timed her two purchases perfectly — she saved 10 percent and received free shipping during our Fourth of July sale and again almost six months later during our annual holiday sale when she purchased the second light.
"I love that I had so many options in designing the light and how they anchor the whole room," Stephanie says. "They are large enough to make a statement in an otherwise cluttered kitchen and add just the right amount of color to brighten up the all-white space." And while the pendants work great as task lighting over the island, the globes create the perfect ambient lighting when all the other lights in the room are off.
The Barn Light Electric collection of Schoolhouse Lights are American made with hand-blown glass and careful attention to vintage detailing. A variety of styles are available as chain, cord and flush mount fixtures along with multi-light chandeliers, wall sconces, and vanity lights.
"I love that they have a vintage feel without feeling stuffy or too traditional," Stephanie adds. "We almost never turn these lights off!"
Photos courtesy of Simply Swider