Featured Customer | Porcelain Pendants for Busy, Creative New York Food Studio
New York and fine food just belong in the same sentence. From food trucks offering overstuffed wraps to passersby to the resplendent spreads offered in the city's 20,000-plus restaurants, good food isn't hard to find when you venture into the city. Today's Featured Customer has her finger on the pulse of the New York food scene as the creative force behind The Jewels of New York, a catering and food consultation service. Diana Yen recently moved into a new studio and was on the hunt for classic pendant lighting for her space.

"I built a test kitchen in the new studio and was searching online to find classic pendants," Diana says. "Having good lighting in the kitchen while cooking is so important." Diana's multidisciplinary creative studio not only offers catering services, but styling and photography, and recipe consultation. Her clients include Martha Stewart, Food & Wine, and Better Homes and Gardens.
Diana's new studio is located in the Lower East Side of Manhattan which she describes as "a really fun neighborhood with a lot going on." She chose two Ivanhoe® Avalon Warehouse Porcelain Pendants to brighten up the delicious work going on in the busy kitchen. These 12″ American-made, RLM-inspired warehouse shades are finished in a durable Black porcelain enamel finish with a standard black cord and canopy.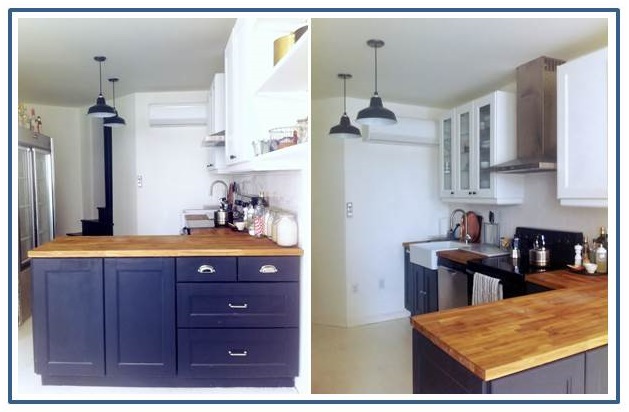 "I love the look of these classic lamps," Diana says. "I thought the porcelain had a delicate look, but I also know that it's a very strong and durable material." Diana not only knows her porcini, she knows her porcelain! The porcelain enamel finish on the lights we create will never fade and are easier to clean up than a messy kitchen. All of our Porcelain Enamel Barn Lighting is hand spun from commercial grade steel then baked with two coats of porcelain enamel glass to ensure a high-gloss finish that is not only durable but gorgeous too.
"I wanted overhead lighting that would be bright enough to provide safety while we are cooking all day," Diana notes, "but I also wanted it to be beautiful and simple." We plan to visit with Diana and her creative crew again as we heard rumors of a spring picnic in the works featuring some of our new Porcelain Enamel Dinnerware! Great food, vintage porcelain dinnerware — what's not to love?!
Photos courtesy of The Jewels of New York