Featured Customer | Porcelain Lighting Chosen for Natural, Honest Quality
It's a short but scenic, 4.5-mile ride over the Bay Bridge to cross from Annapolis to Kent Island, Maryland, but it is truly a world away. Maryland's Eastern Shore is dotted with farmlands, forests, and quaint small towns like Oxford which is home to the Preservation Green Horticultural Center. This center is a working studio built last year under the guidance of Philip Logan, architect of record for Preservation Green LLC, and features classic porcelain enamel lighting.

"The space is a LEED registered project located in this historic waterfront town," Philip explains. "It is a working studio designed to explore product developments combining horticultural plant material within new display ware." An abandoned restaurant was gutted, raised six feet in the air to get above the flood plain, and transformed into a beautiful space that mixes many of the old building materials with new. The space called for "honest, working light fixtures" according to Philip, and he helped select a variety of both porcelain gooseneck and stem mount fixtures to highlight the space.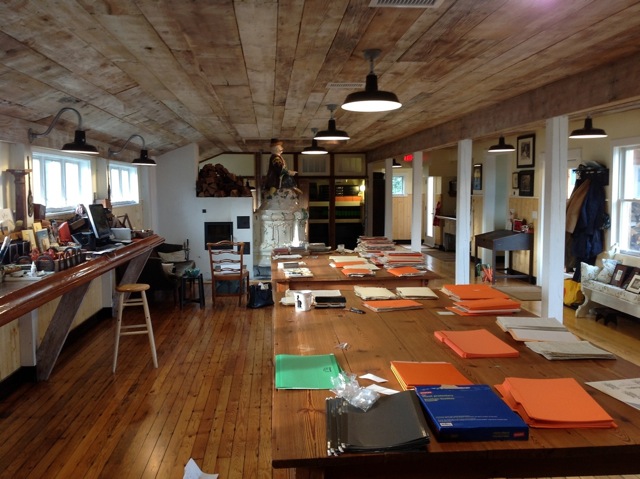 "The lighting for each space was considered carefully," Philip says. For the studio, downlighting was desirable so he selected the Goodrich® Sky Chief Porcelain Gooseneck Light, in both 12″ and 16″ shades, for the perimeter. Down the center of the room, the complementary Benjamin® Sky Chief Porcelain Stem Mount Light does the job. Philip chose a classic Bronze finish for these American made fixtures. The goosenecks sport a Galvanized G15 gooseneck arm while the stem mount lights feature a 12″ Galvanized stem that is 3/4″ in diameter.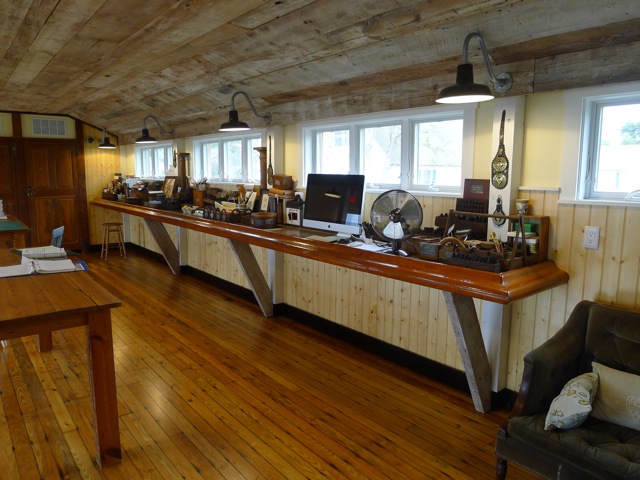 Porcelain enamel lighting fits perfectly with the vernacular of the space and the rustic nature of the renovation. Porcelain enamel was once the finish of choice for lighting manufacturers until cheaper painting techniques came onto the market. Barn Light Electric has revived this once-proud industry with its own porcelain manufacturing facility where we create lighting fixtures to last for years. Be sure to check back soon as we plan to feature more of this beautiful horticultural center in the near future!
Photos courtesy of Preservation Green Horticultural Center