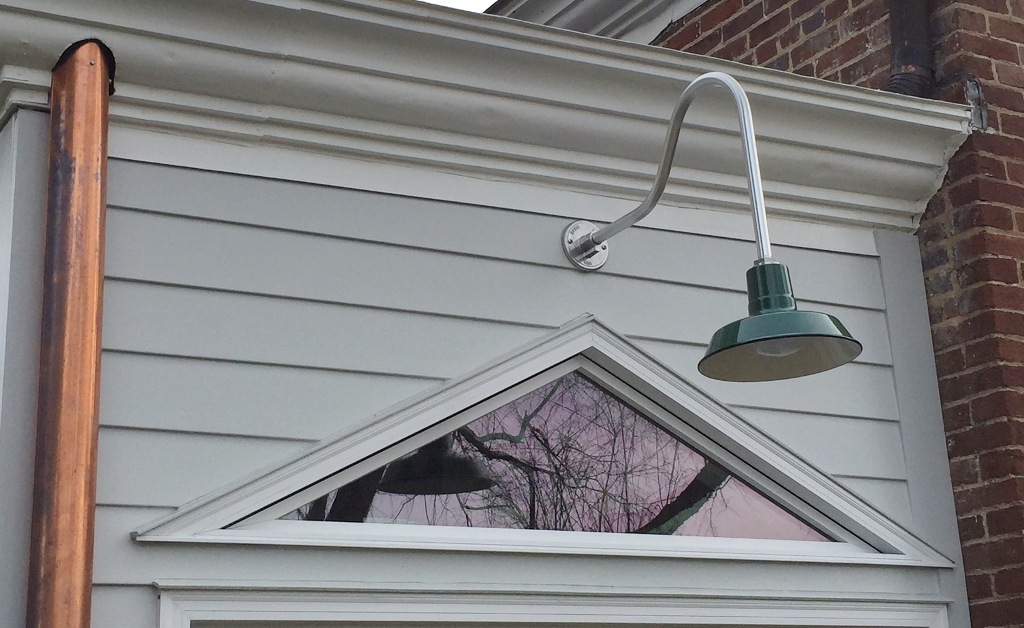 Porcelain Lighting a Perfect Fit for 175-Year-Old Farmhouse
Back in the mid 1800s when Ken's Kentucky farmhouse was first built, the kitchen was a separate building. Thankfully, the kitchen is now connected to the main house via a back porch so there are no dashes through the rain just to eat dinner.
"We've been working on the place for more than 21 years now," Ken says. "The interior walls are solid and 18 inches thick which makes plumbing, heating, and electrical improvements tough." When Ken started looking to upgrade his lighting, he wanted to maintain the classic farmhouse look. An old porcelain enamel gooseneck barn light hung outside and Ken wanted to replace it with one just like it. Here's the old light right behind the scaffolding below.
"I really wanted an American-made porcelain enamel light," he notes. "The original light was the vintage green and it was important to me to retain that color."
Ken says he got lucky when he googled porcelain barn lights and found that Barn Light Electric is the only company in America still manufacturing porcelain lighting the old-fashioned way — by hand spinning commercial-grade steel then coating it with four layers of porcelain enamel glass. The fixtures are baked in a special oven to seal the glass to the shade with a high-gloss, long-lasting finish that will never fade.
Ken chose the The Original™ Warehouse Gooseneck Light to highlight the exterior of his home. He customized this classic barn light with a 12″ shade, Vintage Green finish, and a G24 gooseneck arm that brings the light more than 22″ away from the façade.
"It's pretty much a direct replacement for the very old one that was there," Ken explains. "The same shade color and style and the same size and shape of the gooseneck."
Ken also needed a light for the space where his refrigerator is located and he chose a complementary porcelain enamel pendant with an industrial chain mounting. The Aero Chain Hung Pendant Light is a perfect fit for this space with its 14″ shade and sleek bowl.
"We debated the color choices but went with White as it seemed to fit a bit better," Ken says. "The chain allowed me to adjust the position to exactly where I wanted it." The more modern look of the Aero's sleek shade blends well with the natural cherry cabinets and stainless appliances. Although the upkeep on an older home is never truly completed, Ken is happy with his new lights that keep the vintage feel of the home.
"It's an old farm and I wanted to keep the farm atmosphere," he says. "I love the lights. I don't really see the outside one too much but I fell in love with the hanging light. I like to look at that one."
Photos courtesy of the homeowner