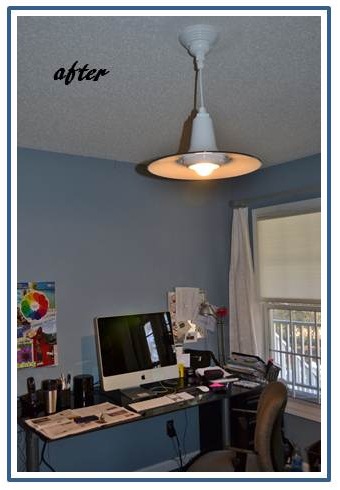 Featured Customer | Porcelain LED Fixture Brings Warm, Bright Light to Home Office
Tucked into a quiet hillside in the small town of Fairview, North Carolina, lies a beautiful contemporary home full of warm, earth tones and a cozy mountain feel. Sandie, an editor and designer, lives here with her musician husband and Whitney, a sweet, grey-faced golden retriever. Sandie spends many hours in her home office creating the Fairview Town Crier, a local paper,and working for other local organizations including the Fairview Business Association. The lighting in her office was adequate but put off too much heat in the small, 12 x 12 room.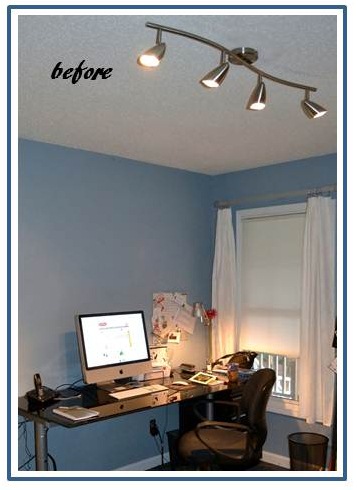 "I had these modern halogen track lights that I hated," Sandie says. "They looked okay, but they were so hot and glaring." Sandie has two black glass desks, and the lights created too much reflection for a comfortable workspace. When considering a new fixture for the center of the room, Sandie knew that an LED light would not only create far less heat, but would save on energy costs in the long run. She selected the 16″ Ivanhoe® Sterling Deep Cone Porcelain LED Pendant in a White finish. Her new light is hung with a standard white cord, and features 1250 lumens with a dome lens.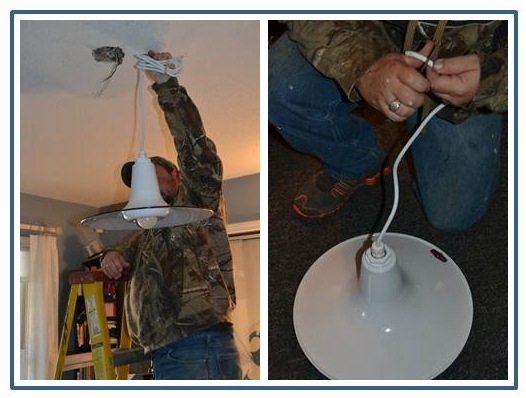 The installation was performed by Bronson who shows, step-by-step, how he installed Sandie's new LED fixture. Eight feet of standard white cording is included with Barn Light Electric fixtures. Bronson helped Sandie measure out how much they would need then cut the excess cord.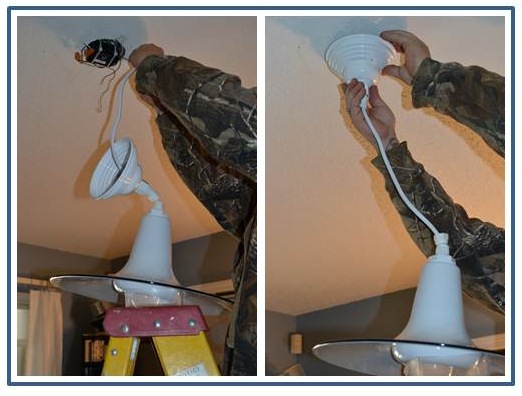 Next Bronson wired the fixture into the existing junction box, slid the canopy into place, and screwed it snugly against the ceiling. And voila! The last step involved installing a special dimmer specifically designed for LED lighting so that Sandie has the flexibility to create the perfect amount of light in the room.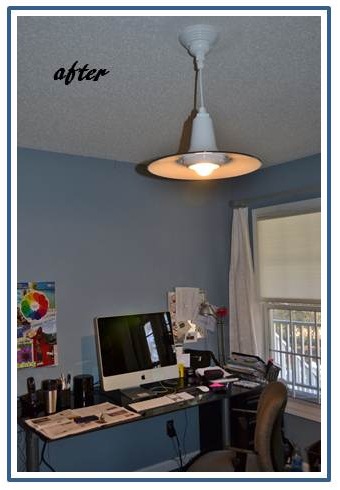 The LED modules, which are created using Cree TrueWhite™ technology, are about 85 percent more efficient than incandescent bulbs. Since these LEDs consume significantly less energy, they don't emit as much heat making Sandie's office much more comfortable. And the light itself resembles the warm light from a traditional incandescent bulb.
"The fixture is working out perfectly for me," Sandie says. "When I need bright light, it is there, but for the most part, having it dimmed to about 60 percent seems perfect for my computer work, even at night."
Sandie's new light is not only crafted to last a lifetime with its porcelain enamel finish, but the new LED module should provide up to 50,000 hours of service before Sandie has to think about changing it. The best of vintage styling and energy efficient lighting!