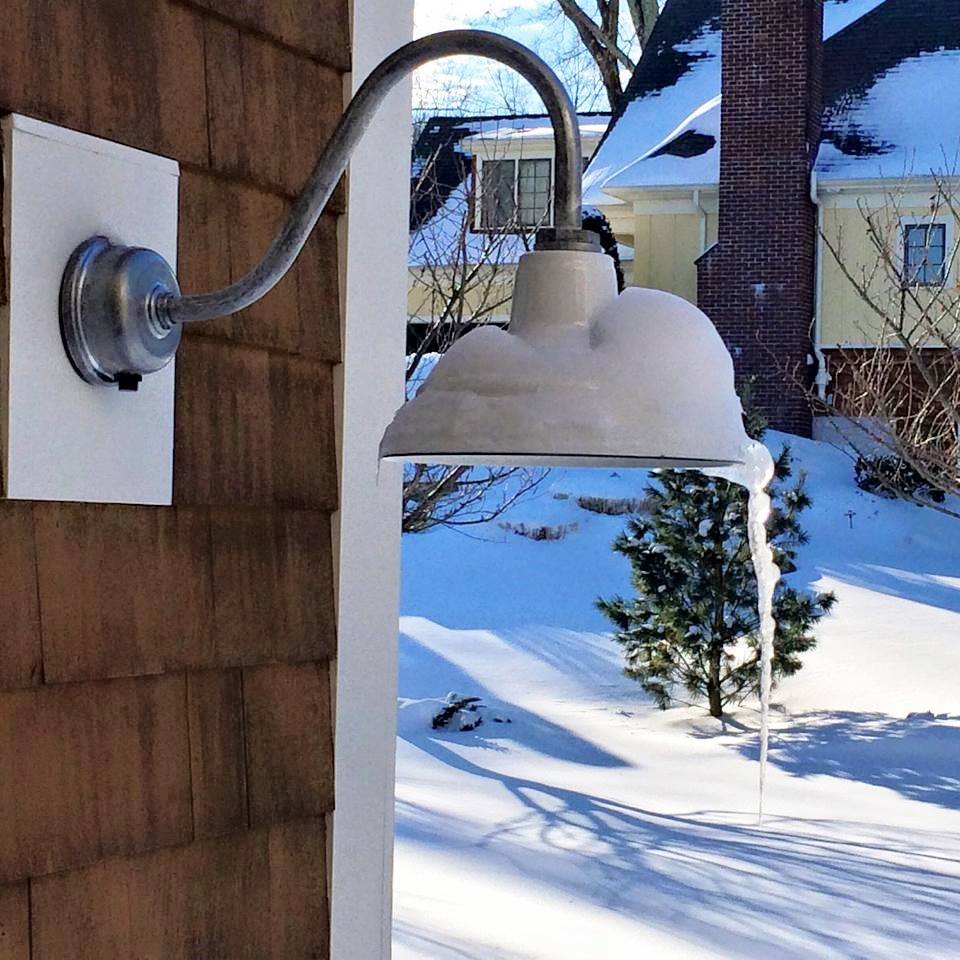 Porcelain Enamel Lights Add Retro Touch to Rhode Island Home
Home renovations sometimes resemble one of those domino tricks where you touch one then all of the others fall in line. You may start out with a simple plan to add a new chair rail in the dining room, but then you realize the dining room table needs refinishing. And the wall could use a fresh coat of paint. And so it goes!
When Rhonda and Peter, of East Greenwich, Rhode Island, repainted the exterior of their home recently, they realized that their outdoor lighting needed updating.
"The style we were going for was traditional, Cape Cod New England, but with a modern, fresh feeling," Rhonda says. "We chose porcelain enamel lighting because it's retro, nostalgic, and yet very current and modern which is what we were hoping to achieve while keeping with the style of our home."
On the front porch, the couple selected the Seaside Stem Mount Pendant Light in a Galvanized finish. The 16″ shade casts plenty of light onto the porch and the 36″ Galvanized stem brings the light low enough to be seen from the road.
"Why hide such a beautiful fixture?!" Rhonda says.
The couple stayed within our porcelain enamel collection and chose the big, beautiful Bomber Gooseneck Light to highlight outdoor living spaces of their home. Eight of these American-made lights, featuring an 11″ shade and a G16 straight gooseneck arm, were installed on the upper and lower decks. All are finished in White porcelain enamel with a Galvanized finish on the arm.
"We chose the Bomber goosenecks because we wanted certain areas to make a bigger statement," Rhonda explains. "We went with white because it coordinated nicely with our new paint. It's nostalgic and current at the same time."
Two other Bombers flank the garage doors and one stands duty at the back door. These 11″ shades have a G11 gooseneck arm which offers a 16 1/2″ projection from the wall surface. The fixture by the back door was further customized with a dusk-to-dawn photocell that will automatically turn the light on at dusk and off at dawn so Rhonda never has to think about flipping the switch.
"The hardest thing was deciding from so many lights that we loved!" Rhonda says. "Honestly, it was tough because there are so many gorgeous designs and colors, and I love color!" Rhonda first discovered Barn Light Electric from ads in home magazines.
"I take note if something stands out then follow that company on social networks to keep up with any new designs and styles," she says. "I'm a sucker for good design — what girl isn't?!"
Photos courtesy of the homeowner