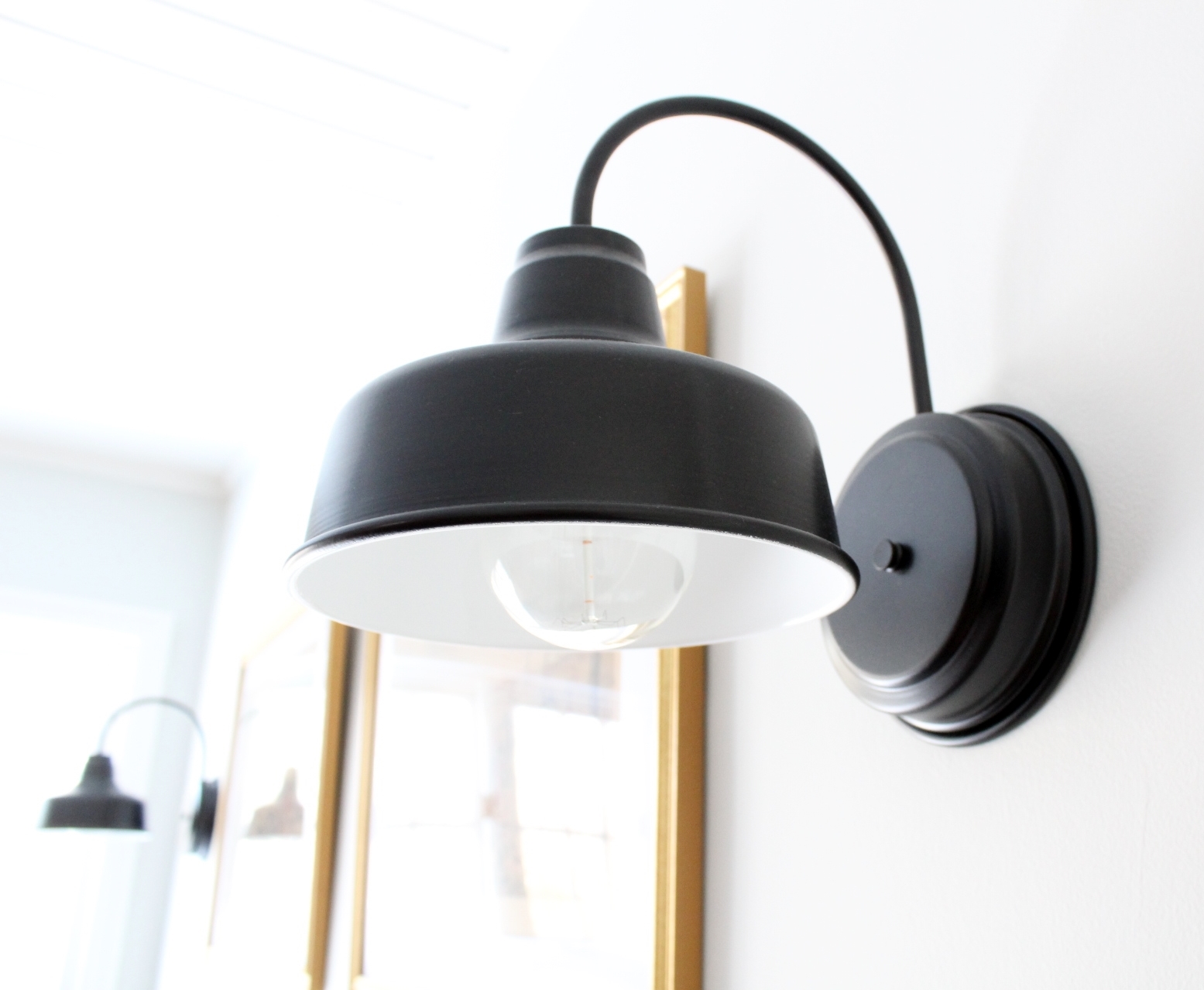 Porcelain Enamel Lighting Rounds Out NY Home Remodel
In Monday's post, we met Amanda and Christopher who recently purchased their first home. The initial step for the couple was to repaint the multicolored rooms with a neutral gray to make the house look bigger and provide a softer palette on which to layer furniture and accessories. Along with painting and refinishing wood floors, they paid attention to the smaller details such as updating door knobs and cabinet hardware and replacing run-of-the-mill light fixtures.
In her search for quality, American-made lighting, Amanda fell for the classic look of the Original™ Warehouse Flush Mount Pendant for her home office. But while this Galvanized barn light set the tone for the rest of lights upstairs, Amanda opted for porcelain enamel lighting downstairs.
"The Galvanized finish is classic and a bit more industrial which I thought was appropriate for the office," she says. "I knew we wanted to do the fancier, more expensive porcelain lighting downstairs."
To make an immediate statement in the entryway, Amanda chose the Original™ Stem Mount Pendant Light. She customized this 12″ handspun steel shade with a Black finish and flush mounting.
"I think the porcelain lighting is so awesome and beautiful," Amanda says. "They are just classic vintage fixtures that I think will never go out of style."
Another Original™ found a home in the nearby mudroom/pantry. This fixture features a slightly larger 14″ shade with the same Black finish and flush mounting. Each porcelain enamel light is handspun from steel then coated with multiple layers of porcelain enamel glass.
The shade is then baked in a special oven that reaches temperatures of 1,500 degrees to seal the glass to the shade producing a high-gloss finish. This finish will never fade and is simple to keep clean.
In the kitchen, an Original™ 2-Light Stem Mount Pendant highlights the island while another Original™ Stem Mount illuminates the dining table. The multi-light pendant boasts two 16″ shades mounted on 12″ arms.
"Originally there was a single pendant there but we wanted to do something different," Amanda explains.
Along the wall, two complementary Barn Wall Sconces flank Amanda's artwork.
These Barn Light Arlington Sconces fit the space well with their compact 8″ shades.
Over the sink and windows, Amanda chose the slightly smaller Barn Light Mini Artesia Wall Sconces. With a 6″ shade and G33 straight arm, these mini warehouse shades may be small in size, but they still offer a bright spot of visual interest.
In the nearby powder room, Amanda pondered the tiny space that needed adequate yet stylish lighting.
"The powder room is super small so we needed a very low profile sconce in there," she says. "I wasn't sure how the Kao Wall Sconces would look, but they turned out great and match the other black fixtures on that level."
The Kao Wall Sconce is crafted from solid porcelain ceramic and is inspired by the fixtures created by Pass & Seymour's Alabax Division. Popular in hotels and hospitals throughout the 1950s, this compact wall light fits small spaces easily and can be customized with an array of finish colors and light bulb choices. Amanda is thrilled with how much the new lights changed the look of her home.
"The best thing about these lights is that they set the tone and style for the whole house," she says. "They really made our first house feel like a home."
Photos courtesy of the homeowner