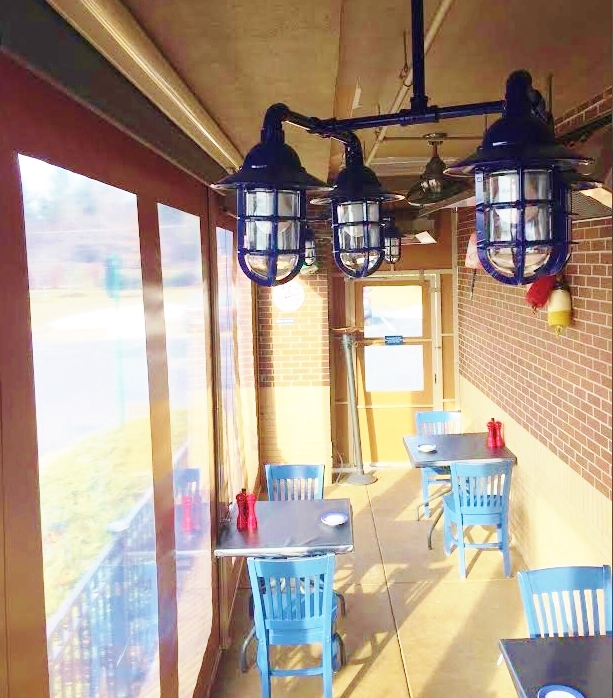 Nautical Chandelier Anchors Fish House in Virginia
One of my favorite finish colors in our ever-expanding palette is the Cobalt Blue. It's brilliant and bold and reminds me of sitting at the ocean's edge with my toes in the sand.
Tony Stafford, executive chef and owner of Ford's Fish Shack in northern Virginia, is also smitten with the hue. He has used it throughout his two restaurant locations and, in particular, during the recent remodel of the outdoor seating areas.
"Blue is a common thread throughout the linens, menus, and even the cocktail concepts and dish designs," Tony says. "You'll find Blueberry Mojitos and Blueberry Martinis being muddled and mixed behind the bar every day!"
As the design got underway for the remodel, Tony wanted to create an outdoor patio where it's comfortable to dine on cold winter nights, but also light and airy on warm summer days. A rustic, nautical atmosphere is evident throughout from the blue salt & pepper shakers to the hundreds of buoys hanging along the perimeter. Tony found the perfect rustic chandelier to top off the new space in the Foundry 4-Light Chandelier.
These American-made nautical ceiling lights feature four cast guard-and-glass jars topped with mini RLM warehouse shades. Tony customized his new chandeliers with the Cobalt Blue finish, 18″ stems, heavy duty cast guards, and clear glass for maximum illumination.
"The Foundry Chandelier was very appealing to our eye," Tony says as he explains his choice. "The chandelier is a very simple design with enough intricacy to be expressive and be an active part of the atmosphere."
Finding a high-quality light fixture that could handle not only the constant traffic of a commercial space but also the weather fluctuations of the patios was very important to Tony. This chandelier, like all of the chandeliers that we make, is handcrafted from commercial grade materials and will offer years of service even in a busy restaurant.
"The subtle vibrancy brings out the perfect emotion we were looking to get from this chandelier. It gives off the perfect amount of light for an evening dinner on the patio," Tony says. "We enjoy the ambiance it helps foster on the patio and the rustic style looks welcoming from the outside."
Photos courtesy of Ford's Fish Shack