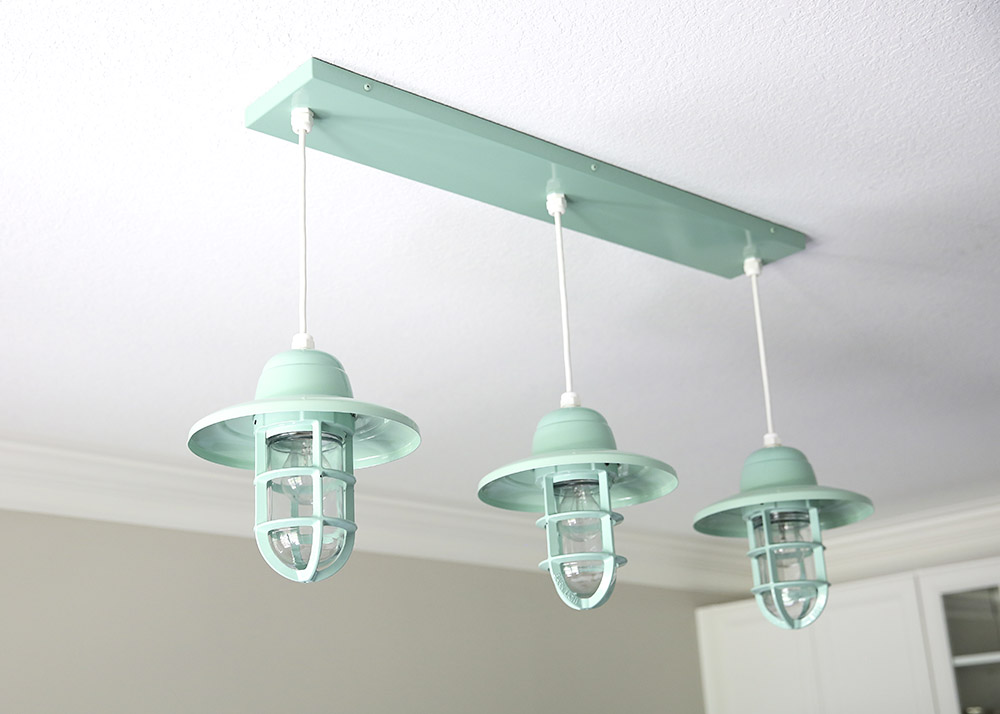 Multi-Light Chandelier Brightens Blogger's Craft Room
People who start a business from home tend to start small. The owners of Barn Light Electric, in fact, started with little more than a laptop on the dining room table and a barn full of vintage fixtures. But there comes a time when a business requires dedicated space with ample storage, room to grow, and, of course, good lighting!
Jamielyn Nye is the owner and managing editor of I Heart Naptime, a site that helps women get their creative juices flowing for those precious afternoon hours when wee ones sleep. For several years, Jamielyn ran her business from a small desk in her bedroom, but in a recent move to another state, she decided to take over the dining room and create a full-fledged studio/craft room/office.
The new space, featured recently on her blog, includes bright white beadboard on the walls, new wood floors stained a dark Texas Brown, and a craft table in the center of the room built by Jamielyn's husband. Providing plenty of light to her new space is our Enterprise 3-Light Chandelier. This rugged chandelier provides an industrial alternative to track lighting with its three hanging guard-and-glass pendants topped with mini RLM shades.
American made from commercial grade materials, this rustic chandelier features a Jadite finish, part of our paint-to-match porcelain palette. Jamielyn customized her new chandelier with thick cast guards, clear glass, and standard white cords. The canopy was painted Jadite to match the shades and provide contrast against the white ceiling.
"I love the hanging lights and glass jars," Jamielyn says. "It is so unique!"
Our Chandelier collection features two- and three-light fixtures as well as fixtures with up to eight lights for larger spaces. These guard-and-glass fixtures have a hint of nautical flair and can be customized to suit almost any residential décor. Hand crafted by our own artisans, these chandeliers are rugged enough for commercial lighting needs too and have been installed in restaurants, pubs, and retail spaces. Check out our Photo Gallery for some inspiration!
Photos courtesy of I Heart Nap Time