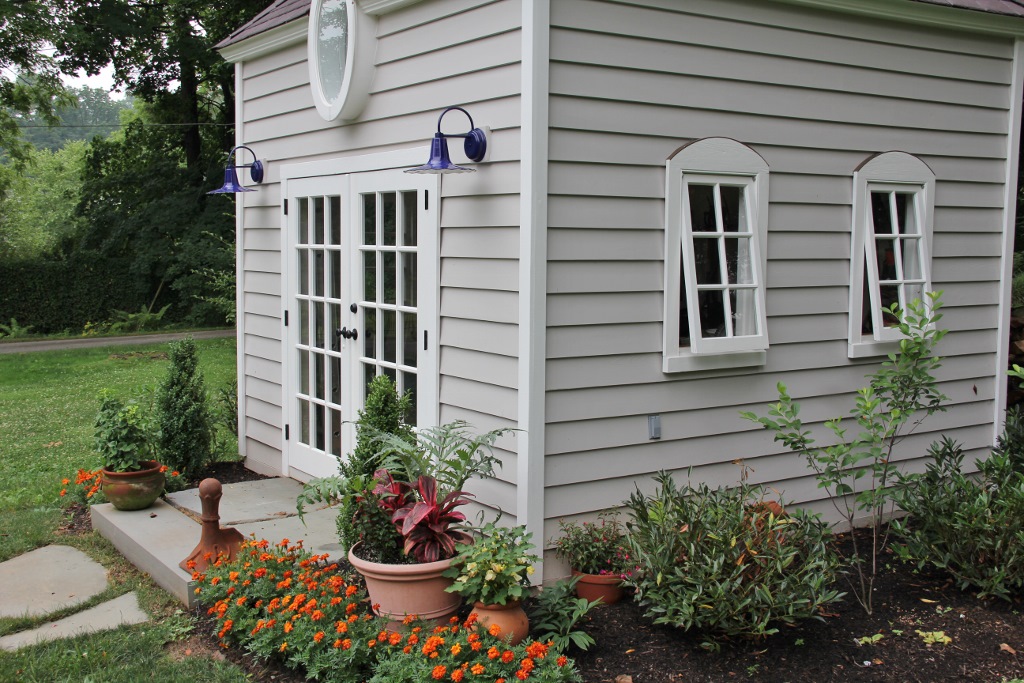 Porcelain Wall Sconces Add Retro Attitude to Garden Shed
Today we consider the humble garden shed. This utilitarian structure takes on many forms — from a simple lean-to to one of those two-story, metal monstrosities dropped on your lawn by the local big-box store.
Every now and then we find a customer who raises the bar on garden shed design, and today we feature Susan in Pennsylvania who did just that. A horticulturist and botanical illustrator, Susan owns a fair amount of garden equipment.
"I wanted my tools to be readily at hand," Susan explains. "I wanted them to be housed in a structure that would not only be functional but also add charm to the landscape." Susan turned to Ken Smith, owner of Garden Sheds, Inc. in Lambertville, New Jersey. While Ken offers an array of designs, Susan wanted to tweak the design of her new shed to match her French-style home.
"I felt that the roof needed to be taller and steeper than the usual designs," she notes. Ken was more than happy to accommodate Susan's wishes, and the result is a beautiful building that mimics the French detailing on Susan's home.
For the lights, Susan wanted something that would be elegant and charming but a bit more whimsical than the fixtures on her house. After poking around on Google, she found Barn Light Electric and the combination she was seeking in the Seaside Wall Sconce.
"I wanted something with some curves — a little bit of a 'gesture' —  not a fixture that would just sit on the building like a lump," Susan says. "I refuse to settle for anything that doesn't seem quite right, so my poor new shed went lightless for several months while I looked around."
Susan chose a 14″ shade customized with our brilliant Cobalt Blue finish, a color that complements the shed's eggplant-colored roof.
"The radial wave design has a little panache, a slight retro look, and a little attitude without being cute," she says. "Also, true blue can be hard to find in the plant world, so I think adding it to the garden with non-plant elements is fabulous."
Susan chose the porcelain enamel wall sconce for its durability and easy-to-clean finish. Hand spun from commercial grade steel, the porcelain enamel glass finish provides years of service with no fading and is simple to maintain.
"It is the most durable finish and has more depth to the layers of color," Susan notes. "I also didn't mind that there might be some imperfections that would make the finish unique and give it character." Every porcelain enamel light we manufacture is hand crafted so each is truly one-of-a-kind!
Photos courtesy of the homeowner