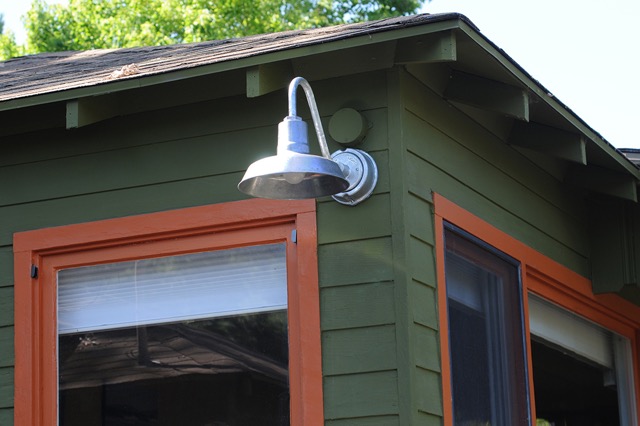 Mid Century Lighting Plays Role in Bungalow Makeover
One of the best parts about being a blogger for Barn Light Electric is that I hear about all sorts of great projects — new home builds, office overhauls, restaurant remodels, and renovation projects that take on a life of their own. Customers generously share their photos with us so that we, in turn, can share them with you to use as inspiration for your own projects!
Today we visit with Elizabeth who, along with her husband David, tackled the renovation of a 1949 bungalow in Ojai, California, a tiny rural town near Santa Barbara. They fell in love with the location and timeless charm of the cottage and set about modernizing yet protecting the roots of this older home.

Q: What attracted you to this bungalow?
A: We wanted a house built before 1960 that still had some of its original look. We almost didn't call about this house because the photos on the listing were so bad, but something kept drawing us back. We finally decided to call and we're so glad we did because the minute we saw it, we felt like it had been waiting for us. David didn't even look at the inside. He went straight to the back yard and sat under the 130-year-old oak trees and refused to move. There is an outdoor kitchen which is a major draw for David who loves to cook plus it has a front porch, something we'd always wanted.
Q: What was your design direction as you started remodeling? What feel were you going for with your décor and lighting choices?
A: We wanted to modernize our home without losing the 1940s bungalow charm. It's so sad to see old houses get a "big box store" remodel that makes the inside look like something you'd see in a cheap tract home. Our friends always comment that our house feels like a warm and welcoming old fashioned cabin in the woods. We wanted our lighting and décor to reflect this.
Q: Why did you choose The Original™ LED Warehouse Gooseneck Light for the front?
A: We are both committed to living as sustainably as possible. This means finding products that are made in the USA which may cost more, but are well made and will last a long time instead of quickly falling apart. We loved the Original™ because it looked just like a light that would have been on the house back in '49 when it was built. The LED option was important because it saves so much energy. Lastly, our town has a new Dark Skies ordinance so the gooseneck, with its domed shade, adheres to our town's new lighting requirements while still giving plenty of light to the entryway.
Q: Why did you choose the specific options for that light — the Galvanized finish and the G26 gooseneck arm?
A: It goes back to wanting quality lighting that also looked original to the house. We drove around Ojai and looked at old farm houses that still had their original lighting, and galvanized gooseneck lights were the default outdoor light of choice back in the old days. These LED barn lights offer the perfect marriage of old-school style with modern technology and high quality. We're about to put on galvanized gutters to match!
Q: On the back of the house, you chose the Amidships Bulkhead Light Fixture? Was space an issue here?
A: We wanted to put two gooseneck lights over the doors in the back to match the front light, but our contractor, Jake Stone, said that given our roof line plus the door and window heights, they wouldn't fit. So we went back to the Barn Light Electric website to see what other options had a similar industrial galvanized look.
Q: In the bath, you chose the Primary 2-Light Schoolhouse Vanity Light? Why did you select this classic light?
A: Ah, the great bathroom debate! You have no idea how long we argued about that light.  My husband didn't want a vanity light at all and I did. I showed him dozens of lights and he rejected them all saying they looked cheesy and didn't fit with the old-fashioned-bungalow-meets-modern look we were going for. I went back to the Barn Light website and found the Schoolhouse Vanity Light and finally the great bathroom light debate was over! The classic look of the light tones down the more modern elements of our bathroom, and David liked the quality and that it was made in the USA. It gives me plenty of light at the mirror to get ready in the morning yet doesn't overwhelm the room. The black bands are a cute touch that, again, seemed to be something that would have been on a light in our house when it was built.
Q: How did you find Barn Light Electric — an online search, a recommendation, Instagram, Pinterest?
A: I have to admit that I initially brought home a gooseneck light from a major lighting retailer who will not be named. My husband, who used to be in the consumer product industry, took one look at it and told me to take it back because it was terrible quality and would fall apart in a year. He jumped online and in a few minutes found the Barn Light Electric website. It's now one of our bookmarks and the first place we will check for lights when we need them in the future.
Photos courtesy of the homeowner