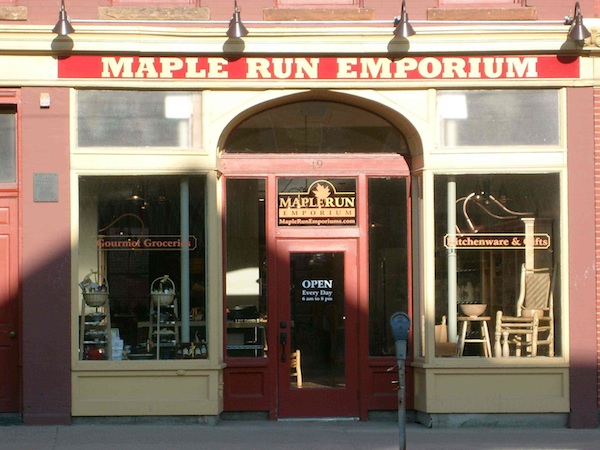 Featured Customer | Maple Run Emporium in New York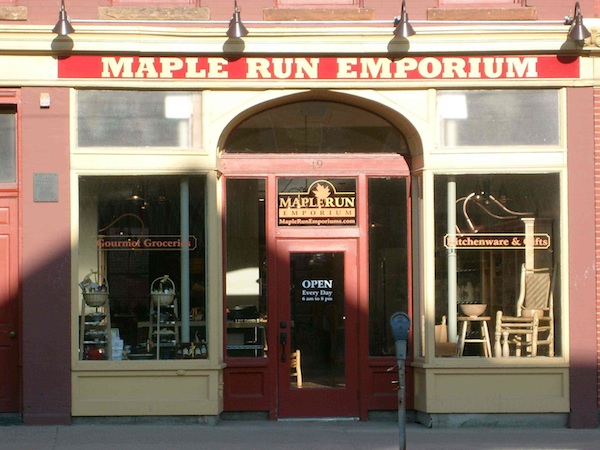 For our featured customer this week, we're in a New York state of mind as we take a look at Maple Run Emporium, a kitchenware and gourmet food store in Potsdam, New York. It's not often that we see so many of our lights all in one location, but we were amazed with the photos showcasing a variety of gooseneck lights, country chandeliers and pendant lights.

Founder Mary Hilton was in search of a combination of barn light styles to complete the historic, somewhat-country look of her store. The resulting effect of copper lighting against golden wood floors and furniture has a subtle yet high end feel for her customers. This turn of the century building leaves a lasting impression on guests – it is even currently listed on the Register of Historic Places!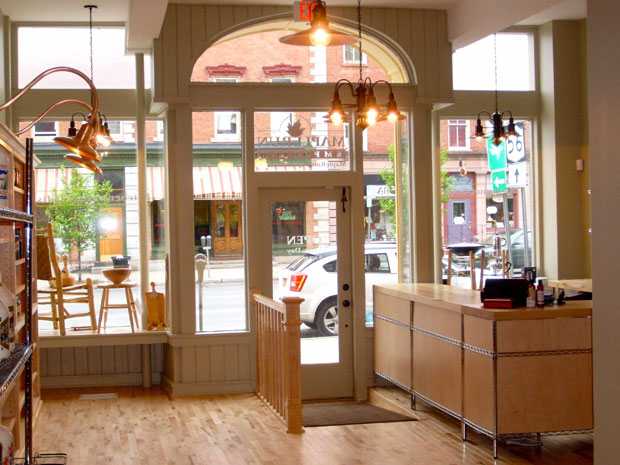 Let's take a quick tour through the shop, starting at the front door. Snagging a quick glance above, the red and gold logo have been highlighted by four angle shade gooseneck sign lights. Day or night, the shop remains stylish and welcoming – it's a unique, can't miss stop on anyone's route.
Inside, overhead and on opposite sides of the windows, are two rustic chandeliers – the Boxwood 5 Light and the Beechwood 3 Light. Pairing a darker Rosewood and Raw Copper Finish together is a nice, visual contrast to the lighter tones throughout. Both the 5 light and the 3 light are elegantly grouped together to provide a large amount of lighting to showcased item below.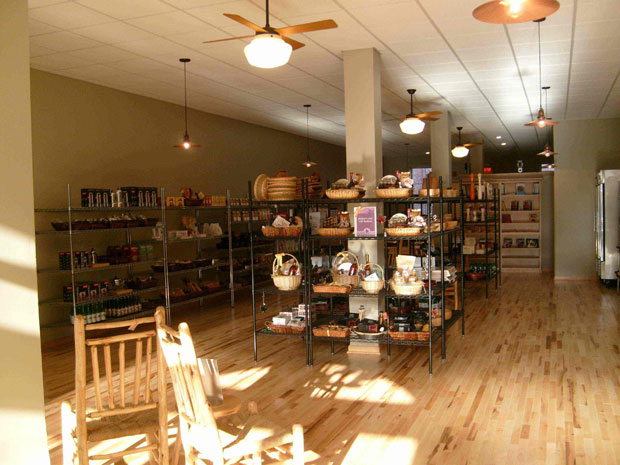 Glancing back to the rear of the store, you'll see that Mary chose Schoolhouse Ceiling Fans with 42″ maple blades. Schoolhouse shade designs have a timeless, historic look to match the building's exterior and will come in handy during the warm Summer months.
Over the two main aisles, she selected Raw Copper Farmhouse Pendants with 12 inch shades. Doesn't her overall arrangement resemble the style of an old fashioned country store? Who wouldn't want to stop in to see all this? But wait, that's not all of the lighting Mary installed! On the right hand wall, a little something extra was needed to showcase the assortment of syrups. Three Shallow Bowl Shades with B-2 gooseneck arms, also in a Raw Copper finish.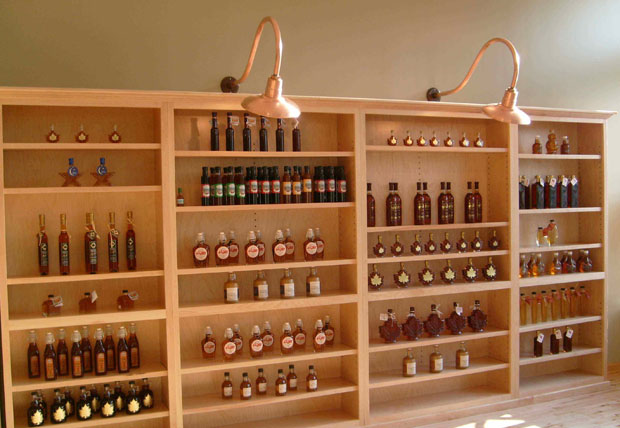 Like other featured customers, Maple Run shares many of Barn Light's guiding principles for providing the best products and service! With our lights, we believe they accomplished their mission of presenting a "tranquil ambiance that transforms shopping to a delight for the senses and imagination."
"We'll provide a space where employees, vendors, and professional chefs and decorators can demonstrate products and techniques…We will fill the market gap between super stores and small convenience stores with a distinctive shopping experience." – Mary Hilton, Maple Run Emporium