Featured Customer | Lori from Frugal Farmhouse Design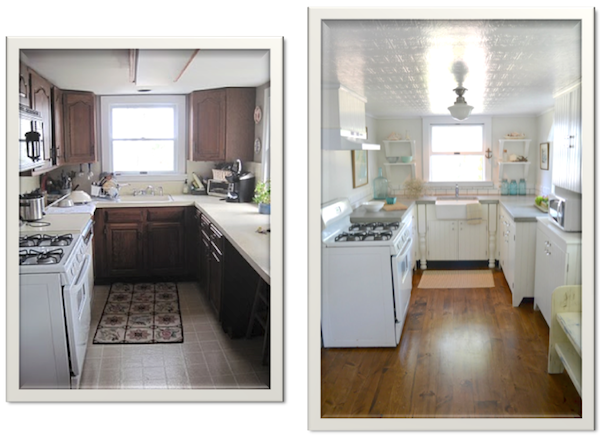 Like many women, Lori at Frugal Farmhouse Design is a woman who wears many hats. At any given moment, she is working as a mother, designer, blogger and shop owner. Today, Lori happens to be our featured customer, a title that doesn't require her to do any additional work!

While being the day's featured customer is a simple task, the kitchen that Lori designed was something that could only be tackled by the best of the best. From the photos above, you might find it hard to believe that it's even the same kitchen. The area only measures 114 total square feet – that's not a lot of space to work with is it? In order to make the most of this room, Lori chose to stick with a crisp white color palette for everything – including the appliances. Many would consider this to be bland, but for the desired coastal yet farmhouse style, her choice is more than perfect. Lori topped off the room with accents found throughout the rest of the home. See the jadite and turquoise jars? And what about that little anchor on the window? That was the original doorknocker from the cottage, which happens to have been built by the owner's father.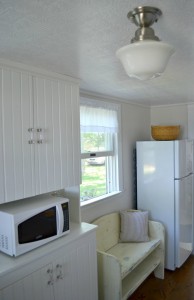 With such a fantastic layout, you wouldn't expect Lori to have leave that terrible fluorescent light in, would you? She contacted us about our vintage looking flush mount light called the Mayfield. By selecting a satin nickel finish for the fixture's mount, it brings in a soft and delicate touch that blends with the rest of the decor and furnishings. The schoolhouse style globe extending downward gives off a nice, soft glow while it's being used, but even when it's not on, it's a gorgeous piece that adds to the room's elegance.
The Mayfield Semi-Flush Ceiling Light is perfect for anyone looking for a quality light fixture on a budget. Starting at $165, the Mayfield is also a great choice for those looking to design a retro styled diner or those undergoing historic renovations.
Photos Courtesy of Frugal Farmhouse Design