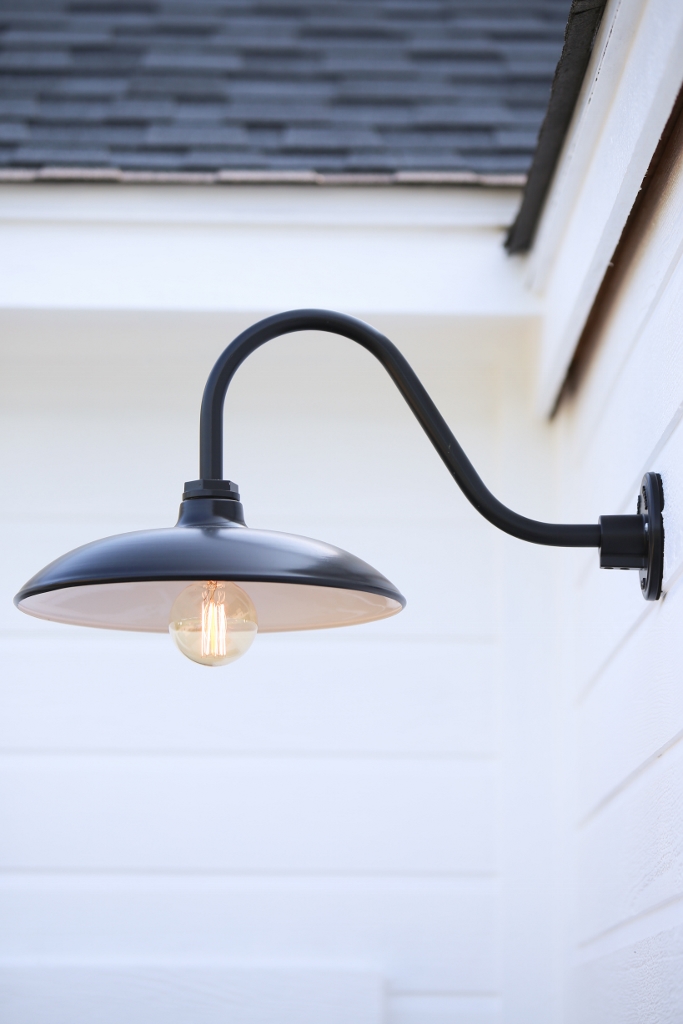 Exterior Lighting Blends Farmhouse & Modern Design
When Ashley and her husband created a studio on the back of their detached garage eight years ago, they dreamed of the day when they could connect the space to their home. Ashley writes the blog Under the Sycamore where she documents home renovation projects, family adventures, and offers an online photography school. Their dream of connecting house to studio came true this year as they tackled the major renovation and remodel.
"Our home is in Broken Arrow, Oklahoma, and is a traditional farmhouse built on two acres," Ashley says. "We basically cut off the entire back side of the house — downstairs, second story and attic — and extended the house out on all three levels." The new addition connects the studio to the home through an exterior breezeway which served as an outside refuge for the family of seven while the building chaos was happening inside the home.
The home is white with a black roof and black accents, and Ashley wanted lighting to serve as statement pieces while still being functional.
"The goal of the exterior of our home is to be a space that says, 'Come on over! Get comfortable and make yourself at home. You are welcome here!'" Ashley explains. "The lights had to be strong enough to handle Oklahoma heat and all of the inevitable balls that are flying around with a yard full of kids!" After seeing recommendations for Barn Light Electric on Instagram, Ashley decided to investigate.
"The ability to customize the lights was important during our selection process," she notes. "We had three spaces to hang lights, one with a ceiling but two that were completely exposed. The ability to customize the neck of the light made it possible to pick a fixture that worked in all three spots." Ashley chose the Sinclair Gooseneck Light to brighten her new space. She customized these three lights with 14″ shades, a Black finish, and G11 gooseneck arms.
"The exterior is traditional farmhouse style but it's more modern bohemian on the inside," she notes. "I wanted something that felt natural to the exterior but also had a modern twist that fit the interior." The Sinclair design is based on 1930s industrial style lighting but its shallow bowl adds a contemporary feel.
"The gentle curve and graceful lines of the Sinclair initially attracted me to it," she adds. "It has a feminine feel that complements the straight lines of the house." When choosing which gooseneck arm style fit all three spaces, Ashley liked the traditional curve of a gooseneck but had to consider the ceiling height above the door. The G11 provided just enough bend without reaching too close to the ceiling.
"The lights are beautiful during the day and equally stunning at night," she says. "They look like they were custom made to fit our home perfectly!"
Photos courtesy of Ashley Ann Photography