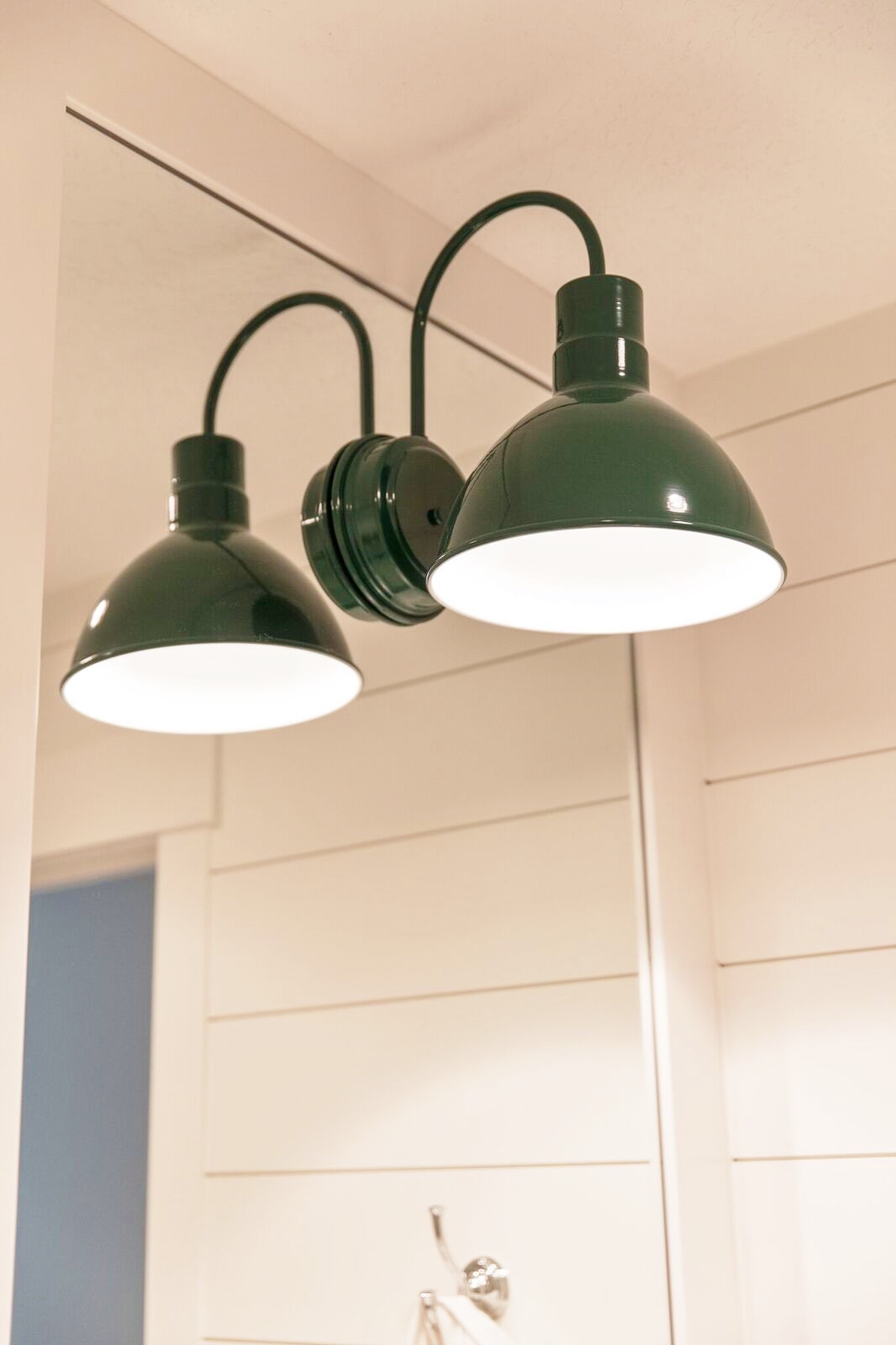 Color Trends | From Vintage to Modern, Green is a Go-To Hue
Throughout the centuries, the color green has symbolized many things including growth, freshness, harmony, and good luck. Today, green is all that and more, even becoming a movement encouraging us to take better care of our environment.
As a design element, green offers more shades than any other color ranging from pale hues reminiscent of spring leaves to deep, rich emerald shades. Today, we're offering up some green inspiration with customer photos of spaces adorned with Barn Light Electric fixtures. But first a quick review of the six shades of green we offer!
For our exclusive porcelain enamel barn lighting, Vintage Green and Jadite are offered in the green family. Our hand-applied porcelain finishes feature the characteristic white interior and black rim.
For barn lights with a powder coat finish, we offer Dark Green, Emerald Green, Jadite, and Mint.
When Janna chose a neutral color scheme for her powder room, she added a lively pop of Emerald Green on her Bantam Wesco Sconce.
"We were looking for an unconventional fixture here. The green is a fun surprise and ties into our front door color," Janna says. "It's always great when you can incorporate something surprising in a few areas, plus the rest of the room is so neutral, the green can really shine!"
Cynthia Zamaria, a Canadian interior designer who also runs a small flower farm, created a casual, organic feel for her home, a look that mirrors and respects the natural environment outside. She chose the Original™ Warehouse Pendant, inspired by early RLM lighting, for her kitchen. The generous 20″ shades feature a Dark Green finish and black-and-white cotton twist cord.
Jamie spent hours researching old farmhouses as she designed her new modern farmhouse in Texas. She noticed the classic Vintage Green color over and over. She selected the modern, deep bowl of the Wilcox Gooseneck Light but added the timeless appeal of a Vintage Green finish.
"Green is a favorite of mine so I wanted to add that pop of color to our white farmhouse," she says. "I feel strongly that the Vintage Green makes our house stand out and tells a bit of a story."
Joseph selected the Original™ Warehouse Gooseneck Light for his Colorado home. He customized three of these American-made wall lights with 14″ shades, a Dark Green finish, and G15 gooseneck arms. The finish color complements the historical color palette he chose for his home.
"I met with a Benjamin Moore paint consultant and we both thought the Dark Green was a classic color," he notes. "Gettysburg Gray is color of the facade which has a hint of green to it."
Green is also a wonderful choice for commercial spaces thanks to its inviting and soothing feel. Green's Design & Supply in Chattanooga, Tennessee, features three Fire Chief Sign Lights customized with a creamy porcelain Jadite finish. The owners opted for that particular combination to provide some funky color to the renovated space.
Having trouble deciding which green hue suits you best? Just call, email or chat our sales team and we'll be happy to send out color samples. Our team can be reached at 800-407-8784, via email at sales@barnlight.com or via live chat from our home page.