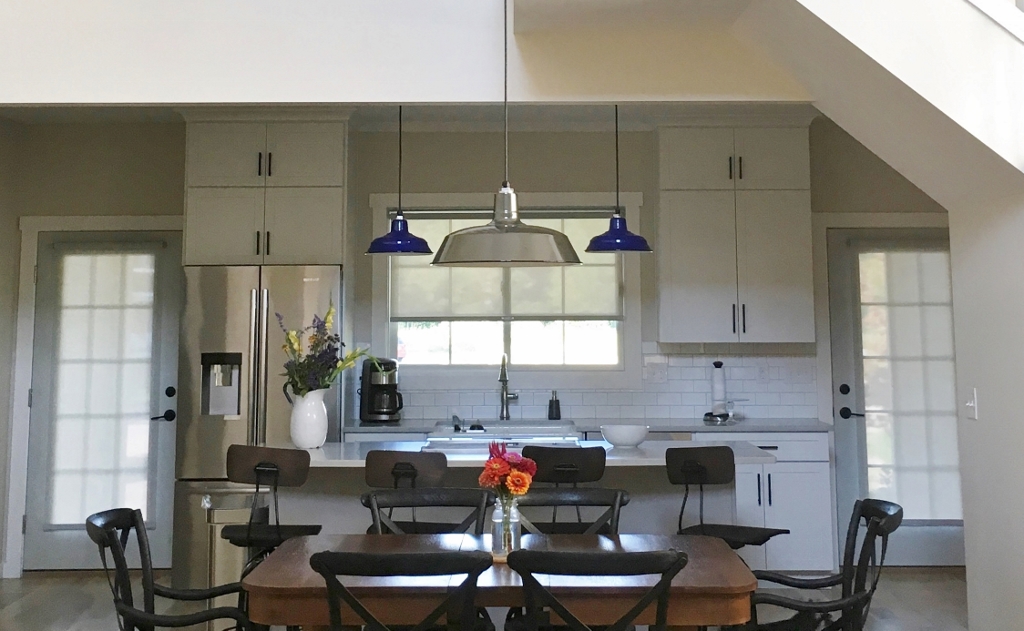 Homeowner Taps Barn Lighting for Simplicity, Classic Style
In Monday's post, we visited with Melissa who lives in a small town close to the eastern shore of Lake Michigan. She and her husband built a relaxed and comfortable home filled with industrial farmhouse style. Melissa noted that barn-style lighting was key to the classic farmhouse look she wanted, and she chose the iconic Original™ Warehouse Gooseneck Light for her porch.
Today, we take a peek inside Melissa's new home where the rustic lighting plan continues into the kitchen, dining room, and baths.
In her master bath, Melissa chose another Original™ Warehouse Gooseneck Light and customized it with a 12″ shade, Black finish, and G26 gooseneck arm.
"I wanted a light that would provide sufficient downward directed light while I stand at the sink," Melissa says. "I chose the Black finish to match the hardware in the bathroom. And the G26 arm allows the perfect projection over the sink."
In the smaller Jack-and-Jill bathroom, plus the powder room, she chose the Austin Wall Sconce which features a 10″ shade and Black finish. The shorter projection of this barn wall sconce suits the smaller spaces without compromising on style.
As Melissa searched for kitchen lighting, she came across our Porcelain Enamel collection which features a palette of high-gloss colors that are more durable than any other finish.
"I love cobalt blue, and when I found the porcelain lights available in cobalt, I knew we needed these in our home," she notes. Melissa chose the Bomber Pendant Light for the kitchen and customized these American-made fixtures with 13″ shades and her favorite Cobalt Blue finish.
"I love the color, and the profile of the Bomber, in particular, adds dimension," Melissa adds. In the nearby dining space, Melissa stayed within the porcelain family and chose the complementary Original™ Warehouse Pendant Light. This ceiling light features a Metallic Chrome finish on its generous 20″ shade.
"I needed a large pendant with additional cording since the ceiling height in this room is 18 feet," Melissa explains. "The Metallic Chrome color adds highlights to my antique Robbins table and was the ideal light for my dining room space." The ability to customize each light for the different spaces in her home made Melissa's dream of a classic farmhouse easy to fulfill.
"Barn lighting was central to the style we wanted," she says. "I love the simplicity, the high quality, and the vintage look. These products are a great combination of classic look and functionality."
Photos courtesy of the homeowner