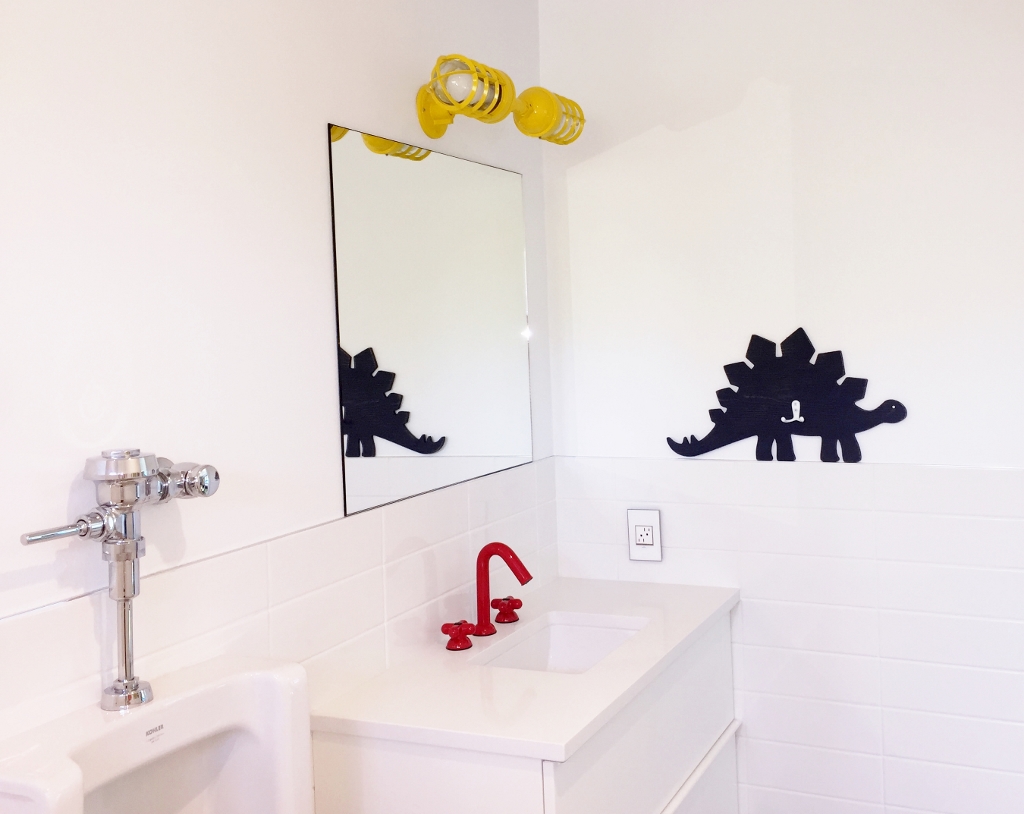 Happy Yellow Wall Sconce Brightens Boys' Bath
Back in September, we met Renee out in Texas who had just completed building both a house and a new barn on her working ranch. Renee's lighting needs varied from the house to the barn, but she wanted a cohesive look to the spaces since they are close in proximity. She chose Barn Light Electric's handcrafted barn lights that complement the old-fashioned farmhouse feel to the buildings but with a modern twist of styles and colors.
You can read more about the exterior of the buildings here and the interior of the barn here. And you really don't want to miss the barn loft, featured here, because it's unlike any barn loft you've ever seen!
Renee's latest project was to give her kids a bathroom of their own.
"We had one full bath plus a half bath, so the parents and kids shared a bath," Renee says. "This new bath was designed specifically for our sons to use." Renee kept the design simple with white and grey tiles and simple white plumbing fixtures and white cabinetry. That left the faucets and lighting to make a playful impact on the space.
Renee chose the Atomic Topless Double Industrial Guard Sconce to highlight the vanity. The Buttery Yellow finish of this rustic wall sconce adds a happy pop of color to the room and provides plenty of light through the clear glass.
"The yellow shower head is at the same height as the light fixture and the Buttery Yellow finish was a near perfect match," Renee explains. "It seemed like it was meant to be." The atomic sconce fit all the requirements of form and function with ample light, the right width for the space, and a fun color to boot.
"We wanted bright light as well as something quirky and fun," Renee says. "We really like that it pulls the yellow color from the shower over to the sink side of the bath. Plus the shape is a fun and unique twist for a bathroom."
Photos courtesy of the homeowner