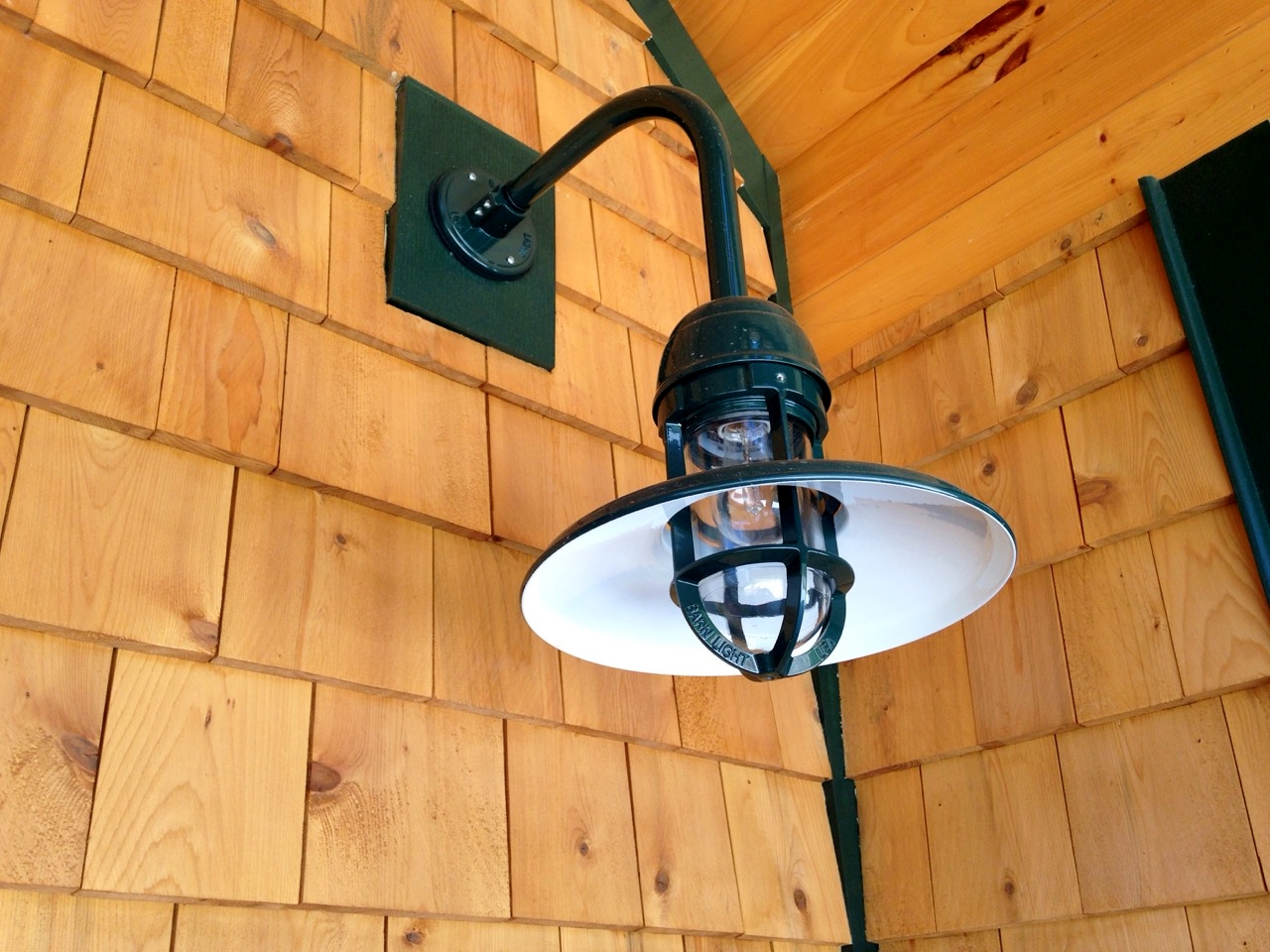 Gooseneck Barn Lighting for Rustic Mountain Home
For many people who build a new home, lighting is often one of the last details to tackle. You're in the home stretch just when you think the contractor will never finish and the work crew has become a permanent part of the family. Steve's new home, built on the scenic New River in Ashe County near Jefferson, North Carolina, was an exception.
"It was my dream to use white cedar shakes from Maine and coordinate with dark green," Steve says. To create the perfect look that he had long imagined, Steve purchased the exterior lighting early in the process then had his painter match the trim to the lights.
"He did it perfectly," Steve adds. "The house is in the mountains on the river, and the lights make it look like it fits in with the surroundings." The rustic farmhouse has a definite New England feel and the exterior is highlighted with classic gooseneck barn lights. Steve chose the Brisbane Gooseneck Light with its shallow bowl shade and cast guard-and-glass detailing to provide both up and down lighting on the façade.
The exterior wall light pictured above is customized with a 12″ shade and G13 gooseneck arm while the one below sports a 14″ shade and a G26 gooseneck arm. All are finished with a durable Dark Green color that is a perfect match to the trim. These American-made gooseneck lights also have clear glass for maximum light.
"I liked the industrial look of the Brisbane," Steve notes. "This theme is carried inside with finishes as well."
On the porches, Steve chose another rustic wall light in the Industrial Static Sconce. Inspired by close-fitting bulkhead ship lights, this wall sconce adds a hint of nautical style to the outdoor lighting scheme. Steve customized these wall sconces with the same Dark Green finish as the goosenecks, and he chose ribbed glass for a more muted effect to the light.
In the rear of the home, Steve chose two All Weather Gooseneck Warehouse Shades to throw plenty of light over the doorways. These classic RLM-inspired warehouse shades are customized with a Dark Green 16″ shade to provide plenty of downlighting over the doors while the G31 gooseneck arm offers almost 16″ of projection from the wall.
"We shopped around and found similar looking lights for less but we stuck with Barn Light Electric because we wanted quality, American-made products," Steve says. "The sales support and customer service were perfect as well. Now I'm saving for a pole mounted light at the end of my driveway."
Photos courtesy of the homeowner