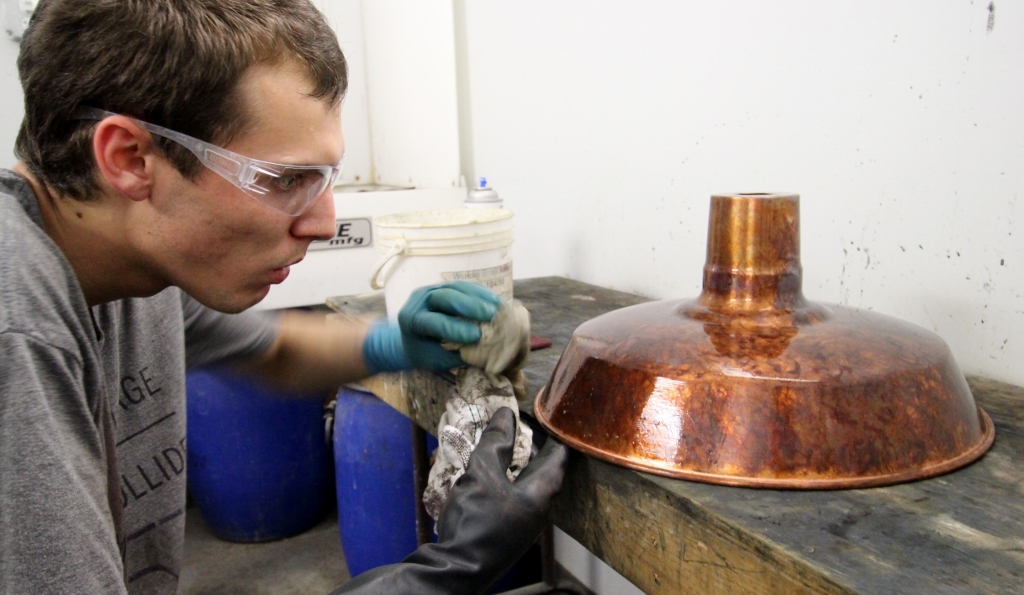 Behind the Scenes | Utility Player Handles Copper, Porcelain, Assembly & More
When Barn Light Electric was launched more than seven years ago, a handful of people juggled everything from sales to service to shipping. Today, more than 130 employees arrive each morning at our 50,000-square-foot manufacturing facility to hand craft our vintage-inspired barn lighting, man the phones, paint, and assemble our fixtures. Dedicated teams also tackle research & development, marketing, and sales.
While much has changed in seven years, our Barn Light Electric family remains the backbone of the company, each person bringing skills, dedication, and new ideas to their daily tasks. Brandon has worked for the company for two years and while he started out as a janitor, he has worked his way through a number of departments building a skill set that has made him a valuable member of the Barn Light team.
"I am a floater," Brandon says. "I went from being a janitor to learning paint prep then on to inventory. I also spent time in porcelain and worked in assembly where I put fixtures together." Brandon also learned the art of working with metallic shades and now customizes copper and brass. The Titusville native uses a quick hand and keen eye to carefully work the metals into the desired finish.
"The hardest part is making the copper look perfect for the customer, but that's also why I love it," Brandon notes. "It's not easy but a challenge." In his spare time, he enjoys spending time with friends, his mom, and his son Colin.
"My mom is my hero, and my grandpa made me into the worker I am today," he says. "My son Colin is why I wake up and do everything I do for Barn Light Electric. He's my motivation."
Brandon notes that the best thing about his job is not only that he has one but his fellow employees.
"The wise people I work with and learn from make my day," he says. "The best thing about Barn Light Electric is that it's family. I wake up and love my job. I love coming here. And that is priceless."