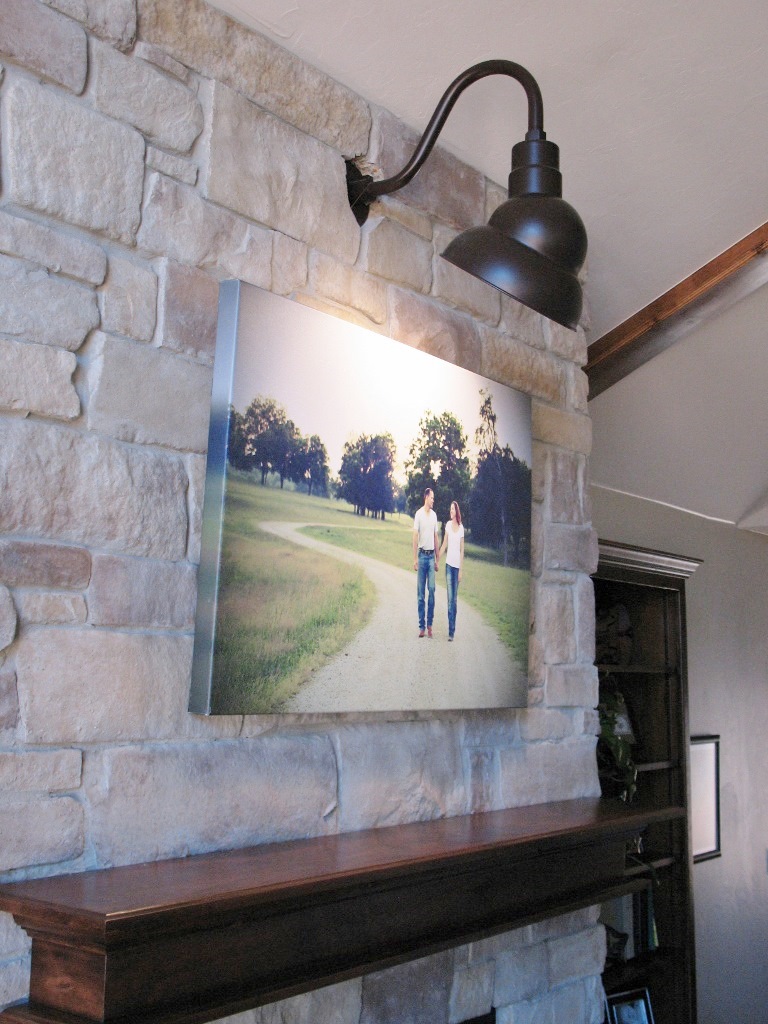 Emblem Shade A Welcome Change From Traditional Artwork Lighting
Accessories in the home are like frosting on a cake — an extra something that can either be bland and basic or distinct and dramatic. A vintage clock, for example, can simply tell you the time or it can add its own dynamic punch to a room.
When Sarah and her husband Matt built a new home on their 1,000-acre ranch in Oklahoma last year, she wanted to display a special canvas wrap of one of their engagement photos.
"It was taken by my cousin, Sarah Adams with Yellow Chair Photography, at my parent's ranch where I grew up and where they still live," Sarah explains. "I'm not a fan of traditional artwork lighting, and when I was browsing the Barn Light Electric website one day, I got this idea." The idea was to use one of our gooseneck sign lights to highlight the photo where it would be installed over the fireplace mantel.
Sarah chose the Emblem Shade Gooseneck Sign Light with a Bronze finish. She customized this replica gas station light with a 15″ gooseneck arm to give just the right projection away from the rock fireplace.
"Our style throughout the house is comfortable, and to me, this light is rustic, charming and purposeful," Sarah explains. "I chose the bronze because my husband wouldn't let me do red!" Sarah and Matt served as general contractors for their building project. They installed a light box before the mason laid the rock, and though they had to enlarge the hole somewhat, it worked out well during installation.
"To be honest, I love the way it all came together. When you pick out every little thing, you start to wonder if it will all look good together," Sarah says. "It's one thing to purchase a cool light. It's an entirely different thing to buy a light that will look good with the rock that you haven't picked out yet, with paint colors that you've only seen on a swatch, and with flooring that's still stacked in boxes." Sarah and Matt's vision came together beautifully, and they love how the Emblem Shade highlights their special photo.
"We purchased a lot of lighting and we unpacked and installed every piece of it," Sarah says. "Your lights are of high quality materials, very sturdy, well packed, and made in the USA. I appreciate the workmanship. It was worth every penny."
Photos courtesy of the homeowner and Yellow Chair Photography