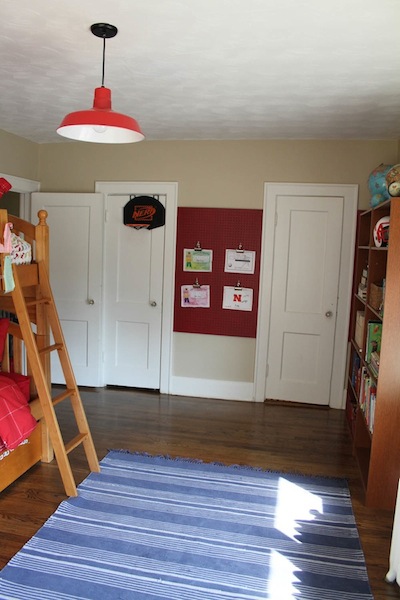 Featured Customer | Denise from Omaha, NE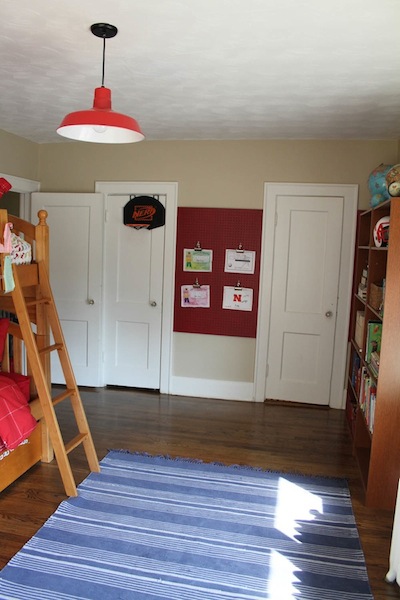 Kid's rooms seem to be the focus of our attention over the past couple weeks. One article we did featured under the bed storage with wall sconces, while the other room, although for a toddler, was designed to grow with him by using a full size bed and industrial lighting. Both of these articles can be found below if you're looking for more ideas for children's rooms. Our Featured Customer today, Denise from Omaha, coincidentally utilized elements from both rooms…

Among the many other hats she wears daily, Denise at Mothball Charlie, has dubbed herself the general contractor of her home's renovations. With that, we must note that she is phenomenal at what she is doing! We're partially bias because of the awesome barn pendant, but her son's new bedroom is quite charming. The large bookcase on the right is perfect for brandishing mementos, as well as stockpiling books and awards.
Instead of painting the large red stripe on the wall, Denise used painted peg board – a time saver and doubles as a place to display art and hang ball caps. Paired with the crisp white baseboards and trim, this bedroom has a classic look that her son won't be outgrowing anytime soon.
Another pop of color that happened to catch our eye is the Cornhusker red Barn Light Warehouse Pendant. This American-made cord hung pendant light has a design that has transcended through the years. Also available in over 40 finish options, there is so much room for customization no matter who your favorite team may be. By mounting a hanging warehouse light in the center of the bedroom, the spread of light will cover the open area below, most likely used to play boardgames and build giant forts!
For more information and ideas on designing kids' rooms, visit:
Top Photo Courtesy of Mothball Charlie