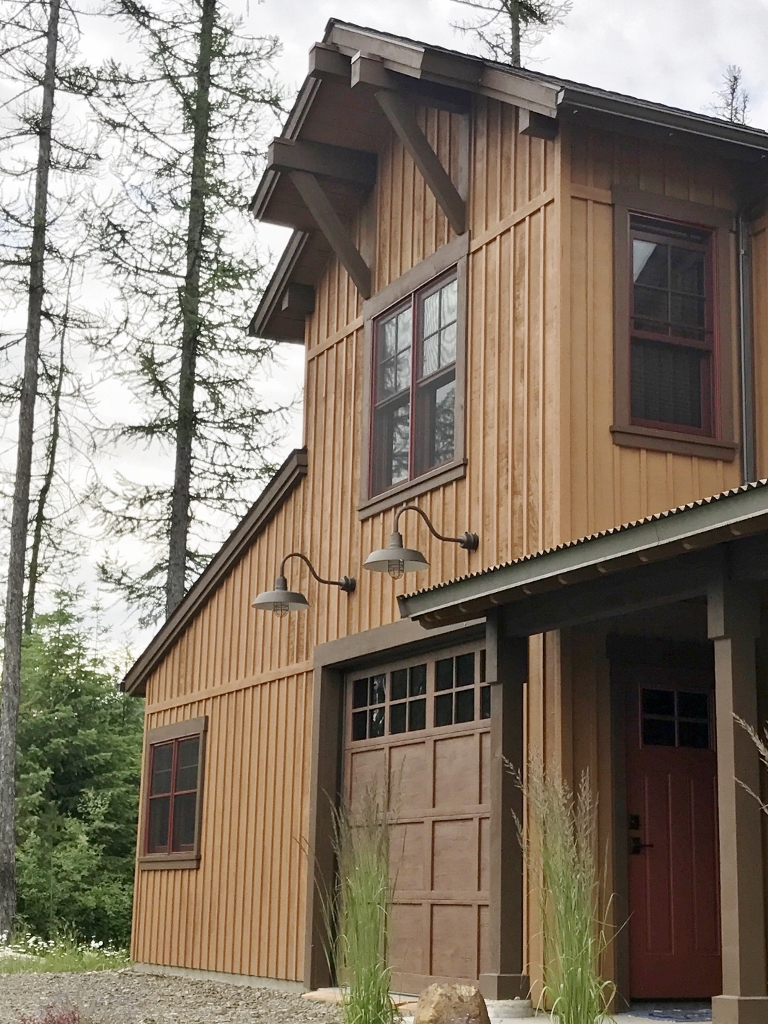 Customized Gooseneck Barn Lights for New Barn Home
Building a new home is a juggling act with a sequence of events that can play out in a number of ways. Some people buy a lot and build, then sell their current home. Others sell the current home and rent until the new place is move-in ready.
Out in Sagle, Idaho, Nancy and Gary purchased a five-acre lot in a new development for their dream home. They decided to build a 1600-square-foot barn that will serve as both a shop/garage and as a guest house. For now, the barn is home until the couple build the main house next spring.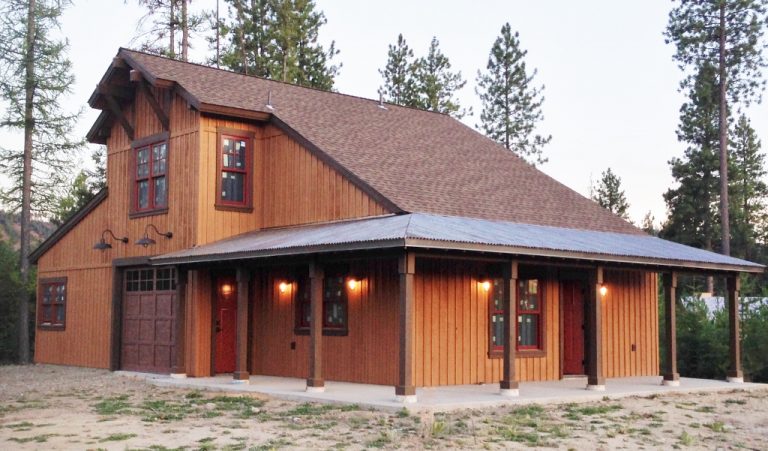 "The upstairs has an oversized master loft, walk-in closet, and full bath," Nancy says. "And the living space has an efficiency kitchen, but my cooking has not suffered. It's amazing what I can cook with a portable induction cooktop, a countertop convection oven, and a crockpot." Gary, an architect who spends his days designing biotech and healthcare facilities, has always dreamed of designing his own home.
"The type of architecture he works on every day is not very creative," Nancy explains. "Designing the barn was a way to rejuvenate his creativity. He will say that I was his toughest client."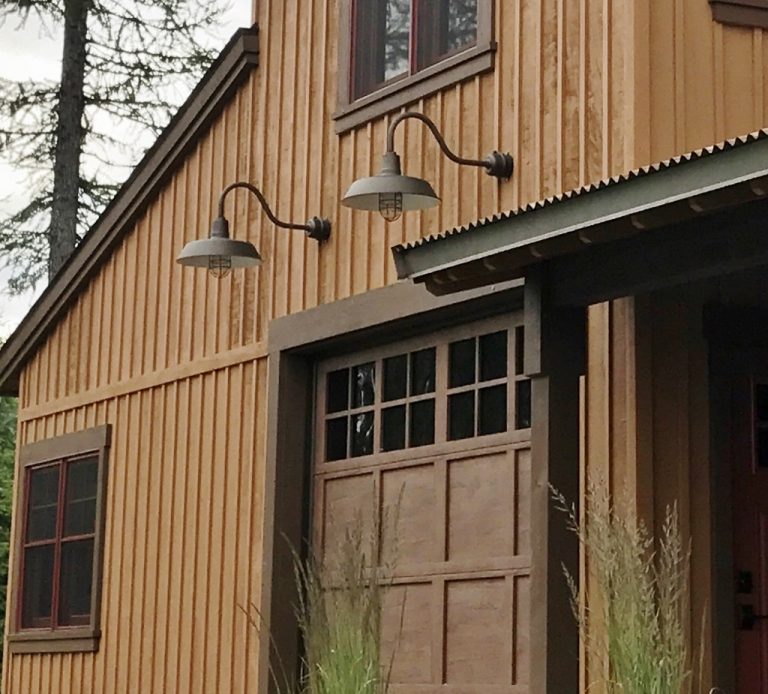 The couple are fans of both mountain and craftsman style architecture, and they wanted the colors, materials, and fixtures to blend with the surrounding farm land. Nancy envisioned gooseneck barn lights for the barn and never considered any other style of lighting.
"I knew I wanted a gooseneck barn light. I researched availability as well as quality of many different companies," she notes. "Barn Light Electric stood far above anything else with the vast amount of choices offered." Nancy chose one of our most popular barn lights for her new barn. The Original™ Warehouse Gooseneck Light has a classic RLM shape and style and is handspun from commercial grade materials.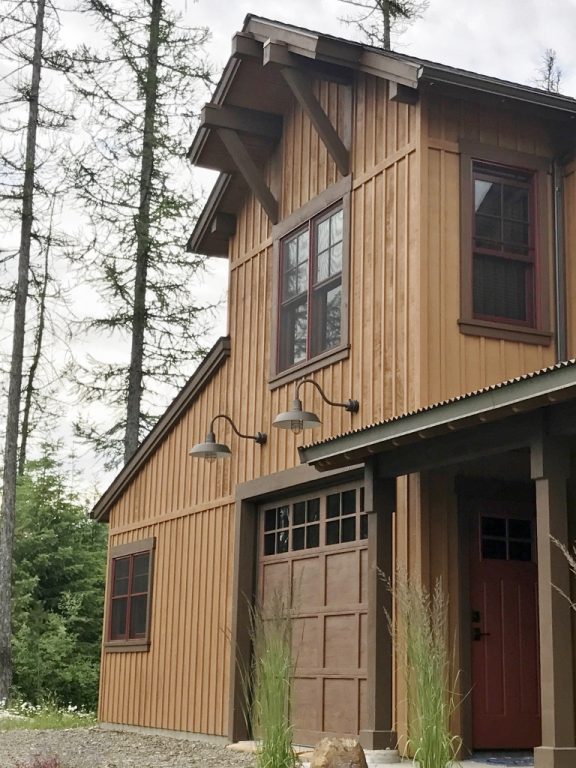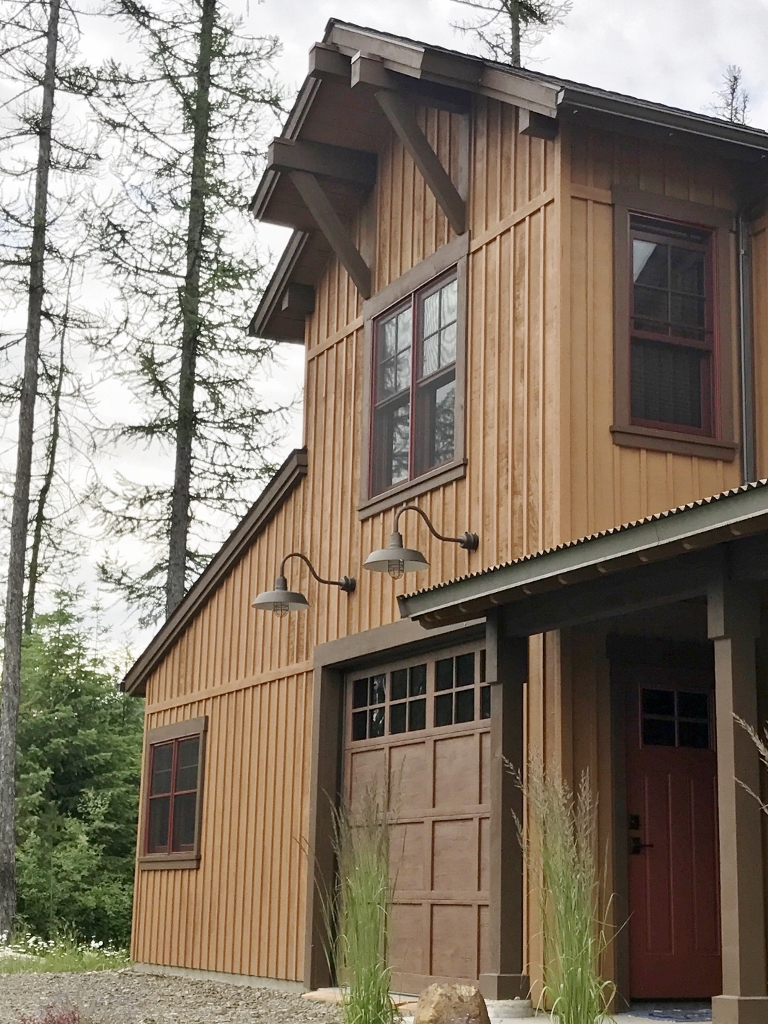 Nancy customized two of her new barn lights with 18″ shades, an Oil-Rubbed Bronze finish, and G22 gooseneck arms. She also chose the wire guard option and completed the look with clear glass. Nancy also added the dusk-to-dawn photocell which turns the lights on automatically at dusk and off again at dawn. A matching, but smaller 14″ gooseneck is installed at the rear of the barn.
"Before we selected the size of the lighting, my husband made a model of the lights to make sure it was the right style and shape for the gooseneck," Nancy says. "He was hanging out the second story holding it up for my approval while we were under construction." Purchasing an American-made product was very important to the couple as was having so many customizing options available.
"I love everything about these lights," Nancy says. "They are the first thing people comment about when they come a'calling to us!"
Photos courtesy of the homeowner