Custom Schoolhouse Lighting Adds Playful Retro Style
If you're lucky enough to live in Key West, you might be tempted to play up a tropical theme in your home decor. But when Grace decided to remodel the kitchen in her home on the southernmost tip of the US, she opted for a cool retro theme instead.
"I chose a retro design with a fun, playful feel," Grace says. "Beach blue appliances by Big Chill were the focal point of the kitchen and are accented with small pink appliances and pink lighting." The whimsical color palette is balanced with black and white including a bold black-and-white checkerboard back splash.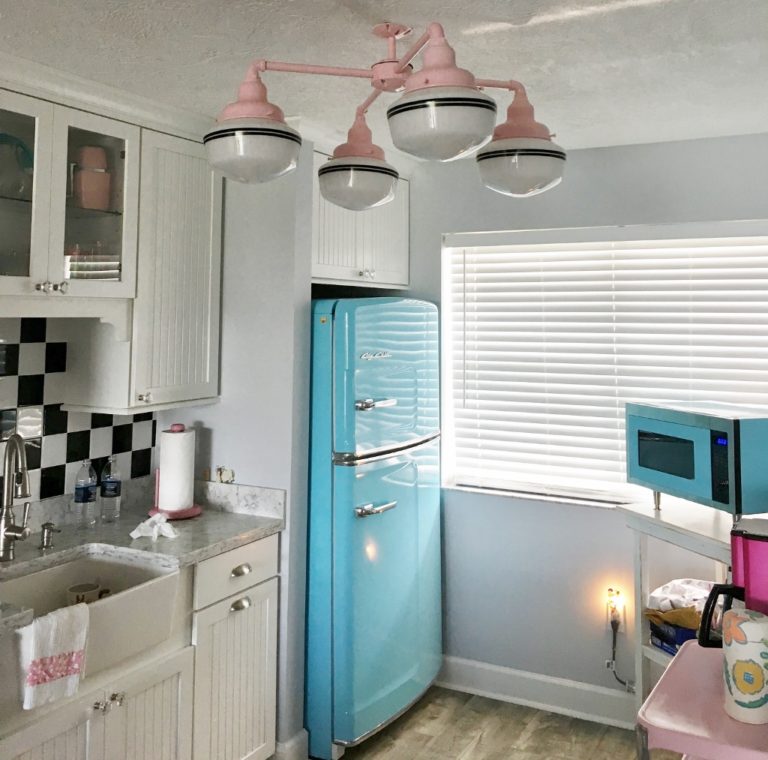 The kitchen space is anchored by the Primary 4-Light Straight-Arm Schoolhouse Chandelier. Grace customized this bold schoolhouse light with small opaque globes and a Blush Pink finish on the fitters, stems, and canopy. She added double painted bands of Black to the shades to tie in with the other black accents in the space.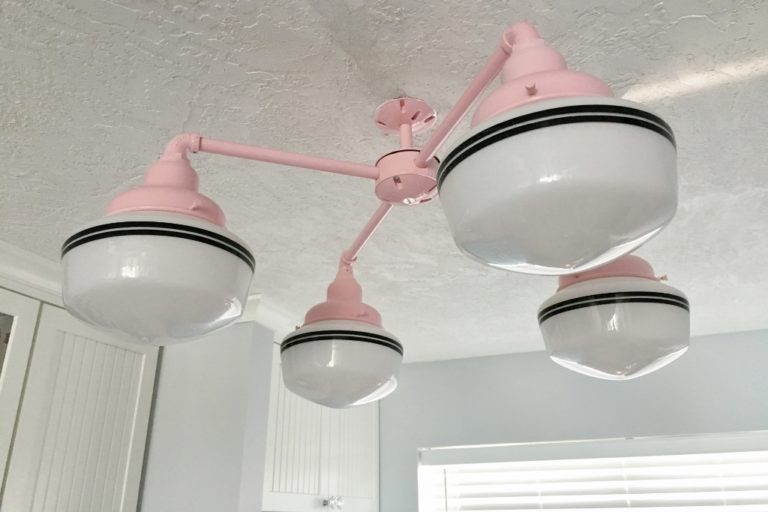 "The chandelier serves as a dramatic retro piece in the kitchen," Grace explains. "I was looking for a chandelier that provided a good bit of light when working in the kitchen and this piece provided just that."
At the opposite end of the kitchen, a complementary schoolhouse pendant highlights a small dining table with pink and blue vintage-style chairs.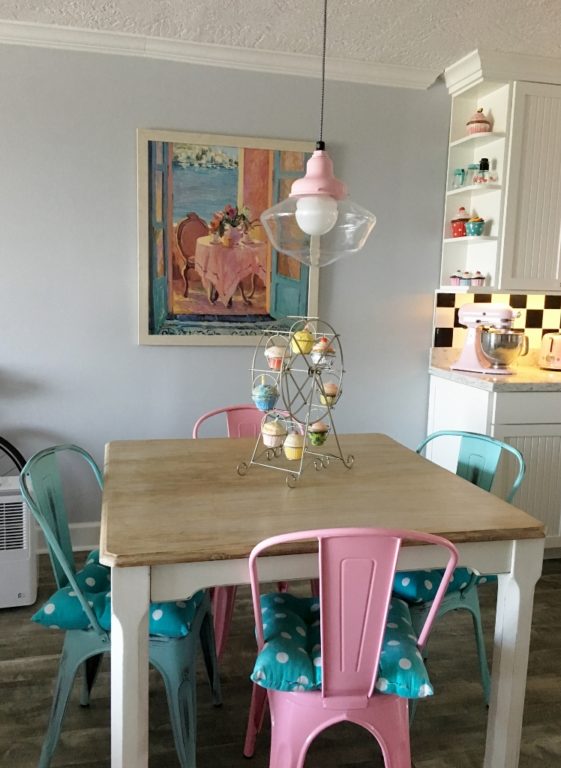 Grace chose the Kao Primary Schoolhouse Pendant and customized it with a large, clear glass globe, Blush Pink fitter and canopy, and a black-and-white cloth cord.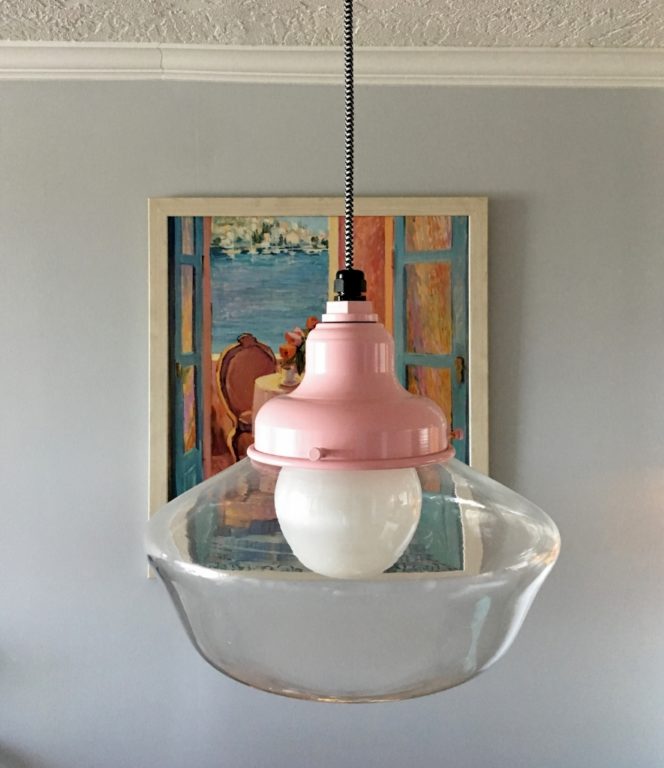 "This schoolhouse pendant was selected to move the retro feel over into the dining area of this open floor plan," Grace notes. "The cloth cord was a simple way to pick up the black and white from the other areas of the kitchen. I also wanted a slight difference in each fixture within the space. Having the choice of both clear and opaque globes was a perfect solution."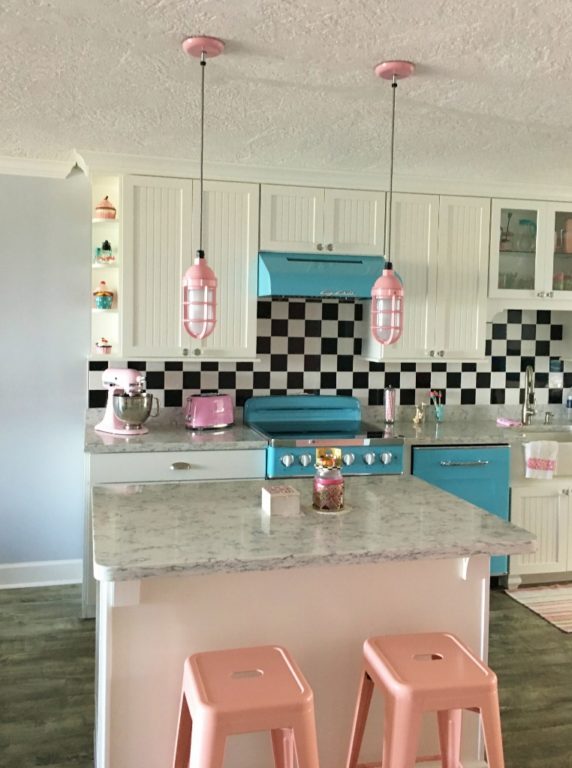 For the island, Grace gave a nod to her island locale with two nautical style pendants. The Atomic Topless Industrial Guard Pendants feature Blush Pink finishes with heavy duty cast guards and frosted glass. Grace opted for the same black-and-white cloth cords to match her schoolhouse pendant.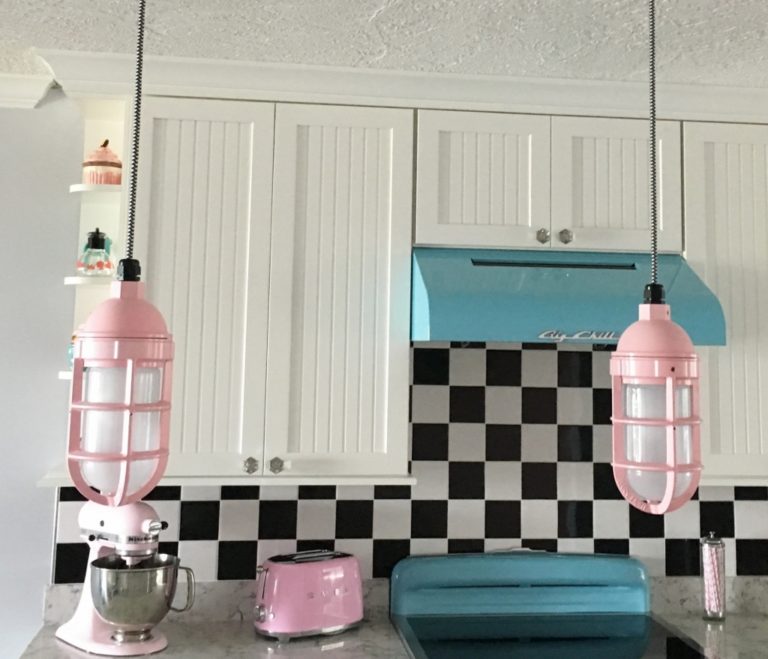 "These pendants are simple but eye catching," Grace says. "The heavy duty guard allows the pendant to stand out in its space, while the frosted glass allows it to remain simple." These American-made pendants are crafted from commercial grade materials and finished by hand to provide a long-lasting fixture.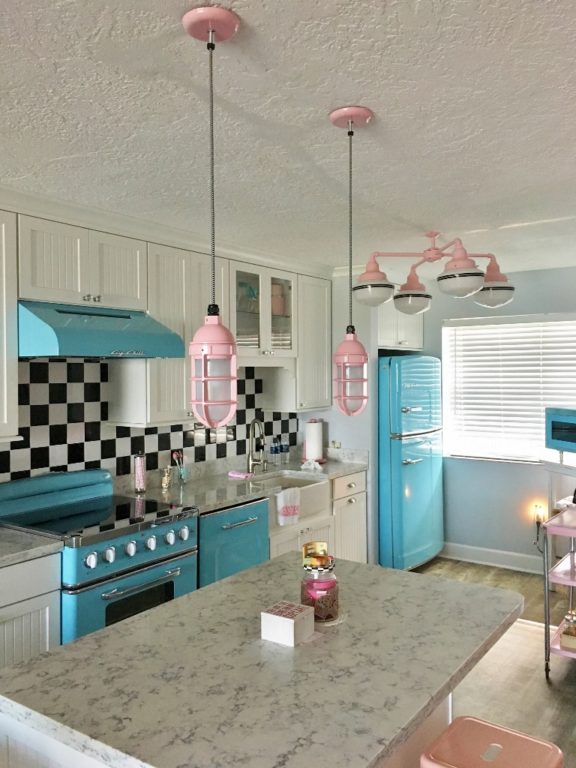 "I searched for a very long time for the correct lighting but could not find anything that suited my desire until I found Barn Light," Grace says. "The best part is they are custom to my space. I could not be more pleased with the outcome."
Photos courtesy of the homeowner