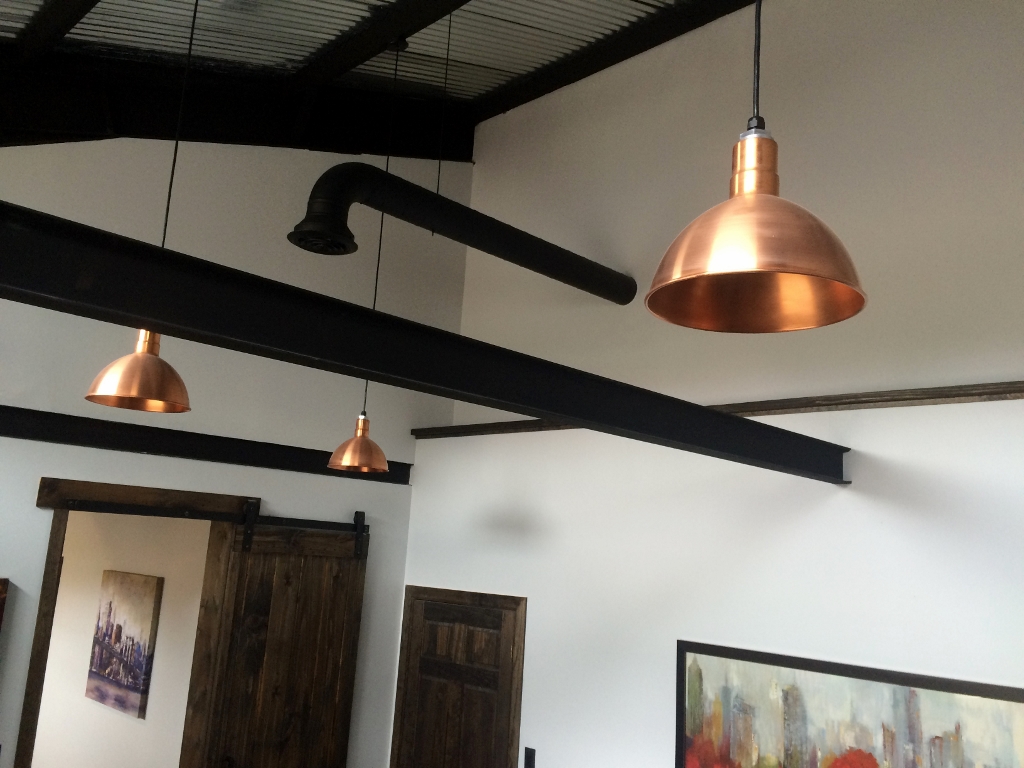 Copper Pendant Lighting Elevates Industrial Office Space
We know how crazy busy people's lives can be, so we are extremely grateful when customers take time to post a review of their purchases on our website. These reviews help people make decisions on lighting styles, finish colors, and what customizing options other customers chose.
Brad Yarbrough, of Natchez Ford in Natchez, Mississippi, recently posted about his recent purchase of our Wilcox Deep Bowl Pendant Light. He noted that he loved the lights and that he was happy with the ease of ordering and delivery.
"This project was Brad's office," explains Stephanie Harris, Brad's executive assistant. "It started as part of a warehouse with cinder block walls and concrete floors. We wanted a very modern industrial look."
Stephanie notes that they wanted a lot of light in the office, but also wanted the fixtures to look great in the space, not be an afterthought. The tin ceiling is a focal point so the pendants needed to complement that particular design element.
"We started looking on the Barn Light Electric website for rustic barn pendants, but when I came across the copper, I thought it would be a great accent in the room and add a different element," Stephanie says. The American-made Wilcox Deep Bowl Pendants are hand spun and are customized with a 12″ shade, Raw Copper finish, and standard black cord.
"We chose the deep bowl pendants because it's a large room with very high ceilings," she explains. "We felt that the large size of these ceiling pendants would really stand out and allow the light to spread out in the room. And the Raw Copper finish went well with the industrial look we were going for."
Both Brad and Stephanie were impressed with the variety of lights that are available on our website and the ease of customizing these pendants.
"The lights are what first catches everyone's eye," Stephanie says. "They are absolutely beautiful in the room."
Photos courtesy of Auto Group South and Natchez Ford