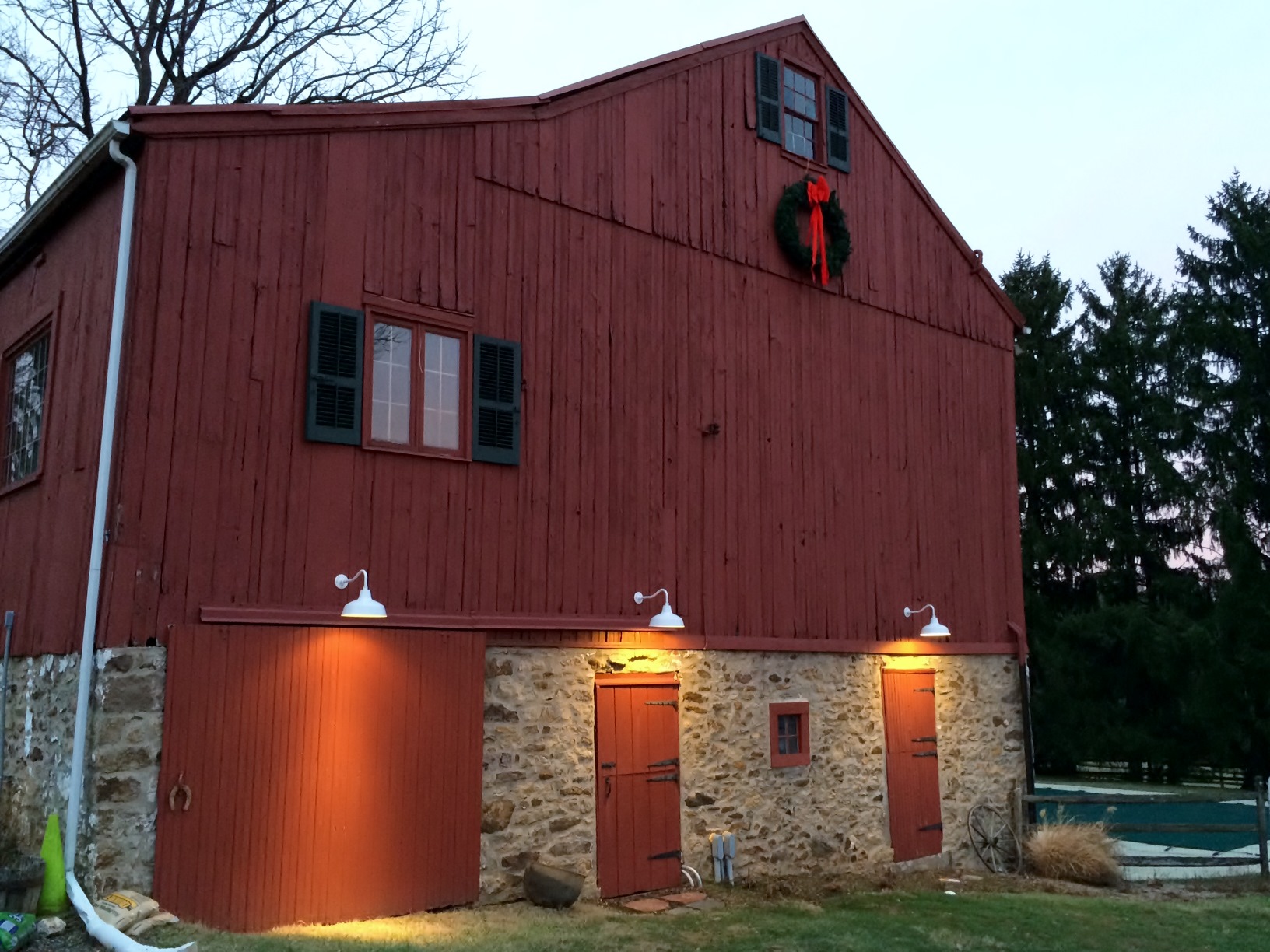 Classic Barn Lights for Pennsylvania Barns, Carriage House
The holiday season may be over, but will it take until spring for your checkbook to recover!? If you're ready to spruce up your home or office for the new year but are watching the bottom line, take a lesson from today's Featured Customer, Jeff in Bucks County, Pennsylvania. Jeff wanted to add some much-needed lighting to his array of outbuildings on the property and looked to our line of Discount Barn Lighting for the solution.
"We are remodeling our house, but I wanted to add the barn lights to spruce up the barns and provide some much needed lighting for our driveway area," Jeff says. "There wasn't much light in this area making it pretty dark when you drive up at night. We use the lower level of the barn regularly, as well as the carriage house, and the lights make it really inviting to walk from the house to either building."
Jeff chose the All Weather Gooseneck Warehouse Shade in a 14″ size with a White finish color and the G31 gooseneck arm. He found Barn Light Electric during an online search and his choices were reinforced through a couple of his favorite barn pictures on Pinterest.
"Our home and barns are very traditional and I was looking for fixtures that kept the vintage look while providing updated lighting," Jeff explains. "I like the look of the gooseneck mounts and the traditional barn light shape. The trim on the barn is white so I wanted the lights to match the trim."
These American-made discount lights are Barn Light Electric exclusives and are crafted with the same durable materials as our trademark gooseneck lights and pendants. To reduce the cost, we offer slightly fewer options and features, but there are still plenty of ways to customize these fixtures. On the gooseneck lights Jeff purchased, he chose from three shade sizes, five different finish colors, and two gooseneck arm options. A wire guard is also an option on this fixture.
"I love the glow at night when we come up the drive or look out the windows of the house," he says. "I also like how the light highlights the stone on the barn providing just the right amount of shadows."
Photos courtesy of the homeowner