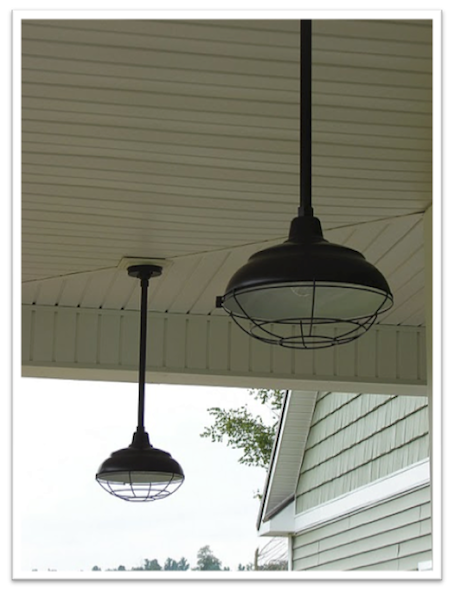 Cathy from Greensburg, KY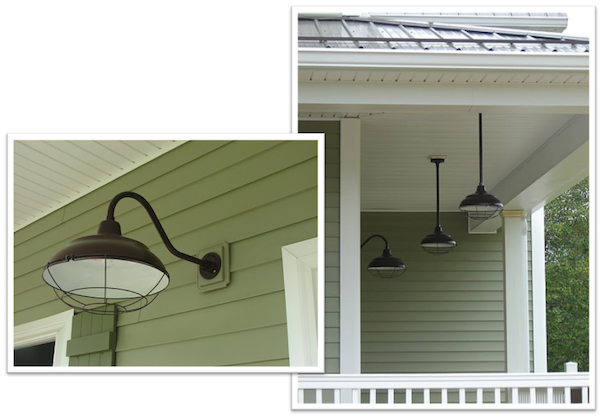 Over the past few weeks, it has become clear that all of our customers have found a unique use for our lights. We've discovered barbershops, local bars and even an all-natural café. We decided to bring you back to the roots of barn lighting. Today's featured customer, Cathy from Greensburg, Kentucky, has been in the process of building a dream farmhouse with her family – all from the ground up. Between the winter snows and spring rains, it has been a long process for Cathy and her family – good thing the project is quickly wrapping up!
Cathy recently came home to a pleasant and very welcome surprise: her new barn lights had finally been installed on the exterior of the home. Not just a couple of them either – there are a total of 12 barn lights on the outside if that gives you an idea of the project's magnitude. Between the siding, shakers and stonework, the exterior is full of texture so Cathy wanted to keep her outdoor lighting simple. Choosing a bronze like finish, the lights bring out the natural colors found in the stonework below, yet contrast against the cypress green and clean white trim around the home.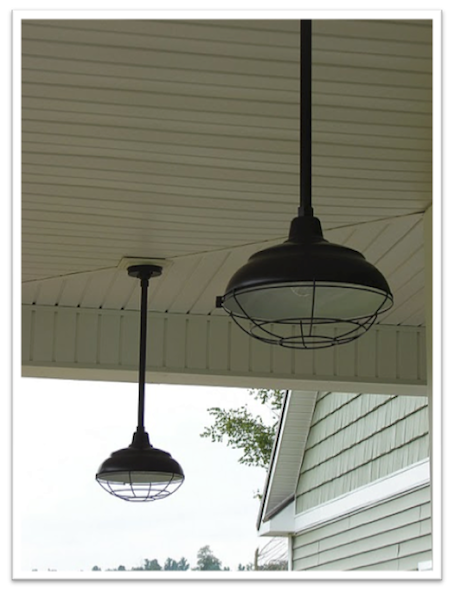 Want the same look for your farmhouse or patio? The Bomber Gooseneck Light, available as both a pendant and gooseneck, is a favorite of ours for outdoor porch lighting. Because the stems and gooseneck arms are constructed of durable aluminum, they are ideal for protecting the wiring inside from unexpected weather. Cathy also chose to add a wire cage to her new warehouse lights. This brings out an industrial touch to the face of her farmhouse, and boy do we love it! Great job so far Cathy, we can't wait to see your finished home!
Photos Courtesy of Cobblestone Farms