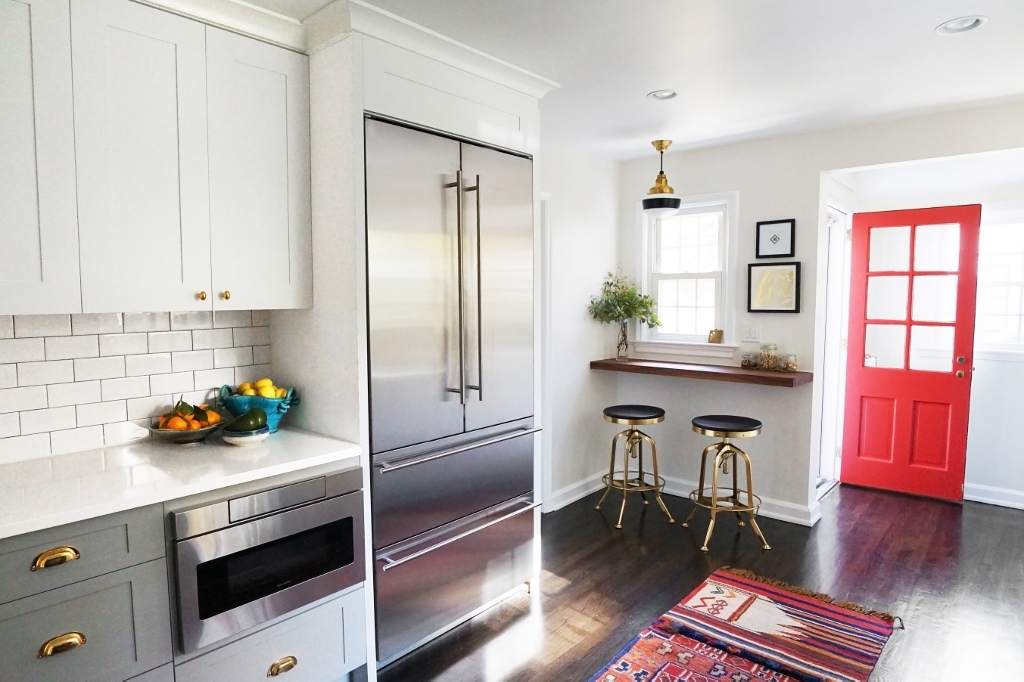 Brass Schoolhouse Lighting Harkens Back to 1930s-Era Kitchen
When Melissa and Dheeraj Maria moved from their Brooklyn, New York, apartment to a 1936-era, five-bedroom home in New Rochelle, they were thrilled with the expanded space. The kitchen, however, was last redecorated in the 1960s, and featured an inordinate amount of shiny wallpaper on the walls and ceiling.
The six-week renovation project, chronicled in this Architectural Digest post, took the space from dark and depressing to bright and inviting. The couple opted to keep the original layout but ditched the dark cabinets, cheap countertops, and outdated flooring. And yes, the wallpaper had to go.
"We wanted our new kitchen to be light and bright," says Melissa, who is a digital photo editor at archdigest.com. Their wish was granted with a light-filled space complete with touches of stainless and brass to bring warmth and interest.
When considering new lighting for her kitchen, Melissa searched for schoolhouse lighting that she could easily customize.
"I wanted customizable options in brass," she notes. "I was specifically looking for brass." Melissa found her heart's desire in our Schoolhouse Lighting Collection. The Primary Schoolhouse Pendant Light features a classic opaque globe and can be customized with seven different options.
"I liked the old school look of the fixtures and that they are made to order here in America," Melissa explains. She chose to customize her new pendants with small globes, a Raw Brass finish, and standard black cording. She also selected a single painted black band on the globes along with brass hex covers and brass ceiling canopies.
"I loved the option for the painted stripes, and that you could choose one, two, or three stripes" she adds. "I thought the one bold stripe was a modern twist." One pendant hangs over the kitchen sink while the other highlights a small bar area.
"They give off a really nice light and I love that they are unique," Melissa says. "I get a lot of compliments on them!"
Photos courtesy of Melissa Maria and Architectural Digest