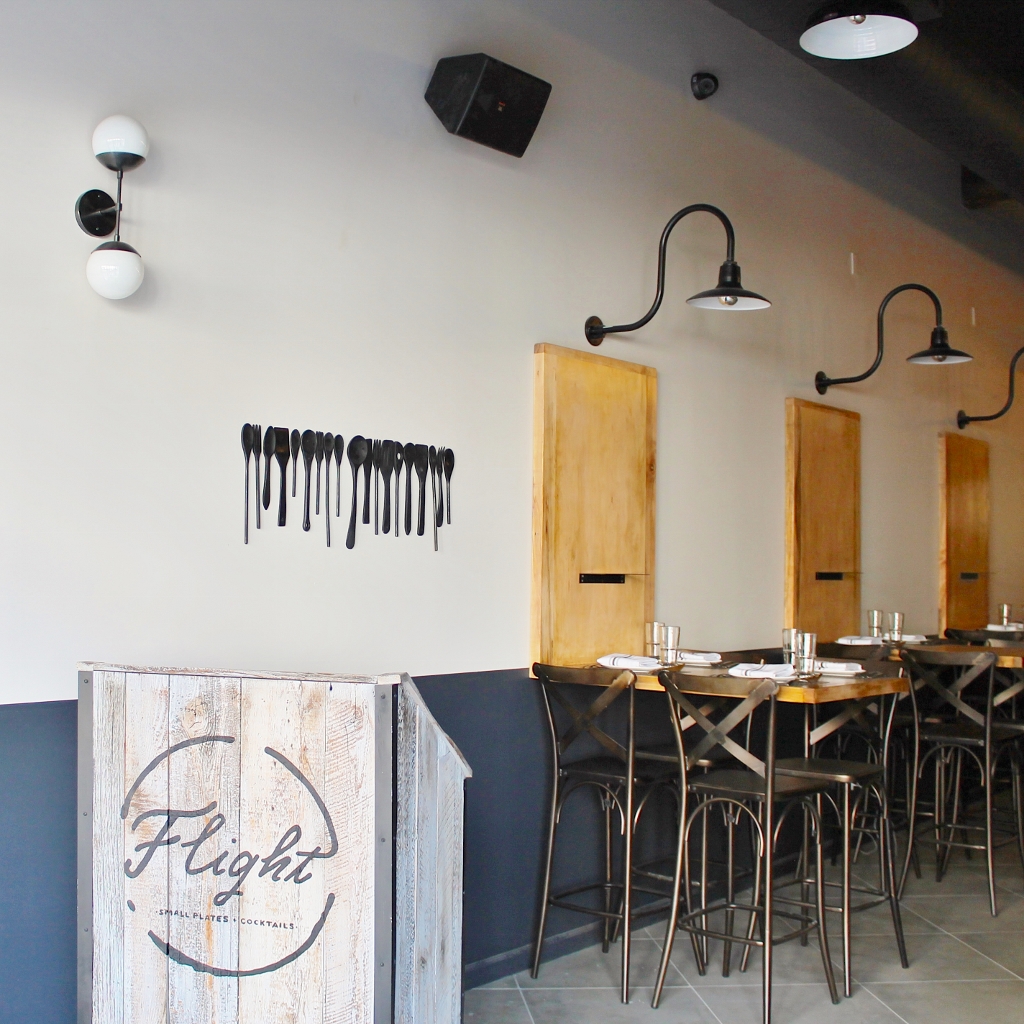 American-Made Barn Lights Offer Sophisticated Rustic Vibe
Design trends get a lot of play in January as we try to figure out what's hot and what's cooling off. One trend we see holding steady is the rustic/modern blending of both old and new elements.
Our friends at Wolf & Wing Interior Design embrace this style and often use barn lights to add a classic but clean look to a space. The design team recently transformed a turn-of-the-century space that once housed a shoe store into a modern restaurant with plenty of rustic elements for interest. Located on the South Shore of Long Island, the restaurant, called Flight, is casual and comfortable but with a more sophisticated atmosphere than other area bars and restaurants.
"Our design brief was fairly simple: a modern space with classic elements that connect to its history and maintain a sophisticated feel," says Amanda Moore. "The black-and-white design palette was intended to let the flavorful food experience shine and stand out from the typical pub decor of Long Island."
The team chose barn lighting to offer a minimalist and slightly industrial style that patrons could relate to easily. Barn pendants and wall-mounted gooseneck lights complement the original exposed brick walls yet provide a nice contrast to sleek, white quartz counters.
"We needed a lot of layered lighting to create an intimate dining space but still provide enough light for all the events happening here," explains Keri Venti. "The Farm & Barn Cord Hung Pendant provided the perfect industrial style, and the Black finish helped to blend the layered lights into the black ceiling."
Keri and Amanda chose the 15″ shade on this barn pendant to light the space. The Farm & Barn Cord Hung Light is part of our Discount Barn Lighting collection. These lights are American made and handcrafted from commercial grade materials, but are offered with slightly fewer customizing options than our Barn Pendant collection.
The design team selected the Dominion Gooseneck Light to illuminate the custom-made, bar-height, 4-top tables along the wall. These handspun wall lights are customized with 12″ shades, Black powder coat finish, and G32 gooseneck arms.
"The District Goosenecks are so beautiful and such statement pieces on their own," Keri says. "The Black finish provided the industrial feel we sought but also contrasted off the pale gray walls."
"The clients love the way the space turned out," Amanda adds. "It's something different for Long Island, but not too design heavy. The lighting delineates the different areas beautifully and really drives home the modern, but rustic, style we were all going for."
Photos courtesy of Wolf & Wing Interior Design