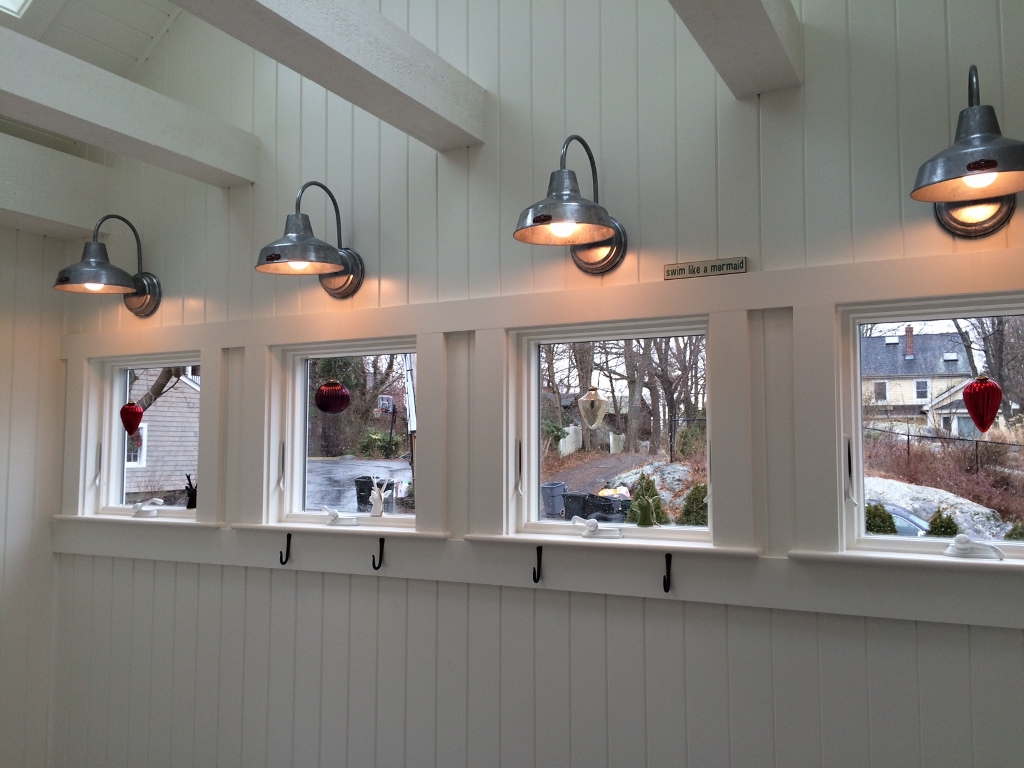 Barn Wall Sconces for Cowgirl's Coastal Cottage
Elizabeth admits that living in a quaint, coastal town just north of Boston has its advantages.
"Marblehead is a quintessential New England coastal town with one of the most beautiful harbors," she says. "In the summer, it is home to more than 2,000 boats." Her home is lovingly dubbed Cowgirl's Coastal Cottage, and, with two adults, two kids, and a large chocolate lab named Moses in residence, it sees a lot of wet, sandy, muddy feet and paws. Elizabeth, who goes by Eli, found herself spending too much time wiping up dirty paw prints and sweeping the floor, so she knew it was time to turn her rotting back deck into a more usable, enclosed mud room.
"I had a very specific vision in that I wanted it to feel like a barn," Eli says. "We opened up the ceiling to give us a cathedral ceiling and I wanted skylights to open it up with lots of sunshine." With Nantucket bead board from floor to ceiling and ceramic tile that looks like driftwood, the space gives a nod to the beach while three rustic beams and four Austin Wall Sconces add the barn feel Eli wanted.
"I chose the 10″ shade for the wall sconces as the perfect size and the Galvanized finish to enhance the look and feel of a barn," she notes. "With the round base and neck, the lights were exactly what I was looking for." The Austin Wall Sconce features the classic RLM style of warehouse shade in a more compact wall light that is perfect for hallways, bathrooms, and other tight spaces.
Hand spun from commercial grade aluminum and assembled in the Barn Light Electric manufacturing facility, this American-made wall sconce is easy to customize with shade size, finish color, and options such as a wire cage or dusk-to-dawn photocell. There's even a plug-in option for easy portability.
"We cleaned up an old radiator and had the painter match it to the galvanized lights," Eli notes. "It gives the space an old-fashioned, rustic feel. The sconces are on dimmers so in the evening the lights glow down over the windows and it is just beautiful!"
A delightful Dutch door allows entry into the mud room and a second door goes out the other side to the new back deck. The doors are painted bright blue making it, in Eli's opinion, the happiest room in the house. She plans to add a large sliding barn door in her adjacent kitchen to tie the two rooms together.
"I love the way the wall lights sit over the windows," she says. "At night when you look into the mud room, with the dimmers, it is simply stunning. Old fashioned, a bit industrial, but still super warm and inviting!" Bring on those muddy paws Moses!
Photos courtesy of the homeowner