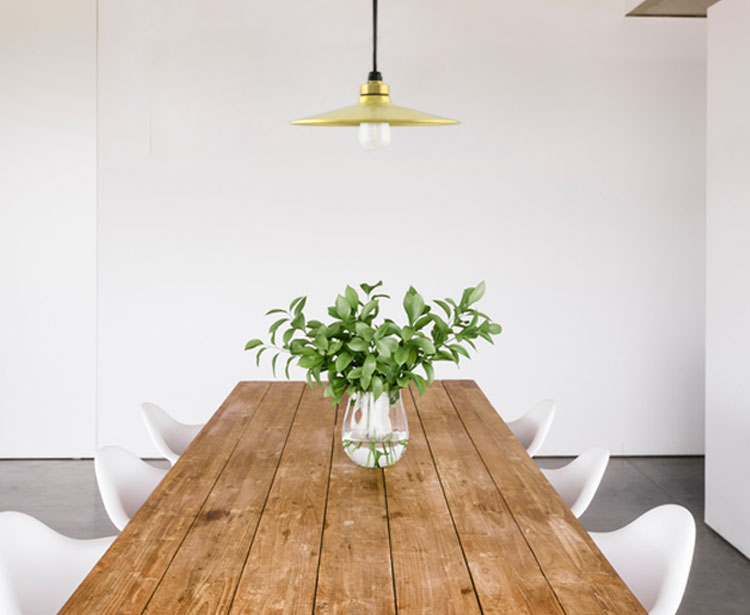 Bold, Beautiful Brass Lighting Makes Resurgence, Complete with LED!
We all fell in love with silver, didn't we? When those sleek, high-tech-looking finishes took over the design world, they pervaded every room of our house from stainless steel refrigerators and nickel plumbing fixtures to chrome chandeliers. In recent years, however, another shiny metal has been sneaking back into our lives. And we're happy to say that the bold, and warmer, look of brass is back!
This centuries-old metal, known for its gold-like appearance, is actually a copper and zinc alloy. It conveys a sense of luxury and timelessness that many people desire for their home. Warmer than its silver cousins, brass harkens back to a simpler time when artisans used their talents to hand craft pieces for the home that were meant to last. And just like these artisans of old, the talented hands at Barn Light Electric are now spinning solid brass shades.
Carrying on the Barn Light Electric tradition of bringing the fine detailing of vintage lighting to modern settings, we've incorporated classic metals into the design of some of our most popular RLM warehouse shades. From classic barn lights like the Bomber to more modern shades like the Aero, we offer a full line of cord-hung and stem-mount pendants as well as classic gooseneck barn lights.
We didn't leave our industrial lighting fixtures out of the mix either! You can have all of the guard-and-glass detailing you love in an industrial pendant or gooseneck light with fixtures like the Sydney Brass Pendant or the Outback Gooseneck Light.
And like all of the American-made lights that we craft in our manufacturing facility, you're in the driver's seat when it comes to customizing your new lighting. Options include shade size, cord, stem, and gooseneck arm options, as well as guard and glass options on the industrial lighting fixtures.
And to bring the classic look of brass even further into the 21st century, we also offer integrated LED components so your ceiling pendant or gooseneck light will be energy efficient and environmentally friendly. Featuring the very latest in LED technology, these LED lights provide the warm, bright light typical of incandescent bulbs but will last an average of 50,000 hours. For both residential and commercial lighting customers, this means significant savings in energy and maintenance costs. The brilliance of historic brass with the efficiency of modern LED all rolled into one beautiful collection!