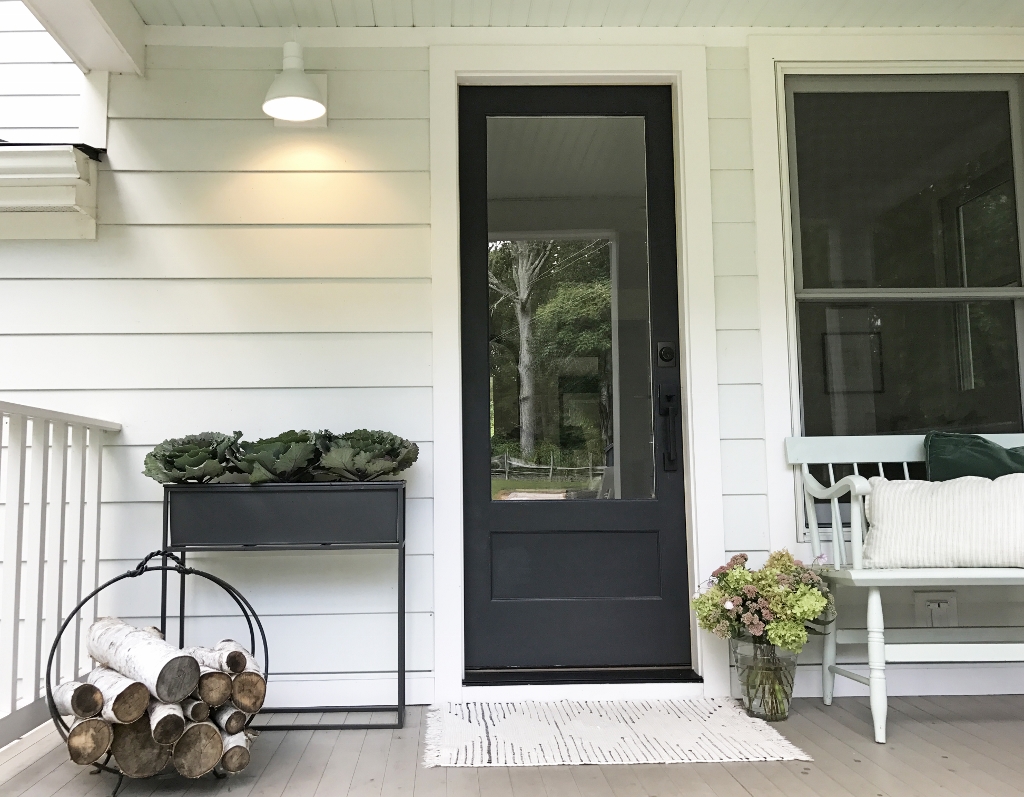 Barn Wall Sconces Complement Farmhouse Style
Like many designers, Anne Marie discovered Barn Light Electric years ago. But when she and her family moved into an old farmhouse-style home in the horse country of northern Virginia, she knew exactly where to turn for vintage-inspired lighting.
"The home was built in 1901, and we bought it as a fixer-upper four years ago," Anne Marie says. "We were drawn to its bucolic setting, the stone walls that surround the property, and the easy access into Washington, D.C." At 1,400 square feet, the home was too small for the family of four, so they added a two-story addition including a porch, mudroom, kitchen/dining area, and master suite. 
"Our design goals with the home have always been to maintain that farmhouse feel but add modern touches to contemporize the spaces both outside and in," Anne Marie explains. "Black, white, and grey on the exterior are accented with pops of color on the ceiling, on the bench, and through other porch décor." She adds that choosing the right size, shape, and projection of light fixtures was very important.
"Since our farmhouse was built in 1901, the scale of everything is just a bit more petite," she notes. "The ceilings are shorter and the spaces are smaller, so we needed exterior lighting properly sized to fit so as not to overwhelm the spaces."
Anne Marie chose the Bantam Wilcox Deep Bowl Sconce for the doorways and to highlight the back patio. These handcrafted wall sconces feature an 8″ shade and durable White powder coat finish color.
"The shape, scale and projection of the Bantam Wilcox were a perfect match for our needs," she says. "And even though we selected White, the color offerings from Barn Light Electric are every designer's dream!" The deep bowl shade of this wall light protects the surrounding countryside from light pollution and glare.
"We love the downward glow that the lights provide in the evening," Anne Marie says. "It's just the right amount of light illuminating the spaces without overwhelming visitors. Our yard is pitch black in the evening with barely a light visible in the neighbor's yard."
The Bantam Wilcox Deep Bowl Sconce is one of our most versatile Barn Wall Sconces and can be customized seven different ways. Options include shade size, two dozen finish colors to choose from, a dusk-to-dawn photocell for convenience, or a plug-in option.
"We love the simple, clean lines of Barn Light Electric fixtures," Anne Marie says. "You offer many styles that are traditional in nature but with a modern vibe which totally fits our aesthetic!"
Photos courtesy of Choux Designs