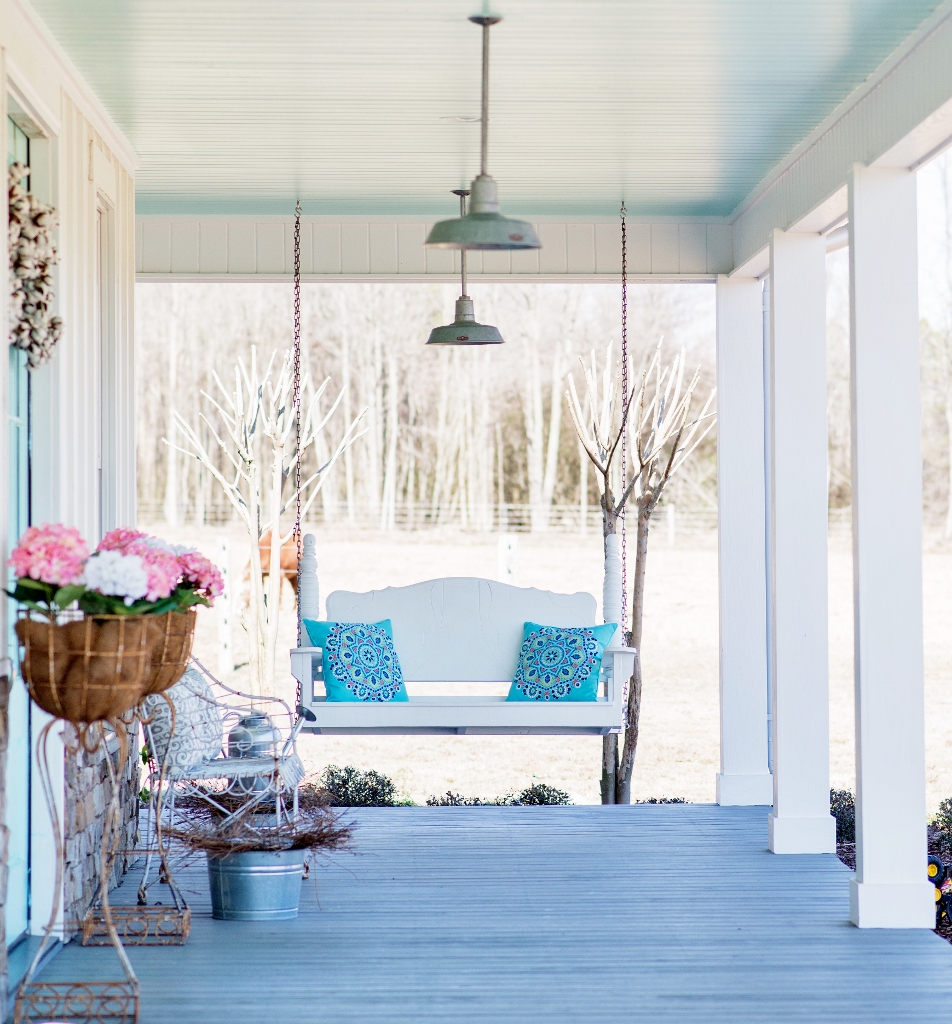 Barn Lighting Right at Home Down on the Farm
Our Instagram feed is a wonderful source of inspiration to many, and we love seeing photos posted by our customers every day. Carrie, from Cullman, Alabama, has been sharing photos and tagging us in her posts @OurFeatheredFarmhouse for several years now as she and her family built their dream home.
"Chad and I began dating in high school and dreamed of raising a family on a farm," Carrie says. "Almost 20 years and three kids later, we made our dreams a reality when we bought 40 acres we now call home."
The couple wanted to build a farmhouse like their great-grandparents would have built. Meticulous in their research, the couple spent hours driving country roads in Alabama and Tennessee snapping pictures of old houses for inspiration.
"We were very intentional with each decision and detail like the lighting," she notes. "With three sons, durability is a must and Barn Light Electric certainly helped us meet that requirement. As business owners ourselves, we have a deep appreciation for American-made products so finding a high-quality product made in the USA was a bonus for us."
The couple built a farmhouse and two barns — one for livestock and one as a family hangout. Today we start in the house but be sure to check back on Monday, February 26th when we'll check out the barns.
A farmhouse wouldn't be complete without a porch — a nice deep space to welcome family and friends and a swing to wile away a summer afternoon. Carrie chose the classic Original™ Warehouse Stem Mount Pendant to highlight her front door and porch. She customized these ceiling pendants with 14″ shades, a Galvanized finish, and 18″ stems.
"The galvanized finish is a versatile option so I used it in several places," Carrie explains. "On the porch, the contrast of the finish with our aqua porch ceiling and front door go together beautifully."
Although the color palette of the home is neutral, Carrie admits to being a "color gal" at heart, so she chose a vivid Cherry Red Bomber Stem Mount Light for the kitchen. It features a 13″ shade with an 18″ stem.
"This light allowed me to add the perfect amount of color to our kitchen without overwhelming the room," she says.
Carrie added another splash of red to her oldest son's bathroom which has a sports theme to match his bedroom. The Farm & Barn All Weather Wall Mount Light highlights the vanity and picks up on the other subtle touches of red in the playful decor.
Carrie's master bedroom is blessed with abundant natural light and a beautiful brick wall where her bed is placed. She chose the All Weather Gooseneck Farm Light to brighten the rustic nightstands on either side of the bed.
"I shopped for lights before we built so I had a clear plan about where I wanted the lights placed," Carrie notes. "This made life for our electricians much easier especially for these lights mounted on the brick wall." These wall lights, from our Discount Barn Light Collection, are customized with 13″ shades and G31 gooseneck arms.
The master bathroom also has plenty of natural light, and Carrie opted to keep it bright with white walls. She chose the same All Weather Gooseneck Farm Lights as in the bedroom but customized these with a slightly larger 15″ shade and a White finish. These handcrafted gooseneck lights add illumination but don't compete with the soft yellow vanity and aqua-framed mirrors for attention.
A matching Farm & Barn Cord Hung Pendant hangs near the window and the free-standing tub. By choosing complementary fixtures throughout the master suite, Carrie kept a consistency in her lighting yet customized each fixture with the appropriate shade size and mount to suit each particular space.
Heading downstairs to the family room, Carrie chose the wall-hugging Bowie Wall Sconce to light the way. At the bottom of the stairs, a 16″ All Weather Gooseneck Warehouse Shade highlights the landing and the barn door baby gate that keeps the dogs below.
I'm always amazed at how complete a project looks once the lighting is installed," Carrie says. "The lighting options we selected give each space in our home the extra design element needed to achieve our goal of building a timeless farmhouse." Be sure to come back next Monday when we head across the yard to check out the barns. They are truly amazing spaces for both the family and their furry friends!
Photos courtesy of Our Feathered Farmhouse and Christy Stalnaker Photography