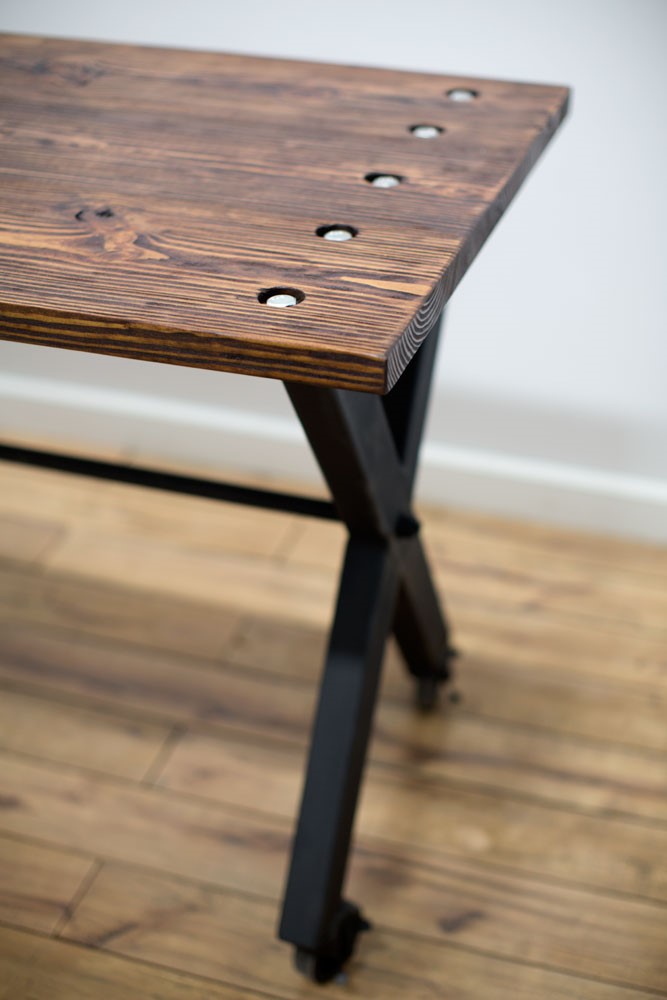 Handcrafted Desks for Both Home & Traditional Office Settings
In last week's post on home office design, guest blogger Melissa Andersen gave some great tips on creating a work-from-home space that is both functional and stylish. With the recent expansion of our Furniture Collection, we now offer more ways to dress up the work space whether it's at home or in a traditional office!
Unless you've been completely buried in work, you know the latest rage in office furniture is the standing desk. It doesn't take a medical degree to realize that sitting all day isn't good for the body — or for the soul for that matter. A standing desk affords you the flexibility to stand up while you work and is especially good for companies with employees who float.
For example, many of the team members at Barn Light Electric spend much of their day walking the manufacturing floor. But, at some point, these employees need to return to a desk to complete paperwork and make calls. The Theo Standing Desk offers a smooth work surface, and with its heavy-duty, locking wheels, can be easily moved to where it's needed.
Like all of our handcrafted furniture, the Theo Standing Desk is offered in a dozen different wood varieties. The rugged, welded steel frame can be finished in one of 30 different powder coat finish colors to match any home or office decor. (Shown above in Distressed Oak with Black frame)
The Brady Standing Desk brings a hint of farmhouse style to the office with its sturdy metal frame and warm wood tones. A shelf underneath adds stability, storage space, or a place to rest your feet if you pull up a stool to work. (Shown above in Natural Walnut with a Jadite frame)
For smaller spaces or office cubicles, the Arthur Writing Desk offers all of the handcrafted detailing of our larger pieces in a slightly smaller profile. With an open shelf just below the solid wood top, this desk can be customized with multiple wood options and powder coat finishes to embrace styles ranging from playful to elegant. (Shown above with a Natural Walnut top and Buttery Yellow frame)
And for those who find themselves bringing work to more comfortable locations, the Carmen Lap Desk is just the ticket to keep you productive. With rounded edges and hand-carved cutouts for your pens and phone, this little desk lets you work efficiently and comfortably almost anywhere! (Shown above in Nutmeg Oak with Black hairpin legs)