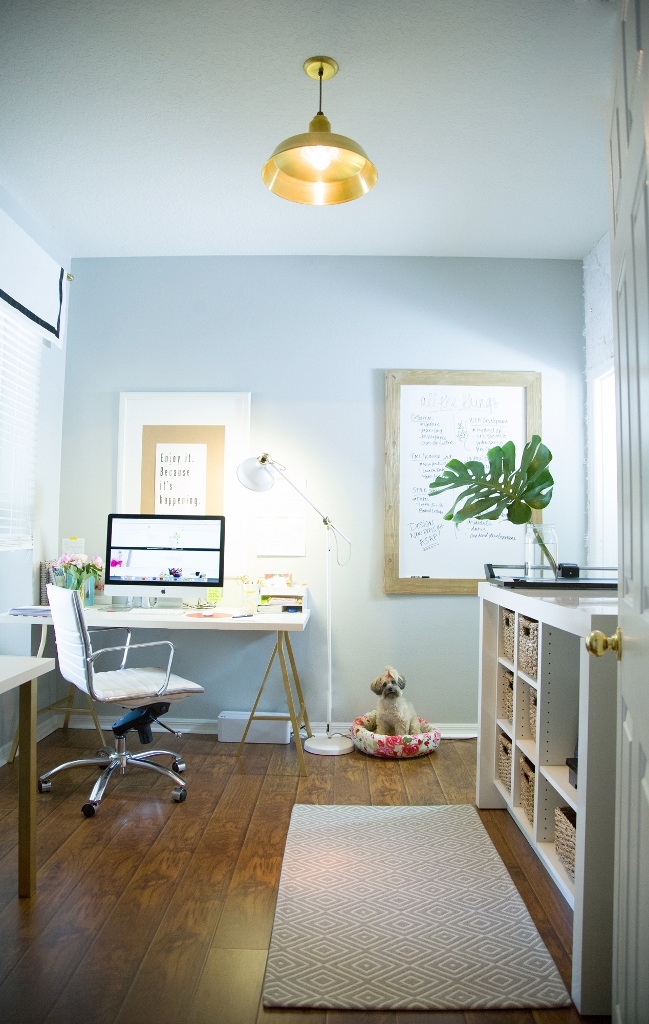 Guest Blogger | Home Office Design to Suit Your Work Style
The workforce is evolving, with more people working from home than ever before. In fact, 43 percent of employed Americans said they spent at least some time working remotely in 2016.
With more adults than ever working from their homes (and I'm one of them!), it's become increasingly important to have a home office from which you can conduct business, be productive, and get inspired (even real estate professionals have noticed an increased demand for home office space among buyers). Here's how to create a functional and stylish home office of your own:
PICK YOUR LOCATION: Locate your office somewhere that offers privacy, low noise levels, minimal foot traffic, and can be properly heated and cooled. Whether it's a separate room or a small nook, it's important to make sure your space is distraction-free. The home office above is conveniently close to the living space but can be closed off with stylish sliding barn doors.
CHOOSE A DESK: Your desk is an important factor in the overall comfort and functionality of your office. Consider not only the size and aesthetic of your office, but also the needs of your specific job. For professions that require a lot of screen time, consider a standing desk, like the Brady Standing Desk, to avoid the pitfalls of too much sitting.
SELECT A CHAIR: If you spend much of your day sitting behind your desk, you know how crucial it is to have the right chair. Select a chair that's comfortable enough to alleviate back pain and promote good posture, but not so comfortable that you find yourself nodding off. To ensure you always have the right fit at any surface, try The Brooks Adjustable Stool.
GIVE YOURSELF A VIEW: Whether it's a big window overlooking your yard, a view into a pretty space in your home, gorgeous artwork, or even an ever-changing mood board, give yourself something to look at when you get to thinking, dreaming, and scheming. This homeowner turned the garage into a home office and enjoys plenty of fresh air and natural light on sunny days.
DECORATE YOUR SPACE: Decorate your home office like you would any other room. Amidst the more functional pieces, pop in moments of personality and character. Hang artwork, style your shelves, install window treatments, add greenery, and lay down a cozy rug to make your office as comfortable and pleasant as possible.
PROVIDE AMPLE STORAGE: You're less likely to use your home office if it doesn't meet the demands of your job. Consider the tools of your trade, and then make sure you have plenty of storage to house them all, such as drawers, cabinets, and shelves. Think horizontally and vertically to maximize space.
TAME YOUR TECH: Cords from computers, printers, phones, shredders, and other technology can quickly take over your office. A quick online search can offer plenty of products or DIY methods for hiding the mess and reducing visual clutter.
ADD OVERHEAD LIGHTING: Even with ample natural light, a home office needs great overhead lighting for gloomy days and late nights. Use this as an opportunity to add function and form by installing a beautiful chandelier, flush mount, or ceiling pendant to provide general lighting in your space.
SUPPLEMENT WITH TASK AND ACCENT LIGHTS: Like any other room, an office works best with layered lighting. Top your desk with a great desk lamp for writing or laboring over detail work (the Bomber Retro Desk Lamp is above); place a floor lamp behind an upholstered chair for reading (the Gladstone in Mint provides the perfect pop of color); and use sconces to frame artwork or illuminate shelving (the Sinclair Swing Arm Sconce easily adjusts for the task at hand).
DESIGN FOR HOW YOU WORK: It's so important to create an office that makes sense for how you work. Consider what you'll be doing and design around it. Here are a few helpful questions to get you started:

What will I be doing in this space?

Will clients or colleagues be meeting me here?

What kind of lighting and space does my work require?

How do I want to feel when I'm in my home office?

What type of materials and tools will I be referencing, using, and/or storing here?

What type of equipment does my job require, both high- and low-tech?

When will I be doing most of my work?

Will I be making conference and/or video calls?
Considering each of these questions will put you on the right track for creating a home office that not only helps you get your job done, but makes you feel (and look!) good while doing it.
Guest blogger Melissa Andersen is a writer, editor, blogger, and social media manager/consultant for clients
such as Hygge & West, And North, and Period Architecture.